Forest Roots in Warwick
by Lewis McGregor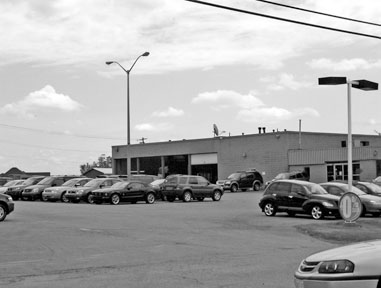 Bluewater Ford Garage: The current Bluewater Ford was originally built as a Chevrolet-Oldsmobile dealership. courtesy L McGregor
When Warwick Township was surveyed in 1832, the western boundary was the Warwick-Plympton town line (now known as Forest Rd., but Main St. north of Bear Creek). The northern boundary was the Bosanquet-Warwick town line (now known as Townsend Line). The three townships met where Townsend Line and Main Street intersect. Although there had been some activity in Forest when the Grand Trunk Railway arrived in 1859, the community did not incorporate as a village until 1872. The first post office opened in 1862 in Robert Dier's General Store on King St., opposite the railway station. Forest became a town in 1888.

Come along for a walk through the Warwick Twp. part of Forest as it is in 2008, with memories from the past. We will explore the businesses and public buildings of the last 100 years.
Approaching Forest from the south by way of Hwy 21 (Forest Rd.) you enter Forest via Main St. South. The property to your right, from here north to Townsend Line, was originally part of Warwick Twp.
The first business we come to on your right is Bluewater Ford, owned by the Atkinson family. The building was originally built by Roger Wallis and his wife Lois as a Chevrolet Oldsmobile dealership.
Next is the Red Rooster Restaurant.This was a dairy farm operated by the Leonard family, who also owned the farm across the road. This was also the site of the Schnitzelhaus restaurant for many years.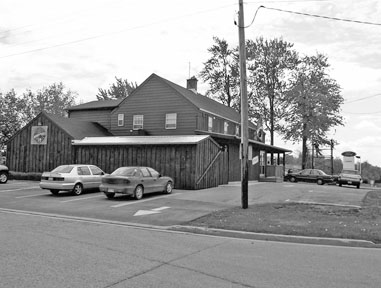 Red Rooster Restaurant: This restaurant originally began as a dairy. courtesy L McGregor
Turning the corner onto Philrobden Drive there is a car wash behind the restaurant.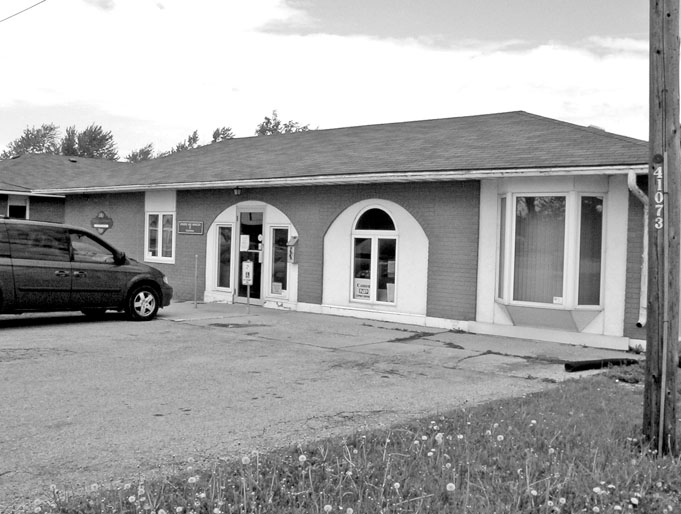 McGregor Bookkeeping: The building was originally the veterinary clinic of Dr. Wilmer Cooper. courtesy L McGregor
Across the street from the Red Rooster on Philrobden is McGregor Bookkeeping and licence office. This was once a veterinary clinic built by Dr. Cooper. The house on the corner of Philrobden and Main was also part of this clinic.
Back on Main St., the next business is the Beer Store.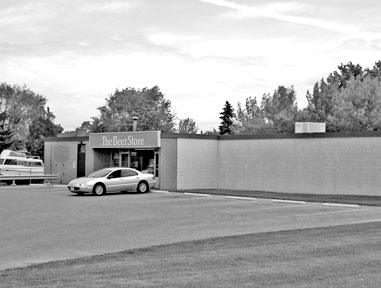 The Beer Store. courtesy L McGregor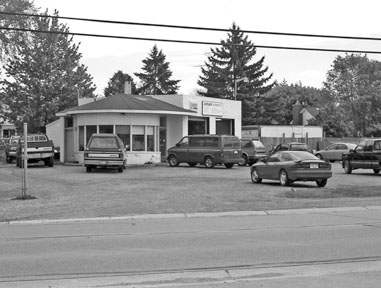 '
Jim's Used Car Lot, previously a laundromat, then Lew McGregor's used car lot.
Next is the site of a gas station operated by Ambrose Wellington, later rebuilt by the Wellington family and operated by a son-in-law, Ted Boomer, for a short time, then by Meryl Potter and then demolished in 1973.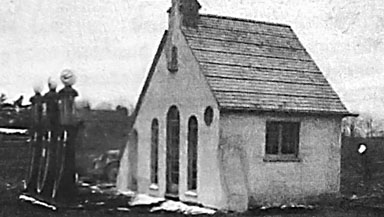 Ambrose Wellington Gas Station: The Wellingtons replaced the original service station. courtesy J Wellington Boomer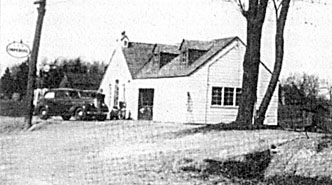 Ambrose Wellington Gas Station: This second gas station was demolished in 1973. courtesy J Wellington Boomer
Now we come to the gas and variety, originally a Shell gas bar built by Jack Dudman, then operated by his son Dave and changed to Esso.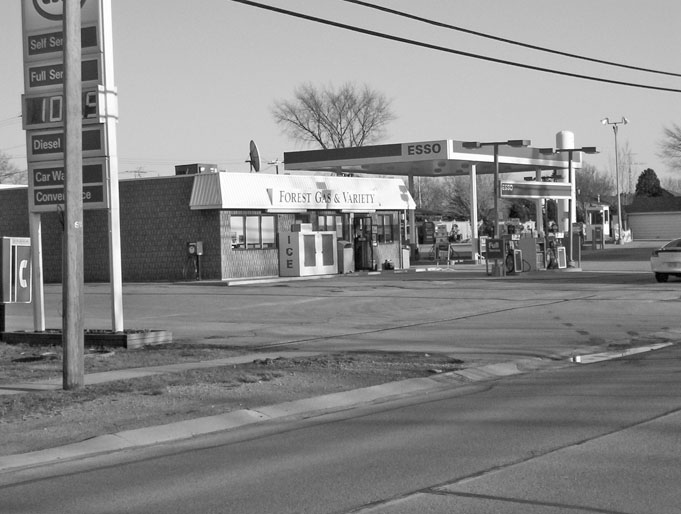 Forest Gas and Variety, managed by John Park in 2008. courtesy L McGregor
Next we come to the Forest Fire Hall, which was built in 1982.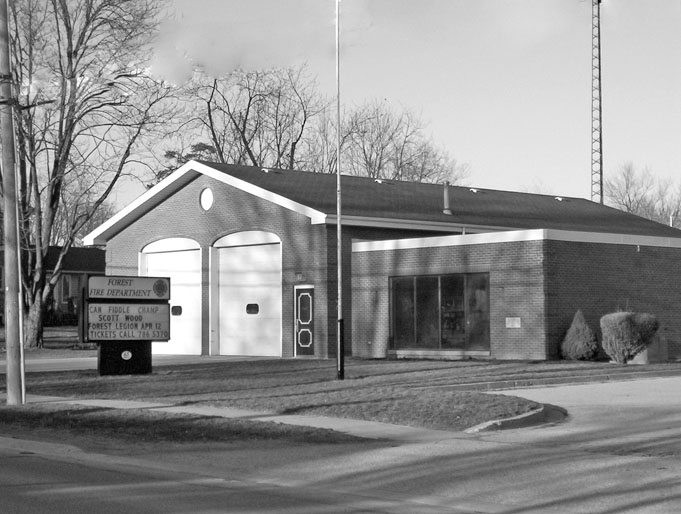 Forest Fire Hall: The Fire Hall was built in 1982. courtesy L McGregor
The house at 33 Main St. South was turned into an antique business by Brian and Linda Alpaugh. Sold in 2005, it is now a ladies clothing shop, Buttons & Bows.
At the southeast corner of Main and Broadway St. is the former site of the Roche Hotel, also known as the Farmers Exchange Hotel. This building was destroyed by fire on February 17, 1906. Although the contents were saved, the loss was $800.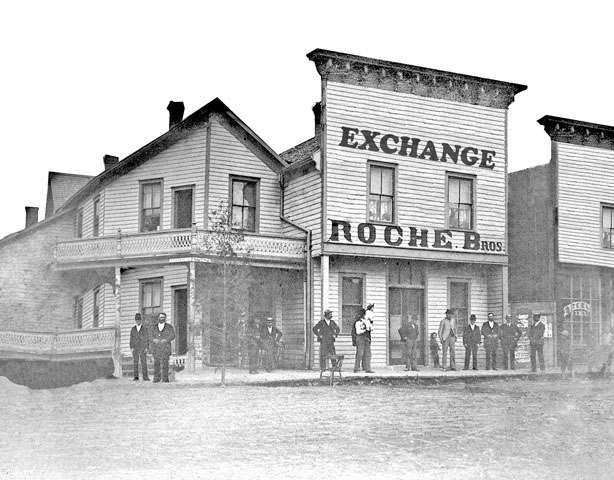 Roche Hotel, also called Farmers' Exchange Hotel: The building was destroyed by fire on February 17, 1906. courtesy A Roche and J McCahill
Across Broadway, still on Main St., was John Shaw's gas station, a rather crude structure. John was involved in many ventures in the town. One thing I recall about John is that he had any oil you asked for, at any price that suited. It all came out of the same barrel! Connected to this building were several small businesses: Allan Steele Wood and Coal (his yard was across the street); Model Steam Laundry (1906); Forest Dry Cleaners (1934), later Archie Campbell's Dry Cleaners, then Bill Kell's Dry Cleaners; Alf Gale Electric; and Dr. Fred Cairn's Veterinary Office (1906). Across the front of these buildings was the last boardwalk in town.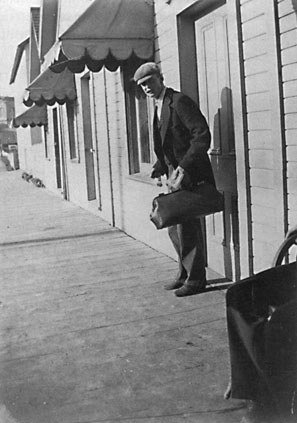 W. H. Pickering, veterinary surgeon (VS) coming out of his office onto the boardwalk. courtesy M Huctwith family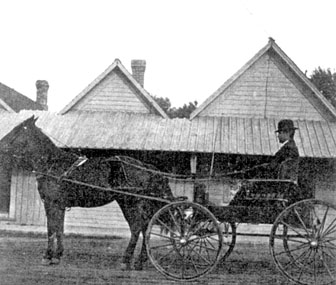 Shaw Row. courtesy M Huctwith family

Shaw Row: The Sketch shows the original makeup of the Shaw buildings. courtesy L McGregor
When Shaw's gas station was torn down the smaller buildings were moved, and a new gas station was erected on this site by Stan Morningstar, who sold Imperial gasoline and also Hillman cars. From 1953 to 1957 it was operated as a Pontiac Buick dealership by Scott Motors, and then sold to Jack McKellar, who operated a repair shop and gas station. More recently Jack's sons, Bill and Robert, turned the repair shop area into a wine and beer store. The front became the Steamer Restaurant, then Murray Forbes and his wife operated a restaurant and fitness centre. They sold to Pat Bryson who operated the restaurant as the Coffee Bean, now owned by Doug Wilcocks and his wife, under the name D & D.
Still on Main St., we come to the site of the Forest Pork and Provision Co. This was next door to John Shaw's office, the north end of the row of small buildings. The buildings burned in 1911 and the property was sold to Howard Fraleigh, who built a flax mill on the old foundation. The mill was later sold to Joseph McLean. After Joe, his son Allan operated it. It was torn down and is now a parking lot.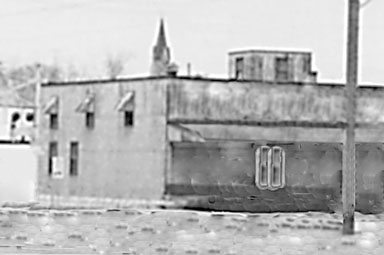 Flax Mill, c. 1911: This mill was built on the foundation of the Forest Pork and Provision Co. courtesy C McLean
The right of way for the Grand Trunk Railway (later Canadian National Railways) that ran through Forest until the mid 1970s is next. A series of buildings have stood between here and the corner. First there was a clothier by the name of Pearce on the corner of Main and King. This building became part of F. W. Hall Flour and Feed, which was just south of it, and then the Arcade Block.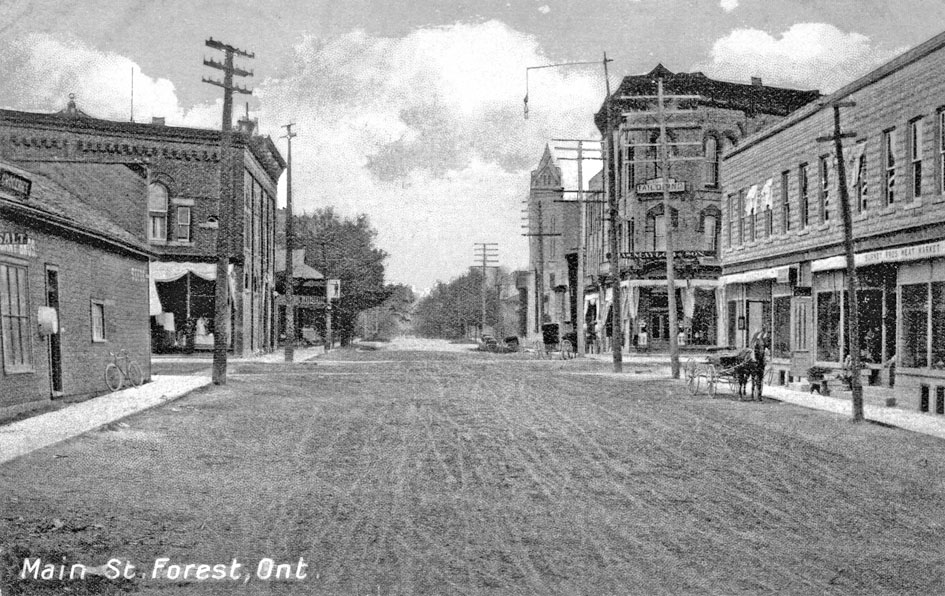 Main St., Forest: Arcade Building on right. courtesy W Coristine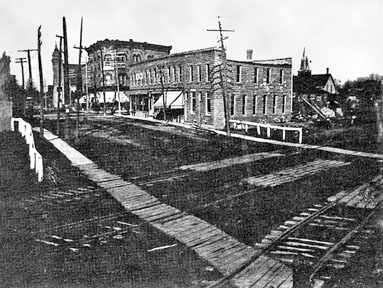 Boardwalk on Main St., looking north. courtesy M Huctwith family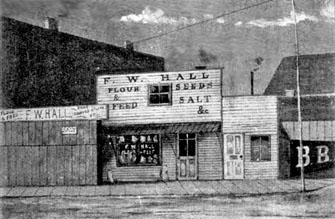 Hall Flour and Feed. courtesy F Jamieson
Moving north from the train tracks we come to the Forest Free Press building, built by H. J. Pettypiece in 1907 and operated until 1968. It was sold to Pole Printing in 1972, and is now The Source. This building was attached to the Arcade Block, which had been built earlier. In the Arcade Block were Burney Brothers' Butcher Shop, Jerry Jamieson's Feed Store and Maylor's Hardware on the corner. The hardware store became G & D Discount. Later G & D Discount divided, with the part right on the corner becoming a clothing store, later a flower shop. The flower shop was torn down in the early 2000s to widen the intersection so that transports could make the right hand turn on Hwy 21, since Main St. S. and King St. E. are also Hwy 21. Upstairs was the Gordon Insurance office, Ross' Barber Shop, later Miller McPherson's Barber Shop, and a hair dresser's shop.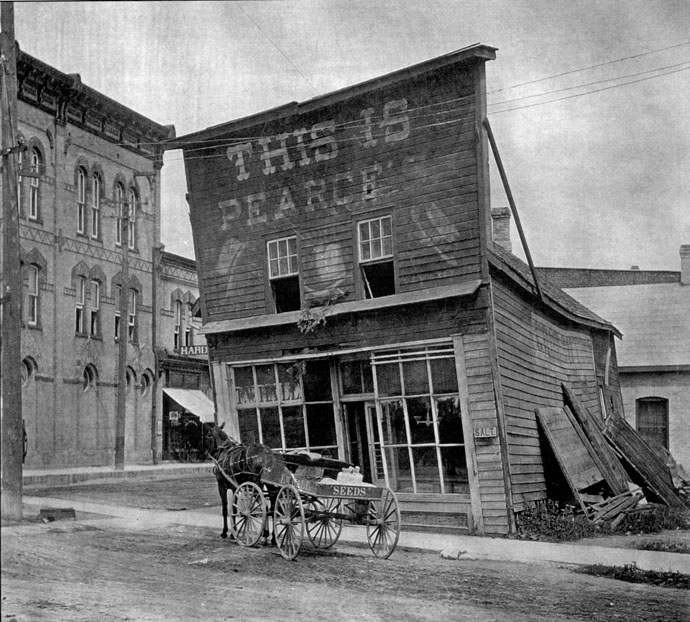 Pearce Clothing, corner of Main and King St. This picture is worth a thousand words! In the background is the Maylor Block. courtesy M Huctwith family
North across the corner at King and Main Streets is the Maylor Block, built in 1884. At first it was a department store selling everything, much like the big department stores of today. As with many businesses, many changes took place with this building.

Maylor-Kernohan building: This building, built in 1884, once served as Crosby's Fine China Shop, a favorfite site for shoppers in the 1950s and 1960s. courtesy L McGregor
White and May Department Stores purchased the store. Down the north side of King St. on the side to the east were O. E. Seegmiller's Drug Store, Gordon's Dressmaking Shop and Marguerite Brown Ladies Wear. In 1939, the corner store was the R. B. Crosby China Shop, which was later sold to James Hosie who ran it as a book and china store, and then it was sold to Pete and Julie Delie, who operated it until 1959. It is now an art store.
Glen Kernohan purchased the north end (on Main St.) and east side of the Maylor Building (on King St.) where the drugstore, dressmaking and ladies' wear shops were located and operated a Dodge DeSoto dealership. The doors at the north of the Maylor Building were put in to give access to the garage. The newest building to the north is Kernohan's repair shop. There is more about Kernohan's later.
The next series of buildings were Jay's Meat Market (which became a billiard parlour), Joseph Mills' concrete building (machinery and pump business), then Roger Sutherland's blacksmith shop (later MacDougall Bros. garage and still later Stew Janes' garage, then Lochead Tinsmith Shop (later Braun's Tinsmith). Later the building was purchased by People's Telephone Co. for a workshop. Today it is all owned by Kernohan Motors.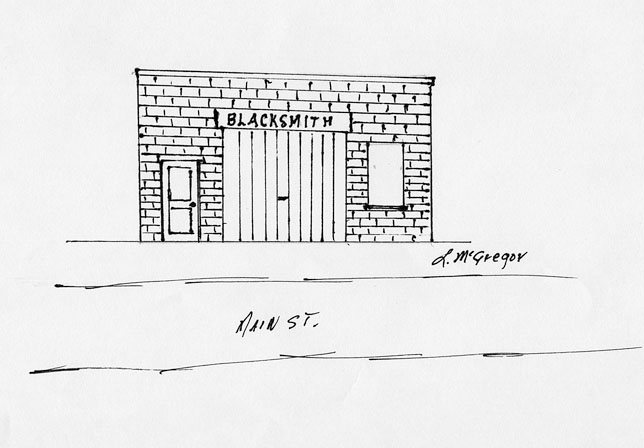 Sutherland Blacksmith. courtesy L McGregor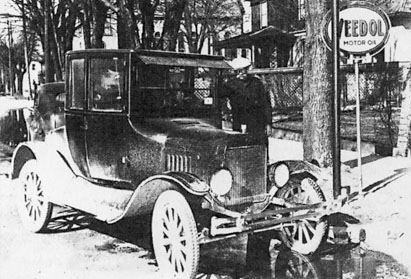 McDougall Garage. courtesy Forest Museum
The Medical Centre was built by the Rotary Club on the next lot. The doctor's house to the north of it was torn down for a parking lot. Doctors who practiced in the old house were Dr. McCordic, Dr. Hubbard and Dr. Jay. In 2008 Dr. K. Walker practises in the Rotary Medical Centre.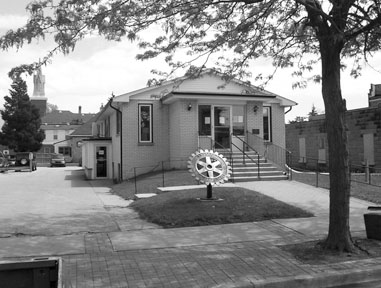 Rotary Medical Centre. courtesy L McGregor
Across the corner at Main and Jefferson is St. James Presbyterian Church, built in 1891. The bricks came from McCormick's brickyard in Warwick. Lighting was installed in 1906 and a shed was built at the rear of the church in 1912. The shed was torn down in 1945.
St. James Presbyterian Church: The church was built in 1891. courtesy M Huctwith family
Now we jump to the southeast corner of Main and Wellington St.This was the site of Bell's Livery Stable built in 1894. Mr. Bell was instrumental in the formation of the People's Telephone Co. in 1906. In 1929 Cephus Burr's Chevrolet dealership moved into part of this building. The MacDougall brothers' garage was here in 1931. In 1933 the building was sold to James Wilson and Mac Waddell, who renovated it for a creamery and egg grading station. Now it is the location of Jack Scott Plumbing and Heating.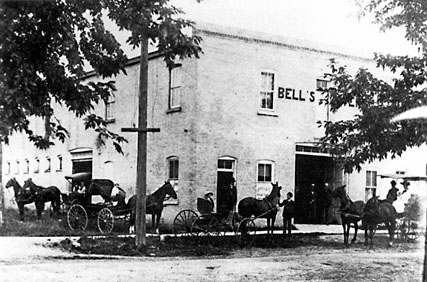 Bell's Livery Stable: The building was built in 1894 and was later used as a garage, then a creamery, and still later an egg grading station. courtesy M Huctwith family
The second building north of the Main and Wellington St. corner was the first Presbyterian church built in 1868. When the Presbyterians moved to their new location in 1891 this building was used as the Forest Gospel Hall. Much work was done renovating it in 1896, and electricity was installed in 1900. The Hall was rebuilt in 1914 as it looks today.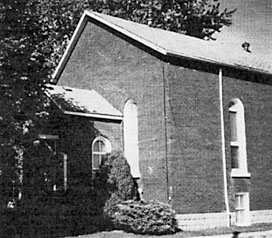 Forest Gospel Hall: Originally this was the Presbyterian church, built in 1868. Later it became Forest Gospel Hall. courtesy M Huctwith family
Now we return to the south end of Main St., to Morris St. running east. At MacNab St. on the first two lots on your right was Cassidy's body shop. This is now a private home on the corner and the old shop is now the Nor-Lam Furniture Warehouse.
Continuing east on Morris we go to the next corner and turn right onto MacHenry. On your right, the third and fourth lots were Cassidy's wrecking yard (now private homes). Across the street was Lloyd Haney's repair shop and wrecking yard.
Returning back to Morris St. at the corner of MacDonald St., on your right is Kinnwood Public School, formerly Woodside School.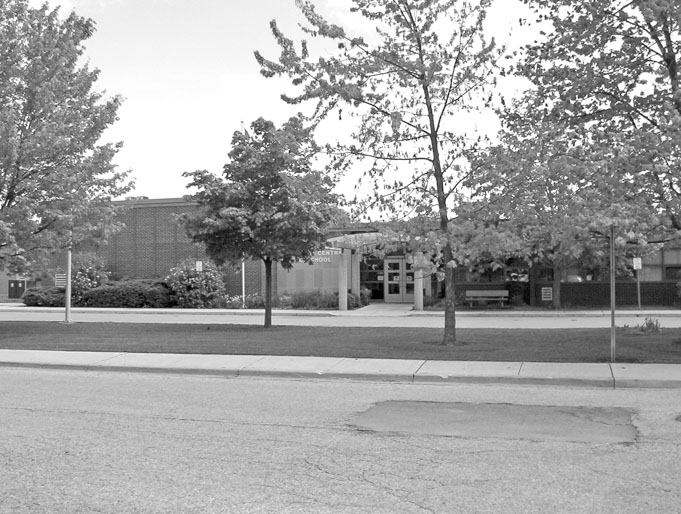 Kinwood Elementary School: Originally this school was called Woodside, but when Forest Central and Kinaird Schools were closed, it took students from all three and was renamed Kinnwood. courtesy L McGregor
Just beyond the school is North Lambton Lodge Senior Apartments and Day Care Centre. At one time, this was the site of a concrete block manufacturer.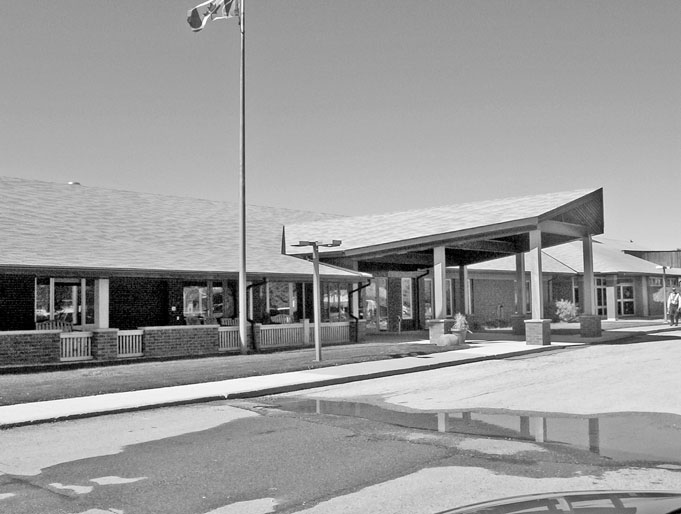 North Lambton Lodge. courtesy L McGregor
Moving north on McDonald St. to Church St., just beyond at the southwest corner is the site of the Third Ward School built in 1883. It was also the Model School where teachers were trained. In 1912 it was turned into a house which is still standing in good repair. It would appear that the top floor may have been added when the building changed to a residence. There is evidence of different doors and windows in the brickwork as it is today.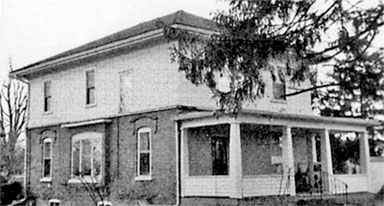 Church St: The Third Ward School, originally built in 1883, served as a Model School for training school teachers. courtesy L McGregor
After going east on Church St. we turn north on Bayley St. On the right at Lots 11 to 27 was the site of Richard Buchan's wrecking yard. This area is now housing.
Returning to Main and Broadway St., we head east on Broadway, looking at the north side. Beside what is now the D & D Restaurant was a frame building, originally built as a stable in 1910 and later used as a bus barn by Dilbert Delaplante, the operator of the first high school buses in Warwick in 1946. These were old highway buses, not like the yellow buses today. The building was later the home of Purity Dairies.
Next was Richard Prout's garage, then the site of the Hamilton-Prout Sash and Door Factory, Planing and Saw Mill. Started in 1872 by John Hamilton, John Prout joined him the following year. This was a two-storey building operated by steam power. In 1889 they installed electricity. In 1890 they put in an electric plant and supplied the village with power until 1911. By 1897 they were sawing 200,000 feet of lumber. They built an eighty-foot smoke stack. They also sold coal. In 1910 they built an auto repair shop and also sold Dodge cars at one time. Hamilton sold out to Joseph Prout in 1918.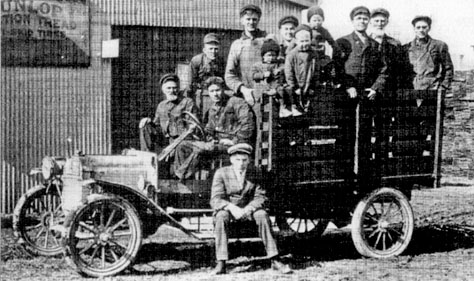 Truck from Prout's Garage. courtesy Prout family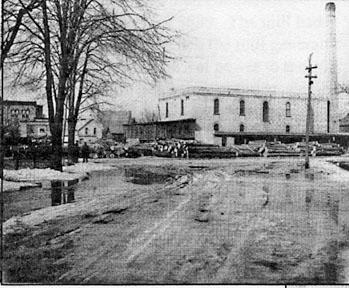 Prout's Lumber. courtesy Prout family
Continuing east on Broadway we find ourselves at the site of a feed mill. In 1877 Matthew Willing built the Brooks Feed Mill, operated as part of Forest City Mills. In 1883 it was sold in a mortgage sale and purchased by Neil McCahill of Alvinston. In 1886 McCormicks got the contract for bricks to build a smoke stack. The mill was destroyed by fire in 1893. It was rebuilt the same year. In 1965 the mill was sold to Bruce Shipley, Ivan Shipley and Harry Hays. It became part of Lakeside Grain and Feed Co. Ltd. The mill was torn down in 1994.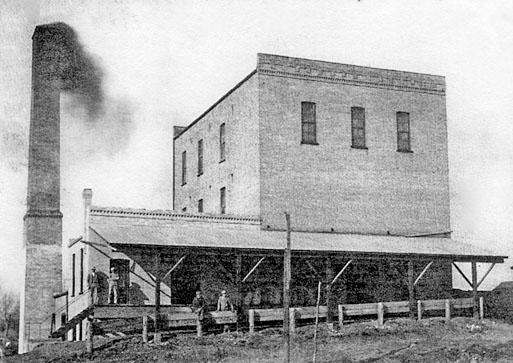 Brooks Feed Mill: The original building was destroyed by fire in 1893. This building was constructed the same year. It was torn down in 1994. courtesy McCahill family
Across the street from the mill, on McHenry St., we find the site of William Pickell's house and cooperage. His log supply took up much of the gully. This operated from 1911 to 1944. In 1911 they produced 80,000–100,000 barrels. In the summer Pickell rented the old ice rink on Prince St. for storage. He supplied barrels for apples, salt and flour, and also for Imperial Oil of Sarnia. The plant closed in 1944. The cooperage was purchased by Donald Stuart, moved east on Broadway St., then turned into a welding and repair shop. Don sold to Roy Zavitz who continued operating a welding shop till he retired. It was torn down and houses are built on the property on Lots 88, 90 and 92.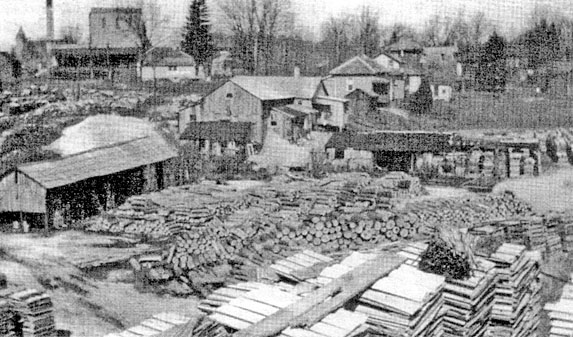 Pickell's Stave Mill and Cooperage, c. 1939 This business operated from 1911 until 1944. courtesy Forest Museum
In the next block was S. J. Sadler's Blacksmith Shop. Also on Broadway St. was another blacksmith shop and a plough manufacturer, location unknown.
At East Lane we turn south. This farm was the home of the Walnut Grove Dairy, owned by George Lougheed and then his son Ralph.They started the dairy in 1928 with door to door delivery. In 1938 they purchased a bottle filler and capper. Then in 1942 they got the contract to supply Camp Ipperwash with dairy products. This business was sold in 1947 to John W. Milne. It is interesting to note that the front half of this house was in Forest while the rest of the farm was in Warwick after Forest became a municipality with its own Council.
At the corner of Broadway St. and Townsend Line we find the Ontario Provincial Police (OPP). This building was built by Donald Clare (Dougall) McGregor and leased to the OPP, then sold to a dentist from Goderich. Just around the corner to the right on Townsend Line was an Esso fuel business operated by William Flater.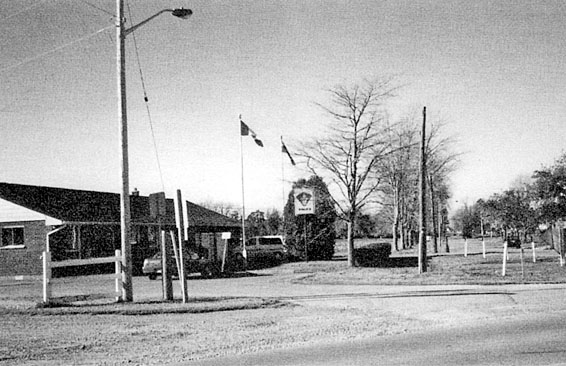 Ontario Provincial Police. courtesy L McGregor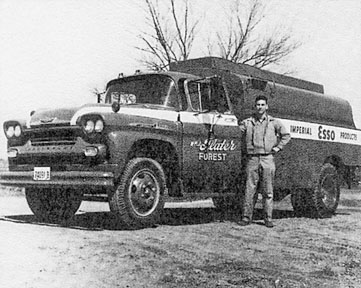 Bill Flater, Esso dealer. courtesy B Flater
Now we go back to the corner of Main and King St. and head east. Near the southeast corner, behind the corner store, was a small building which housed Watson's Butcher Shop (west half) which was later sold to R. J. Boyd, and Maxfield's Barber Shop (east half).
Boyds later took over both stores and made them into a grocery store. The building was remodelled in about 1952 and a larger grocery store was built by R. J. Boyd and Son. Further expansion followed over the years.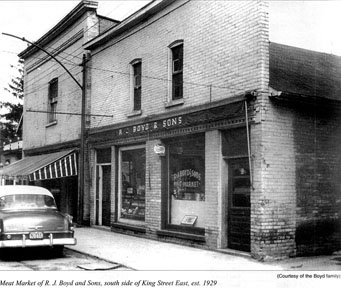 Boyd McFarlane building: The building on the far left was McFarlane's Furniture and Funeral Parlour. In the middle was Maxfield's Barber Shop, while the building on the right was first, Watson's Butcher Shop, later R. Boyd & Sons Grocery Store. courtesy Boyd family
Continuing east, on the south side of King St. had been a livery, later a furniture store and funeral parlor owned by George McFarlane and Son. This building was torn down and Boyds enlarged their grocery store again. Boyd's Grocery Store was demolished in 2006 to make way for the RBC Royal Bank.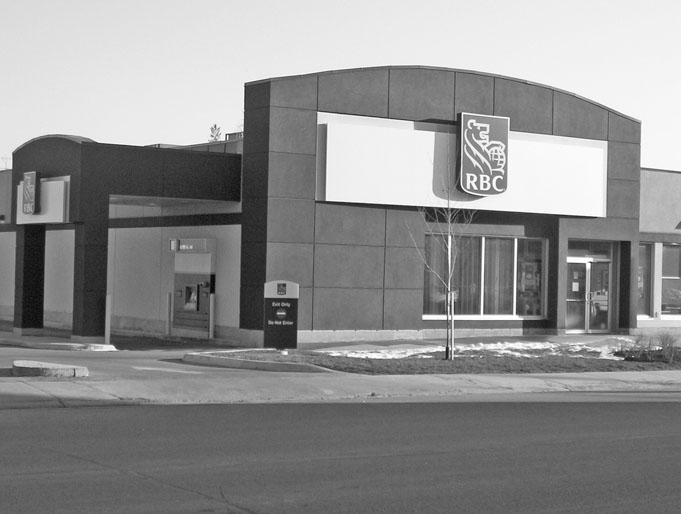 RBC Royal Bank, 2008: In 2006, Boyd's Grocery Store was demolished. It was replaced with the Royal Bank of Canada building in 2007. courtesy L McGregor
The house next door became the home of People's Telephone Co. in 1932. The front part was used as the telephone office; Alex Sutherland's family lived in the rear. This was torn down to become the parking lot for Boyd's store. In 2008 the new Royal Bank was built on this property.
The TD Canada Trust Bank tore down the next house owned by Henry Forbes and built the bank that is there in 2008.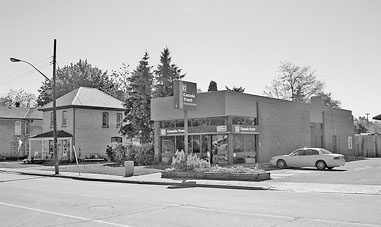 Toronto Dominion Bank. courtesy L McGregor
Go back across King St. to the old Maylor building. It is now partially Kernohan Motors. Just to the east, on Lot 2, was a White Rose gas station operated by Roger Sutherland, later sold to Norman McLeod and then to Kernohan Motors. Kernohan Motors built a four-bay garage on this site to service their school buses and extend their shop. The garage was torn down to make parking when they purchased the buildings north on Main St. and built a new shop.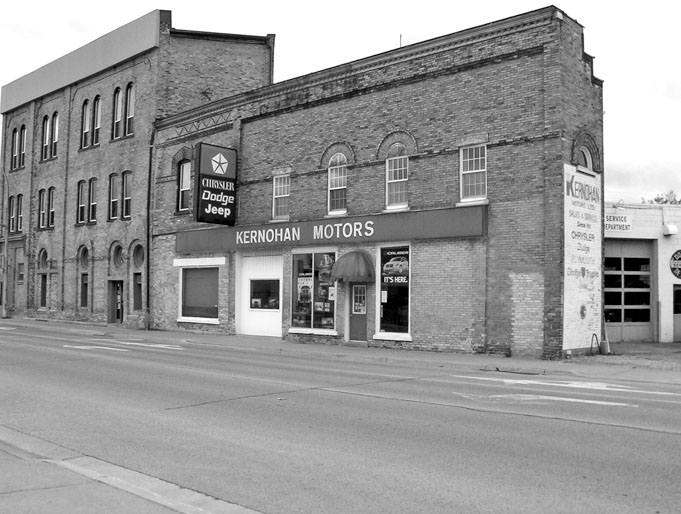 Kernohan Motors. courtesy L McGregor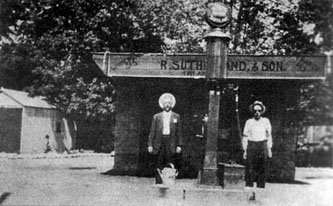 Sutherland gas station: Just to the east of the site of Kernohan Motors was the site of Roger Sutherland's gas station. courtesy Sutherland family
Next to the parking lot was the office of Dr. Calder, M.D. Then it was a barber shop operated by Jr. Rogers until he retired, now operated by Patricia Shephard. In the rear is the Lambton Mutual Insurance office operated by the Brandon family.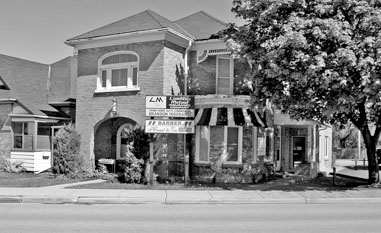 Sutherland gas station: Just to the east of the site of Kernohan Motors was the site of Roger Sutherland's gas station. courtesy Sutherland family
Just beyond this, on the northeast corner of Prince St. stands a building built in 1870 and purchased by the Baptist church in 1905 from the Pentecostal congregation. The Baptists built a shed behind the church which was torn down 1954. When the congregation moved to their new location the building was sold and is now a home.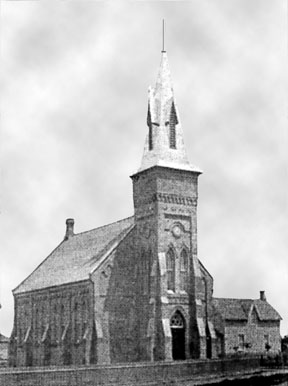 Baptist Church: Built in 1870, the church was purchased by the Baptists from the Pentecostal congregation. courtesy E Nielsen
While we are here we will turn down Prince St. to the north, where on the northeast corner of Prince and Wellington St. is the site of the Forest Public School built in 1874, then rebuilt in 1910. This school was rebuilt again in 1970. Earlier, in about 1957, a kindergarten school was built to the east facing Albert St. The property for this was purchased from Viola McGregor, widow of Clare McGregor. This school was vacated when the students were sent to Woodside School on Morris St. The school property was sold to the Baptist congregation in 1999 and is now a church.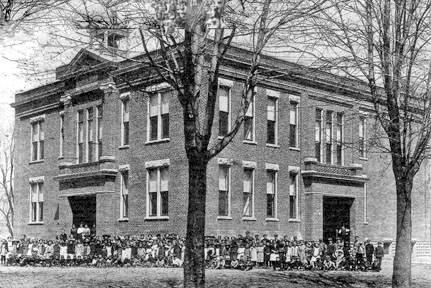 Forest Central School: This building was built in 1910, then replaced in 19780. When Forest Central was closed in 1999 the Forest Baptist Church purchased it. courtesy A McLean family
Continuing north, next door to the school/church was the ice rink and a steel quonset building which was torn down in 1948. This property became the school playground.
Quonset Skating Rink: This building housed the skating rink until it was torn down in 1948. The property was used as a school playground while Forest Central School was open. courtesy Forest Museum
The Salvation Army came to Forest in 1880 and remained till the early 1900s. There had been a frame building on the public school property which they purchased and moved across the street beside their barracks in 1913. They used the Pentecostal Church building for worship.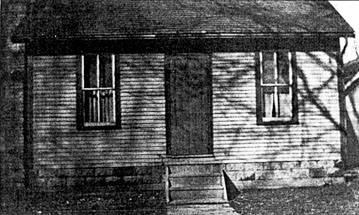 Salvation Army Quarters: The Salvation Army used this building when they first came to Forest in the early 1880s. courtesy M Huctwith family
Back on King St., the next business we come to on the south side is 25–27 King St. E. In 1910, Dr. Findlay Chalk built this block structure as a livery stable and veterinary barn. He was later joined by Dr. Fulcher. In 1923 Charles Alpaugh had purchased Jacob Rupp Marble and Granite Works, which was located near the railroad. Charles first located on the property of A. F. Steele and Son on Main St. In 1927 he moved to this King St. location. This business was taken over by his son Ted and daughter-in-law Alma in 1959, then by Charles' grandson Brian. Today it is owned by Brian's daughter Lindsay and son-in-law Jason Siddall.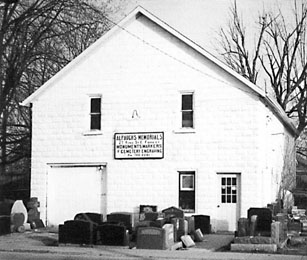 Alpaugh's Memorials: Originally built as a livery stable and veterinary barn in 1910, this building became Alpaugh's Memorials in 1927. courtesy L McGregor
We are now at the corner of King and McDonald. Looking south down McDonald you will see the location of the People's Telephone Co. on the right, with their work shed and yards on the left. The telephone company has been in business in Forest for over 100 years. This business was sold to Amtelecom in 2006.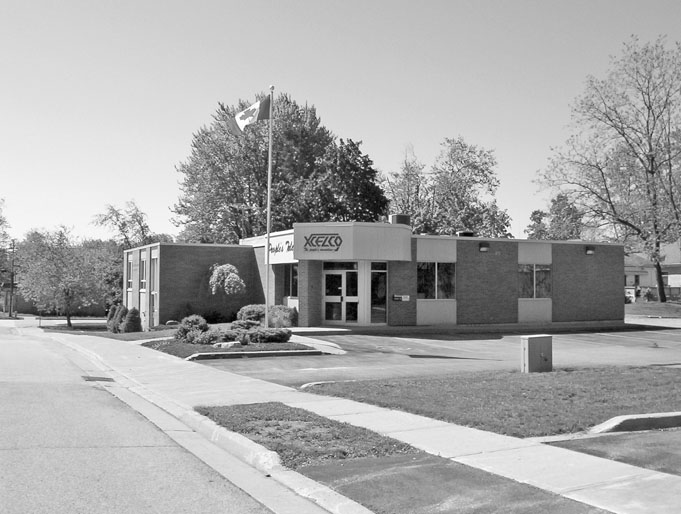 People's Telephone. courtesy L McGregor
Now we move east on King St. to Lot 61. This was an upholstery shop operated by Lee Harper. Then it became the House of Flags. Now it is privately owned by Dan McKellar.
George Black came from Ailsa Craig and started a machinery dealership on Lots 57–59 in 1912. His son Mervin (1881–1980) was the first mailman on Rural Route 4 in Warwick in July 1913. At this time there were only six boxes on his route, although that had increased to 90 by the time he retired in 1963.
Continuing east on King St., on the north side of the street is Lot 58, the site of McGregor Motor Sales Ltd., which sold Chrysler and Plymouth cars and Fargo trucks. This business was started at 53 King St. W. in 1927 by Clarence Edmund Leslie (Clare) McGregor and his father Robert Edmund (Ed). They built the first building on the King St. E. site in 1930. Having the walls up with the windows in, they worked during the first winter without a roof or doors. These were installed the following year. McGregors also sold used vehicles and Case machinery, and had a parts supply, auto repair and body shop. In 1948 the larger building to the east was added. This business employed as many as eighteen people. Clare died in 1952 and the business closed in 1956. It was purchased by Meryl Potter who operated it with his son. They tore down the original building. After Potters sold the property, the front section was removed and the building was made into a restaurant, later converted to Craig's Computers. Now it is a video and ice cream business.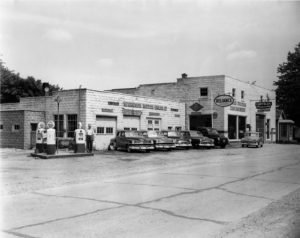 McGregor Motor Sales Lot 58 King St East. courtesy L McGregor
Forest Automotive, started by Murray and Arnold Goodhand in February, 1973, is at 62 King St. Arnold later sold his shares to Murray and moved to Bothwell. Today it is operated by Murray's daughter Beverley and son Ronald. They purchased it in 1995.
Forest Automotive: This business was established in 1973. courtesy L McGregor
Turning north off King onto York St., at the end on the left is the site of the former Shipley and Lawrence Transport business operated by Bruce and Ivan Shipley.
Back on King St. at Lot 68 is Dr. Delugt's Chiropractic Centre. The two lots to the east were once a used car lot operated by W. Cassidy. They are now vacant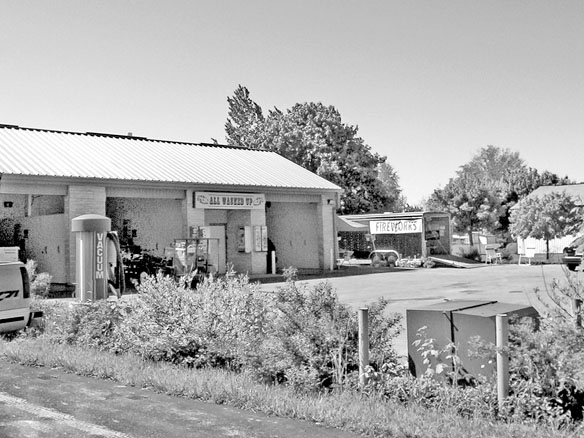 All Washed Up car wash. courtesy L McGregor
There is a car wash on the south side at 81 King St. To the east there was a house that was torn down and an auto repair shop built by Paul Thompson. Continuing east on the south side were four cabins that were used to accommodate travellers before motels were introduced. This then became Bruce Siddall's used car lot, then Roger Wallis' used car (Lot 85). This is now Forest Decorating, formerly Grand Bend Decorating.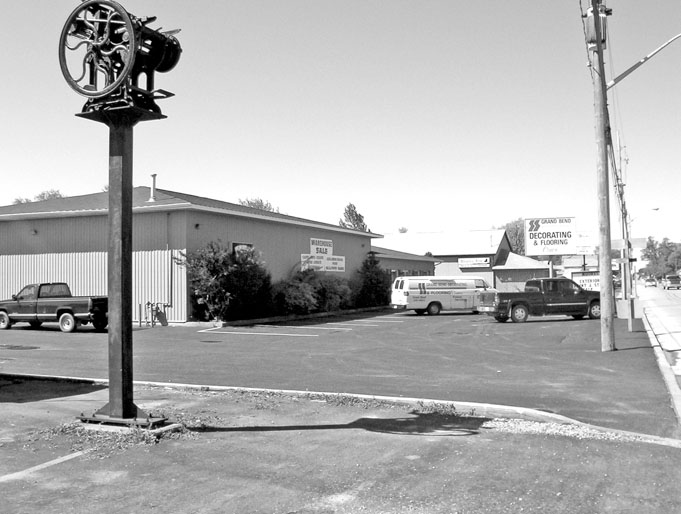 Forest Decorating and Flooring. courtesy L McGregor
Near the corner of King St. and Townsend Line, on Lot 89, is Pole Printing. At the east end is the Libro Credit Union. A White Rose gas station which had been moved from Reece's Corners stood on this site. It was torn down when the printing office was built.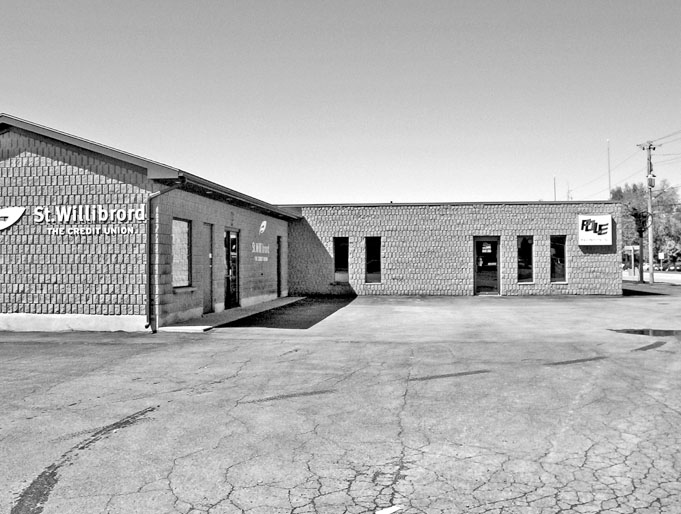 St Willibrord Credit Union: Libro Financial Group in 2008. courtesy L McGregor
Back to the north side of King St., there was a Supertest gas station. The original station was close to the corner and faced east. It also had a lunch counter. Some of the operators were Charles May and Hamilton and Louis Labbatt. This building was torn down and a new Supertest station built on the same lot a little to the west and facing south. This station had service bays and was operated by Marvin Ellis, Lawny Wilson, Terry Siddall and Les Dare. It was built by Supertest and later sold to British Petroleum. It sat empty for a few years, then was torn down for the building of Tim Horton's.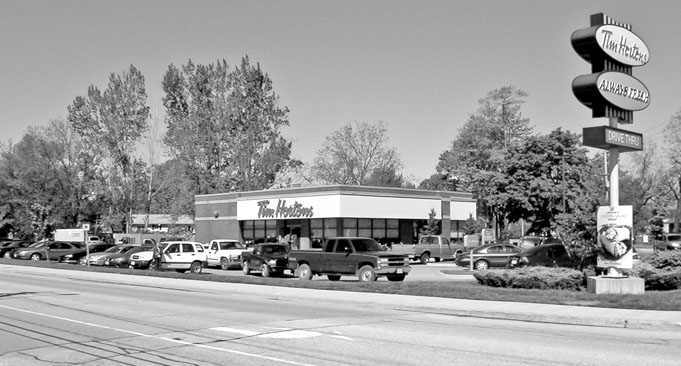 Tim Hortons. courtesy L McGregor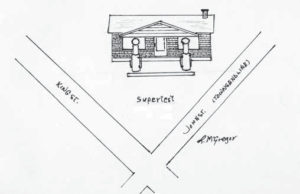 Supertest/BP gas station: This building occupied the present site of Tim Horton's. courtesy L McGregor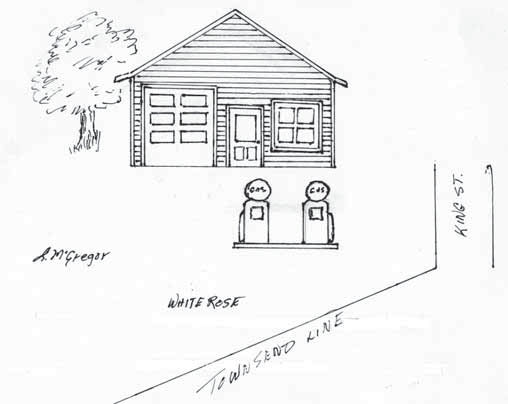 White Rose Gas Station: Pole Printing and Libro Financial Group occupy the former site of the White Rose gas station. courtesy L McGregor
A unique feature in Forest was the wooden foot bridge which crossed the gully along Church St. from Macnab to MacHenry St.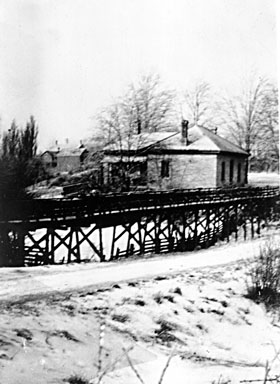 Foot Bridge, Church St. courtesy F Ramsey
I hope you enjoyed your trip through Forest.