Lambton County Archives Capital Project - New shelving units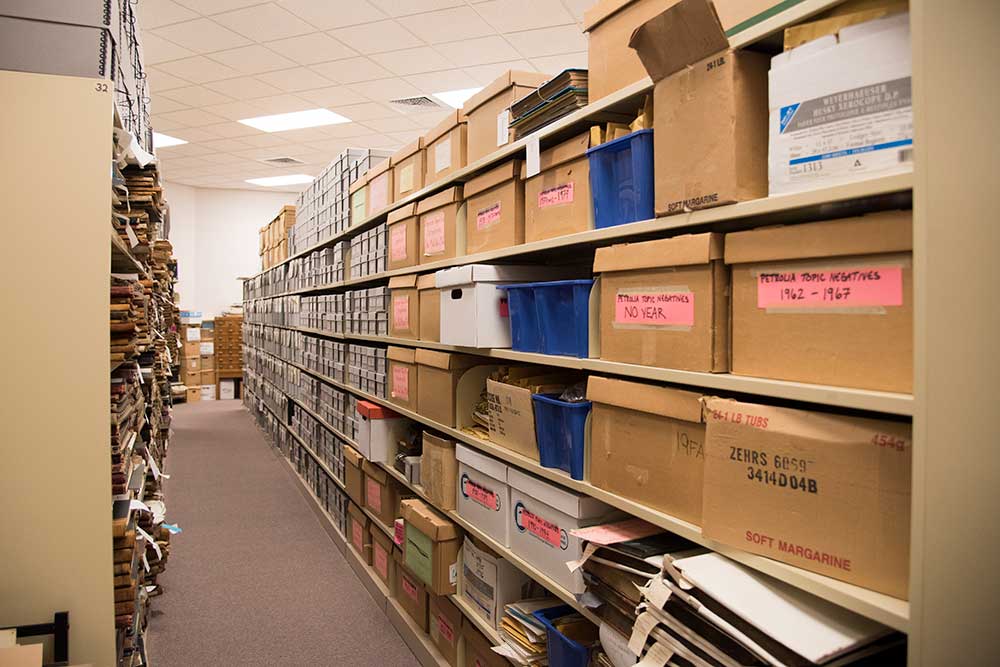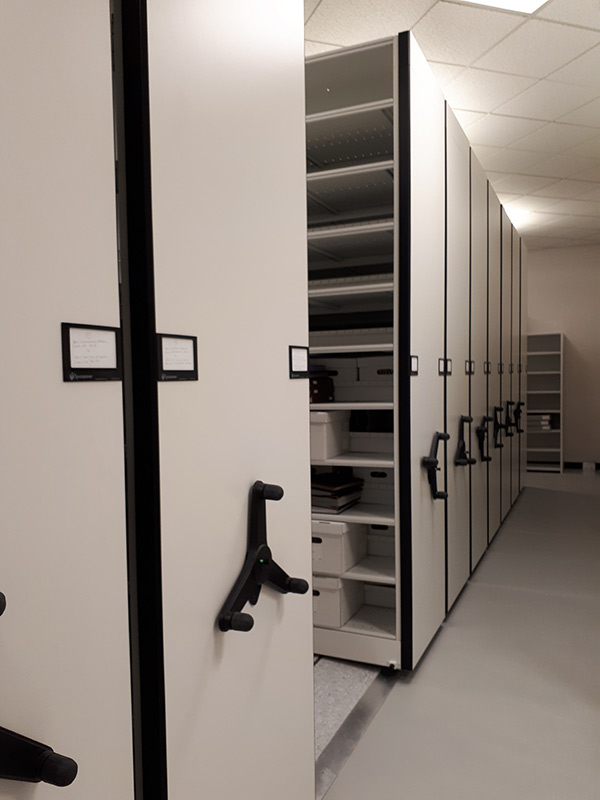 Before shelving and after.
The Lambton County Archives is thrilled to announce that we are undergoing a major capital project this year. Our collections storage area has been filled to capacity for several years now. Our collection continues to grow as we accept new donations, and it has become increasingly difficult to find room for new material.
With the installation of a mobile shelving unit in our collections storage area, we will more than double our current capacity. We will also be able to reconfigure our collections on the new shelves in ways that are more intuitive than the current configurations.
Another major advantage of this project is the fact that we can reclaim our secondary storage space. Currently, we have 46 filing cabinets storing thousands of land instruments in a small secondary space called the Land Records Room. Many of these land instruments are over 150 years old. Currently, the land instruments are not in our primary, climate controlled collections storage area. They are also stored in aging filing cabinets that are not tall enough to accommodate all of the instruments, and some suffer damage as the cabinets open and close. By removing the land instruments from these cabinets and putting them into 375 custom ordered boxes, we can eliminate any future damage to this important collection. The new mobile shelving units will permit us enough space to accommodate these 375 boxes in the climate controlled area. We will be able to reclaim the secondary storage space as a cataloguing and conservation area where we will have the room to process archival material.
The estimated duration of the renovation project is May 15, 2017 – June 23, 2017. During this time period, we will not be able to access our collections storage area to retrieval archival material. Our facility will remain open to the public during regular operating hours throughout the renovation (Monday to Friday 9am-5pm; Tuesday and Thursday evenings 6pm-9pm; and Saturday afternoons 12pm-5pm). We will still have the capacity to assist researchers because we will retain access to the reference books in our reading room, our microfilm collection, and all online services. However, without access to the archival collection some of our resources will be limited, and we will not have access to our photograph or negative collections.
This project is made possible in part by the Government of Canada. We were successful in applying for a grant through the Canada Cultural Spaces Fund. The other key contributor for this project is the County of Lambton.
The upgrading of our collections storage capacity was identified as a priority in our 2014 Strategic Plan, and we are pleased to be implementing this major improvement. Moving forward, the Lambton County Archives will be in an event better position to safeguard the documentary history of Lambton County.