Lambton Gallery
Visitors can explore incredible stories about the history of Lambton County. Topics include Northern Navigation, Doherty Stoveworks, Dutch and Slovak immigration, local industries, and much more!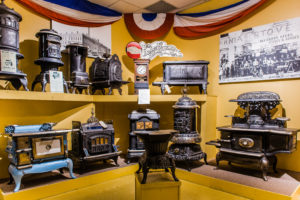 Collections Centre
Get a glimpse behind the scenes into the museum's collections storage area in this gallery space. It also highlights special artifacts from the eleven municipalities across Lambton County.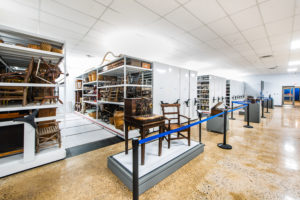 Beef-Ring Slaughterhouse
In Ontario at the turn of the century, families joined together in co-operative groups to oversee the slaughtering and distribution of fresh meat. The Springvale Beef-Ring Association formed in 1911 near Thedford. This slaughterhouse was built in 1917 by the association's third butcher, John Watson. The Springvale Beef-Ring ceased operation in 1956 and moved to the museum in 1978.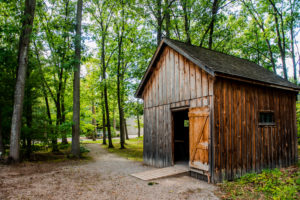 Ravenswood Blacksmith Shop
This building was built in the late 19th century. The front section was the Palmer Carriage Shop until 1920. Then, it was used as a farm blacksmith shop on the Williamson farm at Ravenswood. The carpenter and wheelwright section at the rear was a general purpose building on the farm of Paul Backx. The structure moved to the museum in 1983.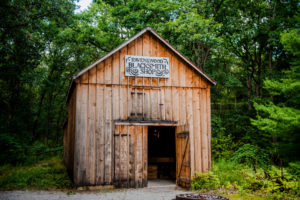 Transportation & Agricultural Buildings
These two exhibition halls contain agricultural machinery, tools, wagons, and more! Many were manufactured in Lambton County. You can view the museum's largest steam engines and threshing machines in these buildings. Also on display is a rare, horse-drawn ambulance, made by Petrolia Wagon Works and used in Lambton's oil fields over 100 years ago.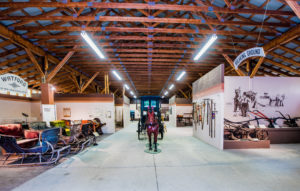 Cameron Church
On August 5, 1867, a congregation in northeast Euphemia Township decided to build a church. The land was donated and $200 was raised for its construction. The name Cameron was selected in honour of the missionary serving the congregation at the time. In 1999, after over 130 years, the Cameron Church closed. The following year, it reopened at its new home at Lambton Heritage Museum.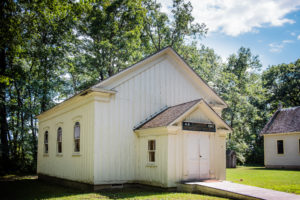 Rokeby School
S.S. No. 4 Brooke opened in September, 1899 in the crossroads community of Rokeby (between Alvinston and Watford). Over the years, the school hosted many social gatherings, including garden parties, picnics, and ball games. It was relocated to the museum in 1990 and it reopened in 1998, almost 100 years after it was built.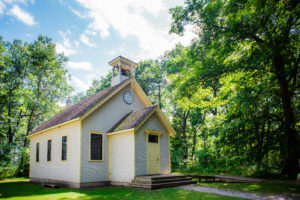 Tudhop Home
This tiny house was one of the first homes in the area. It was built near Thedford in 1857 by Daniel Tudhop for himself and his mother. In 1879, this house became part of a larger brick house. That structure was destroyed by fire almost 100 years later. In 1978, the original Tudhop home (miraculously undamaged by the fire), moved to the museum.