Lambton Fall Colour & Craft Festival 2021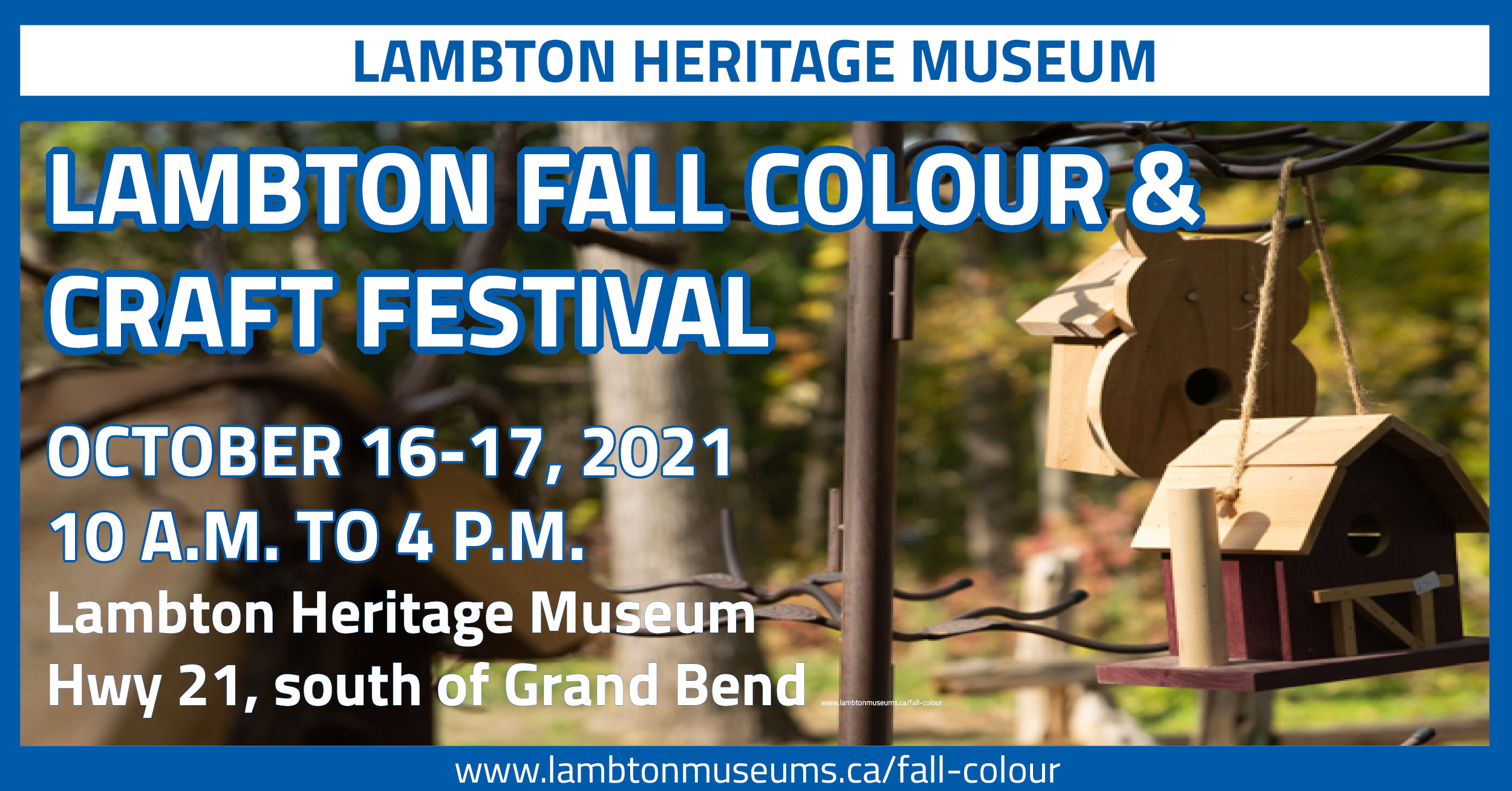 Grand Bend, ON - The annual Lambton Fall Colour & Craft Festival returns to Lambton Heritage Museum on Saturday, October 16 and Sunday, October 17, 2021.
Over 50 local vendors will be set up with an array of products available including alpaca textiles, woodworking, organic body care, home fragrances, jewelry, pottery, pastries, preserves, and seasonal handcrafted décor that is sure to inspire! In addition to product offerings, a family friendly craft will be available in a historic building – the Rokeby Schoolhouse. Families will also have a chance to meet the historical character Mr. Tudhop in his cozy 1850s cabin.
For a list of vendors and more information visit lambtonmuseums.ca/fall-colour, or call Lambton Heritage Museum at 519-243-2600. The annual Fall Colour and Craft Festival is the Museum's largest fundraising event. Proceeds from the show support many aspects of the Museum operation including a variety educational programs offered throughout the year.
"We are excited to see the Lambton Fall Colour and Craft Festival return to Lambton Heritage Museum this year," said Kathleen Annett, Marketing and Events Coordinator with Lambton Heritage Museum. "It's a great event to start your holiday shopping with one of a kind gifts while supporting artisans from across southwestern Ontario. There is something for everyone at the Lambton Fall Colour and Craft Festival."
COVID-19 protocols are in place to ensure the safety of our visitors and masks are mandatory. Admission is $5 for adults, seniors and students, while children 12 and under are free when accompanied by an adult. The Festival is open from 10:00 a.m. to 4:00 p.m. both days.
About Lambton Heritage Museum
Lambton Heritage Museum is entrusted with the care of over 25,000 historic artifacts, photographs and documents which preserve the history of Lambton County. Situated on a 30 acre parcel across from Pinery Provincial Park, the museum maintains five historic buildings, two display buildings and one main exhibition centre, as well as visitor amenities including the 1 km Woodland Heritage Trail. Throughout its 40 year history, Lambton Heritage Museum has evolved from a collection of collections, to a key repository, safeguard and educator of Lambton's material heritage.
For more information on Lambton Heritage Museum, visit www.heritagemuseum.ca or follow the museum on Facebook @LambtonHeritageMuseum.
-30-
Please contact:
Kathleen Annett
Marketing and Events Coordinator, Lambton Heritage Museum
County of Lambton
519-243-2600 ext. 3153
kathleen.annett@county-lambton.on.ca
Dana Thorne
Curator/Supervisor, Lambton Heritage Museum
County of Lambton
519-243-2600 ext. 3151
dana.thorne@county-lambton.on.ca