An 1853 Letter from William P. Vidal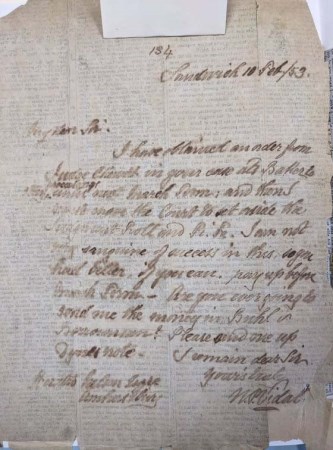 Lambton County Archives Archivist, Nicole was conducting research in one of our local history files. While sorting through scrapbooked news articles, she flipped over pages of news clippings and uncovered that they were glued to this letter from 1853! Although the letter itself is backwards, she snapped a photo and edited to make it readable.
This letter appears to be a request for a long overdue payment. William Penrose Vidal was a Barrister in Sarnia, in the mid to late 1800s. Born in Berkshire England in 1823/24 to Captain Richard Vidal and Charlotte Penrose Mitton. After they arrived in Sarnia in 1834, he met and married Eliza Ann Baby of Sandwich by the 1851 Census. They had seven children.

Contact us to learn more about the Vidal family!