Books on Wheels! History of the Lambton County Library Bookmobile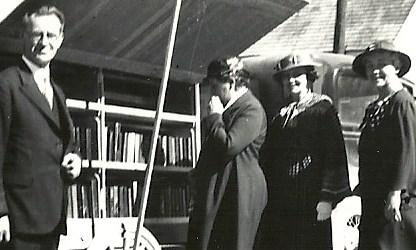 Lambton County's first bookmobile or "book-van" in Wyoming, c. 1935.
The Lambton County Library Bookmobile has a storied and intriguing past which began in the early 1930s. Sarnia librarian Dorothy Carlisle initiated a book-van ("trailer attached to an auto") to circulate new and interesting books between Lambton's library branches. An article that appeared in the Windsor Daily Star on September 11, 1937 proclaimed, "Circulation of books in Lambton County and other districts that have adopted the county circulating library system has increased as much as 300 per cent in the last five years... the Lambton County Library Association book-van... has 18 points of call in the county, and makes the rounds four times a year." The article closed by noting, "The book-van, a small, two-wheeled trailer with built-in shelves, pulled by auto, is welcomed by groups of eager readers as it calls at every county unit..." This marks the beginning of the Bookmobile legacy in Lambton County.
In 1949, newly appointed county librarian R.M. Donovan purchased a new bookmobile with expanded capacity that could carry 1,500 to 2,000 books. In his article "Lambton County Centennial, 'Our Bookmobile,'" which appeared in the Ontario Library Review, Donovan gives this colourful description of the new bookmobile: "Compared with the bookmobiles of Kent or Middlesex, the next-door neighbours, Lambton takes a back seat for beauty in the colour scheme. But the lack of beauty is well compensated for by the almost lurid contrast of canary yellow on dark green, which leaves no doubt in the seers mind as to the vehicle's identity even if seen in a mirage."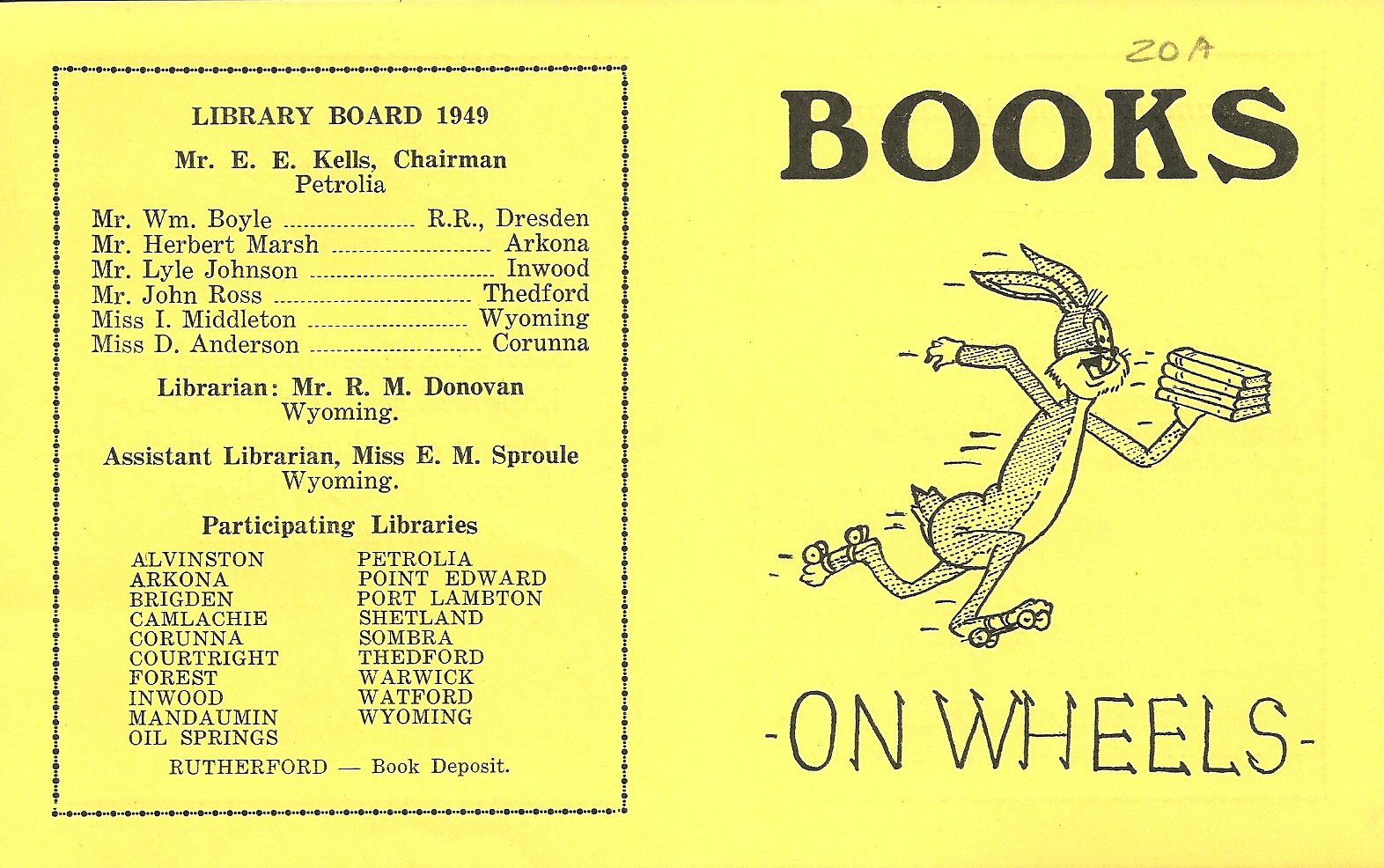 Promotional material for new bookmobile, 1949.
On February 8, 1950, the Forest Free Press published an article praising the new bookmobile for increasing reading material to Lambton County's schools. Services were now available for seventy of Lambton's schools in Bosanquet, , Brooke, Euphemia, Dawn and Enniskillen. While bookmobile service continued to schools for decades, this would not always be the case. Controversy erupted in the early 1990s when, after Sarnia-Clearwater joined the county system in January 1991, the library systems suggested service to county schools should be halted for budgetary reasons. A flurry of newspaper articles followed, including an article on February 7, 1991 in the Observer, "School boards continue pressure to keep bookmobile in operation," which said, "Teachers and trustees with both school systems have argued that the regular visits by the bookmobiles to 24 elementary schools are important to the students." Teachers arranged petitions and students wrote letters, but to no avail; bookmobile service to schools was shut down.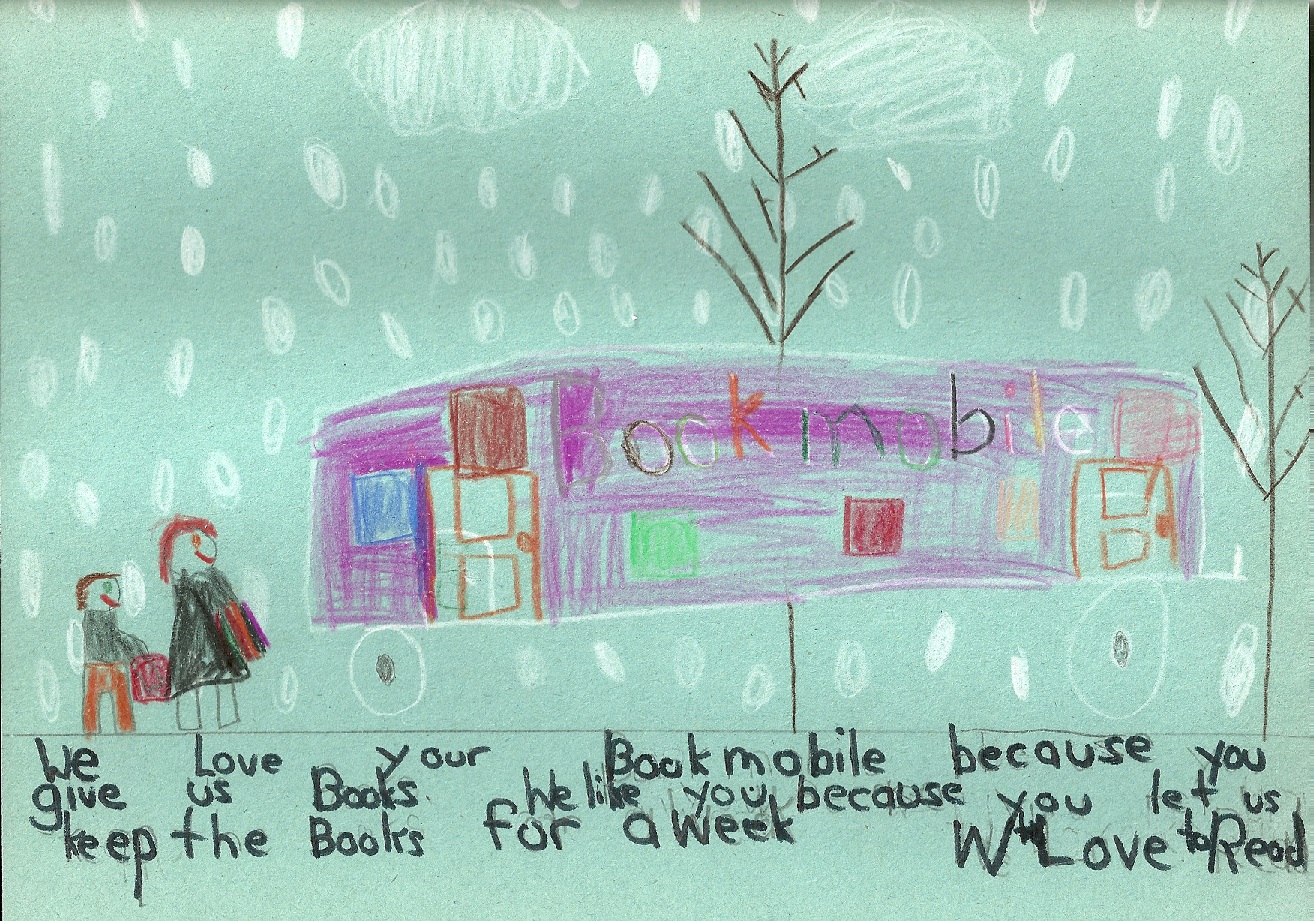 Picture submitted by Lambton elementary school student, 1990.
Despite some controversy in its past, the Bookmobile continues to operate in Lambton County today and offer services to residents. Visit the Bookmobile website for a list of FAQs and the Bookmobile's current schedule. The Bookmobile continues to provide new and interesting material to locations across Lambton County.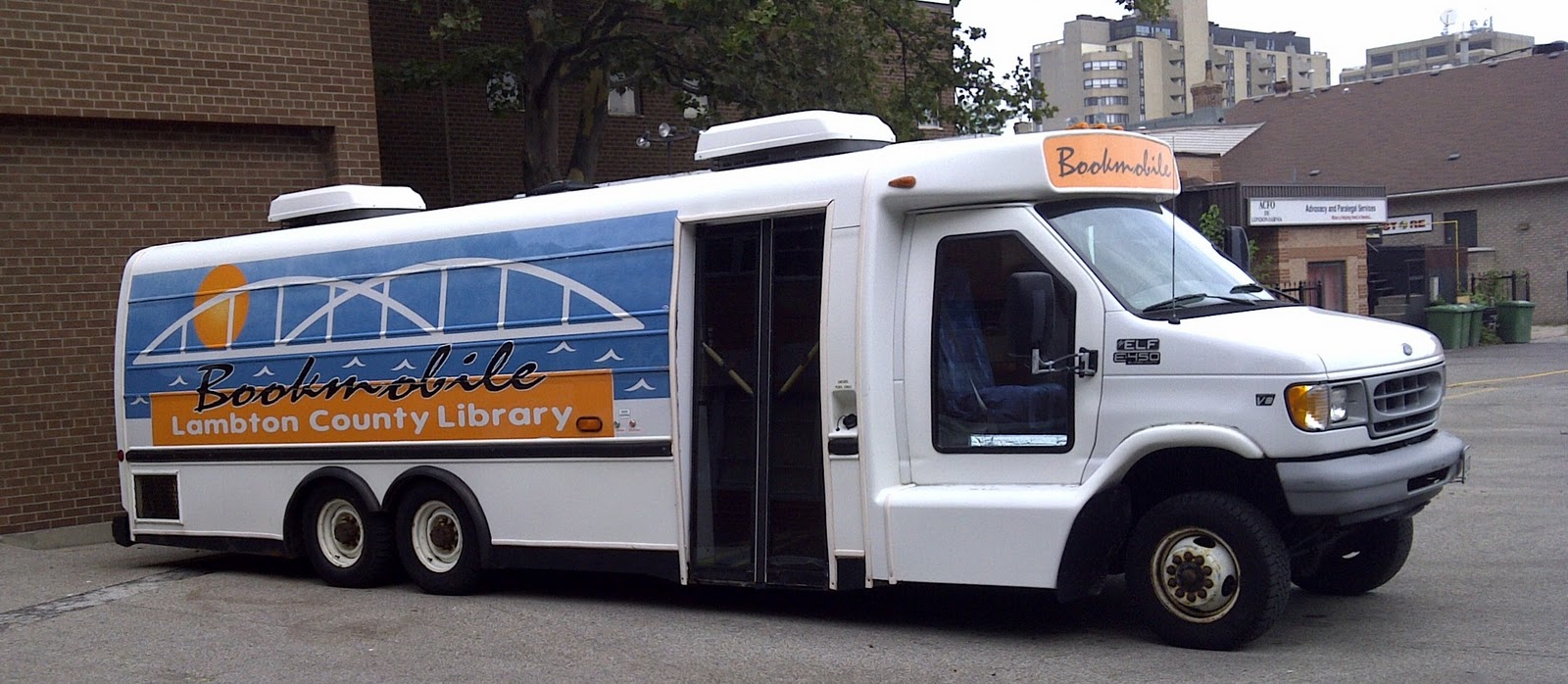 Lambton County Library Bookmobile, behind Sarnia Library in 2011.