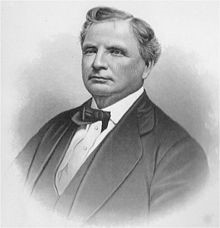 25 December 1811, Upper Canada – January 2, 1875, Detroit, Michigan
The Ward family set off for Kentucky where they planned to settle, from Vermont and traveled through Upper Canada. When the family arrived in Upper Canada - close to the vicinity of the Brock Monument, Mrs. Ward gave birth to Captain Eber Brock Ward on the 25 December 1811.
Eventually the family continued their journey to Kentucky and while they were at Waterford, Pennsylvania, Mrs. Ward passed away. The Wards put aside their plans of settling in Kentucky and instead took up residence at Conneaut, Ohio.
When Eber was about 12 or 13 he worked as a Cabin Boy, then deck hand, and later as a Clerk for his Uncle Samuel Ward's shipping business at Newport – what is now Marine City, Michigan. He then became a partner in business with his Uncle Samuel. The Ward's eventually moved to Detroit, Michigan.
The Wards were noted for being keen competitive business men. They put many ships in the waters including the St. Clair River.
Ward invested in a vessel called the General Harrison, as a 25 percent owner,[9] and became the master of this vessel in 1835. He was successful as its operator, but eventually became a partner with his uncle at Marine City.[9] He was successful at this enterprise, and continued this until 1850, when he moved to Detroit.[9] There he was involved in the shipbuilding business, and his operations participated in the construction of steamers and sailing ships; among them were the Arctic, Atlantic, B.F. Wade, Detroit, General Harrison, Huron, Montgomery, Ocean, Pacific, Planet, Samuel Ward, Caspian, Champion, and Pearl.[13][14][15] Ward and his Uncle had a fleet of 30 steamships constructed, which transported supplies to various towns and cities around all five of the Great Lakes.[4] In the mid-19th century, "E. B. & S. Ward Steamers" were the largest shipowners in the upper mid-east region of North America[16] https://en.wikipedia.org/wiki/Eber_Brock_Ward#Shipping
It was Eber Brock Ward that made the family name so widely known:
Detroit's First Millionaire – Captain Eber Brock Ward became Detroit's first millionaire by combining his own wealth with his inheritance from his Uncle Samuel Ward's estate. His business interests were vast and extended from Michigan through several states to Gulf of Mexico. At the time of his death in 1875 it is said that his worth was somewhere between 7 to 22 million dollars. Unfortunately by the time his complex estate was settled, his worth was 10 million dollars which was not enough to cover his liabilities.
Abolitionist – Captain E. B. Ward was known for bringing freedom seekers to Canada along with his paying passengers and cartage. He financially supported the Underground Ground Railway along with hosting fundraising events in support of the cause and to educate others about slavery and anti-slavery.
Philanthropist – Eber was generous in helping various causes and those in need.
Spiritualist – l his older years Eber became interested in spiritualism. He was not the only one as spiritualism was quite a popular at the time.
Captain Eber Brock Ward – Portrait hung in the State Capital - In 1920 his portrait was placed in the State Capital Lansing, Michigan with the inscription –
Eber Brock Ward
Born December 25, 1811. Died January 2 1875
Pioneer of Industry
Vessel owner and operator,
Shipbuilder, iron and steel,
Plate glass manufacturer
and Lumberman
In his personal life E.B. Ward was married twice. His first marriage was to Mary Margaret McQueen on 24 July 1837 in Newport (Marine City Michigan. Mary McQueen was his Uncle Samuel Ward's niece through marriage. Some speculated that his motive was to seal him as Samuel's major benefactor. To this union, seven children were born that lived to adulthood. This marriage ended in divorce. His second marriage took place shortly after his divorce from Mary McQueen Ward. In 1869 he married Catherine Lyon of Conneaut, Ohio. Catherine Lyon Ward was several years his junior. At the time of his death Eber and Catherine had two young children while the children of his first marriage were adults only five remained. Many of Eber's children suffered from mental health issues and scandal. The two sometimes become mistaken for one another.
Sources