Christine Jaques Date Squares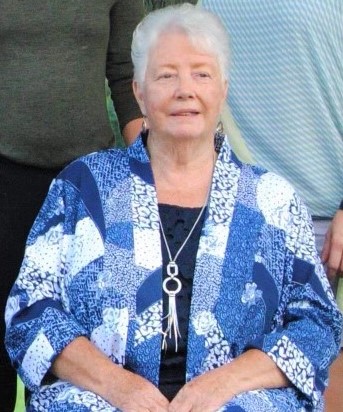 This historic recipe comes from "Mom's Favourites" – Shiloh United Church Women (about 1970's) and was submitted by Christine Jaques, daughter of Wynne Edgar. The inside of this cookbook reads "At our "Mother's Day" meeting in May, the Roll Call was "Bring a favourite recipe of your mother's". This cook book is the end result of that particular meeting.
Winifred "Wynne" McConkey was born on 24 August 1920 in Yorkshire, England - she married William "Bill" Edgar. They had two children one of which was Christine (Edgar) Jaques. Winifred passed away on 2 October 2009 and is buried with her husband Bill (April 1997) in the Wyoming Cemetery.
Christine Margaret Edgar was born on 21 July 1944 and in 1968 she married Kenneth "Ken" Jaques. They had three sons and at the time of her passing they had six grandchildren.
Christine was a school teacher and she helped her husband with their business, Jaques Farm Drainage. She was Past Grand Martha and Past Grand Matron with the Order of the Eastern Star, Britannia Chapter No. 34 Petrolia.
She passed away on 17 November 2020 and was laid to rest in the Wyoming Cemetery.
Christine Jaques' Date Squares
1 C. butter
1 C. brown sugar
2 ½ C. rolled oats
1 pkg dates
1 ½ C. flour
1 tbsp baking powder
½ tsp salt
Preheat oven 350 degrees, grease 9 x 15 pan. Mix butter, brown sugar, oats, flour, baking powder, and salt, together into crumbly mixture (large crumb). Spread ½ mixture in pan & pat smooth. Cover with cooked creamy dates. Cover with rest of mixture. Bake for 20 min. or until lightly brown. Don't over bake.