From the book that I wrote detailing this experience in chapter 11 (Destined To Run, www.destinedtorun.net; Mascot Books, 2013
"That winter we experienced snow like we had never seen it before. It would go down as one of the worst and coldest winters on record. I have always said that I was born on the wrong continent as I am not a winter person at all. The cold, ice, sleet and snow are not my idea of a good time.
That December my father has having a serious head operation at the university hospital in London, Ontario. He had suffered for many years from triminal neuralgia, also known as the suicide disease because people often commit suicide because of its severe pain before an operation could happen. Operations of this magnitude take years to plan and prepare for.
Trigeminal neuralgia is a nerve disorder that causes stabbing or electric shock like pain in parts of the face.
The pain of trigeminal neuralgia comes from the trigeminal nerve. This nerve carries the feelings of touch and pain from the face, eyes sinuses, and mouth to the brain. A serious operation would be needed. My father's major artery to his brain had wrapped around the triminal nerve causing severe pain that would often paralyze my father from doing anything until the pain had subsided. The doctors would have to drill through the back of my father's skull, unwrap the artery that had tangled itself around the trigeminal nerve in the front of his face and put a pad around it to prevent the triminal nerve from touching the artery. The operation would take seven hours with seven surgeons and many nurses in attendance to correct the situation.
The operation was set for six in the morning on Monday, December 13th, 2011. For my father to arrive in London at this time, I had arranged to take him to the hospital. It would take us an hour to arrive at the hospital so we decided to leave at three in the morning, this would leave him an hour to sign in and prepare for an operation that could potentially end his life.
Then night before the operation, we experienced the largest snowstorm we had ever received. Blowing and drifting snow, whiteouts were everywhere. The police were warning travellers to stay off the roads and they had even closed down the roads due to the dangerous condition. Knowing that I could potentially be hindered by elements, I left an hour earlier to pick my father up and make our way to London. Snow, ice and closed roads could not hold me back from getting my father to the hospital for this ever so important operation.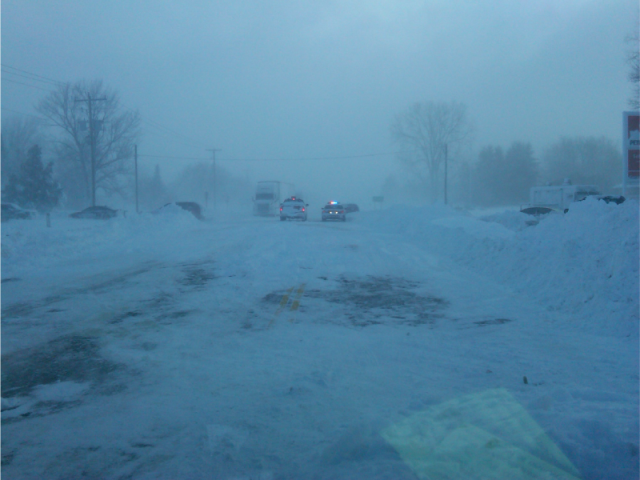 The road conditions were treacherous. The snowplows had been pulled off the road and it was just us and the unrelenting blowing snow. The drive was slow and laborious, often times we wondered if God would get us through the storm so my father could have this ever so important operation. To reschedule this appointment would take months or possibly years. We had to get there, there was no other option. We often felt the Lord guiding our vehicle through snow drifts that were begging us not to go through. We could hear the wind telling us to turn around and go home. But we would not heed the winds or the snows warning; there would be no turning around. We would not take no for an answer.
As we arrived at the front doors of the hospital it was one minute till six. The Lord had done the impossible. It took us three hours to drive one hundred kilometers but we did it. My father was now in the Lord hands. As I watched him go through the hospital doors I said a quick prayer to God knowing that could be the last time I would ever see him.
With my father in the hospital it was now my turn to turn around and head home. I needed to get back to the family business and take the place of my father in his absence. The drive back along the main highway was uneventful. The roads were snowy but driveable. I was now only twenty kilometers from home and then it happened. The traffic on the highway came to a complete stop. As far as the eye could see ahead, cars lined the highway. Maybe it was an accident that had us come to a complete stop or maybe it was a slow moving snow plow; whatever the reason we waited. After several hours of waiting people started getting out of their cars and walking up and down the side of the highway. People began visiting with one another speculating as to what was happening. No news reports were given on the radio as to any accidents that had happened. Nor was there any mention of us waiting on the highway for several hours, it was as if we did not even exist.
The day's work at the family business had been wasted as I just sat in my vehicle. I was becoming impatient as I needed to be back at the university three hours away to write two exams for the following day. As a restless runner I needed to get out and stretch my legs.
As I got out of my vehicle I noticed the driver behind me had a Boston 26.2 sticker on his vehicle. This driver had noticed my 26.2 sticker as well and immediately a bond was formed between the two of us. We had something in common, something to talk about to pass the time. He informed me that he was a doctor on his way to perform an operation at the hospital in Sarnia. As an accomplished marathon runner he shared with me some running strategies on nutrition and hydration for achieving my goal of qualifying for Boston. As he shared some invaluable bits of information, I immediately thought that God had placed one of his angels behind my vehicle to open my eyes not to give up on the dream. As we stood there shoulder to shoulder on that highway, I thanked the Lord for stopping me and encouraging me to keep going.
As evening came, and the gales of December blew upon us as the snow storm turned for the worse. People on the highway were now becoming impatient as no news had been given to us as to why we had come to a complete stop on a major highway. It looked like we were destined to spend the night in our vehicles. The drifts were forming around the cars and people were starting to run out of gas. We knew that the people in the vehicles beside us were going to be our neighbours. The temperature dropped to minus 20 Celsius and the darkness embraced us with its tight grip of aloneness and abandonment.
It was now over fourteen hours since we had last moved and there was no hope of being rescued. We were stranded. With no food and no water, people started sharing whatever they they had with others. These strangers around us had become our friends, doing and sharing everything they had just to survive. The only comforting news now being offered on the radio was to stay in our vehicles. The entire city had been shut down and there was no place to go. Even emergency personnel had turned their vehicles in for snowmobiles. It was obvious, we were alone, and we needed each other, as we fought the snowstorm of the century.
As I reclined back on my seat in my vehicle, trying in vain to keep warm, I pondered as to why God had placed me on that highway, just to sit here for hours with nothing to do, especially when I had places to go, people to see and things to do. Sitting in my car, in a snowstorm was not where I wanted to be. Then, it was as if God said through an inner voice, "Remember. "Remember what you have just heard. It will help you in your pursuit of the dream."
When morning came, those stranded on the highway had become the attention of national news. The storm was still so fierce that snow plows were still unable to start clearing the road. With just over 300 vehicles stuck on Highway 402, we were left in a desperate situation. With the snow piled high all around the vehicles people lives were in danger. No food or water had been provided and we were left to defend for ourselves. News stations around North America had began to send up their news crews to report on the dire situation. CNN was quick to take aerial shots from their news helicopters to show how fierce the storm had become. The storm was so severe, that a state of emergency was issued by the local authorities. The Canadian military was called in to air lift stranded motorists to safely. Two military helicopters and a C-130 Hercules were used in evacuating people from the highway and taking them to nearby shelters.
As the snow continued to blow I was determined to make it home. I had now been in my vehicle for over twenty four hours and I so longed to get home. I had finished my exam but because of the national attention given to our plight in our area, the university made a special allowance for me to write the exam a day later.
I noticed a heavy equipment operator with his backhoe moving slowly through the drifts and in my desperation I got out and flagged him down. It was like a gift from heaven as he said to me to follow behind him. He could plow me through to the nearest gas station since I was just minutes from running out of gas. Hundreds of cars had experienced this fate during the night. As he plowed I felt as if God's hand was upon my vehicle and sent an angel to get me out. As we dodged the hundreds of cars abandoned on the road God had provided a way out for me.
It was a moment of celebration as I drove into the gas station. I filled my vehicle up and headed out on the lonely road to get home. With my four wheel vehicle it would take me another nine hours to drive 20 kilometers but I was determined to get through, snow drift after snowdrift, but I did it. As I arrived home that night there was no greater feeling know that someone was watching out for me. I would spend a total of thirty four hours in my vehicle but I knew God had a purpose for me to experience that and it would not be until spring when I fully realized why He stopped me in my tracks on that highway."
Footnote: I was between the Forest and Wyoming Side Rd cutoff on HWY 402 when I came to a complete stop at 7:30 a.m., only to remain there for the next 24 hours.