Future of Microfilm Machines
We have recently acquired a new microfilm machine at the Archives called the ST ViewScan. This post will highlight some of the most interesting features of this new technology.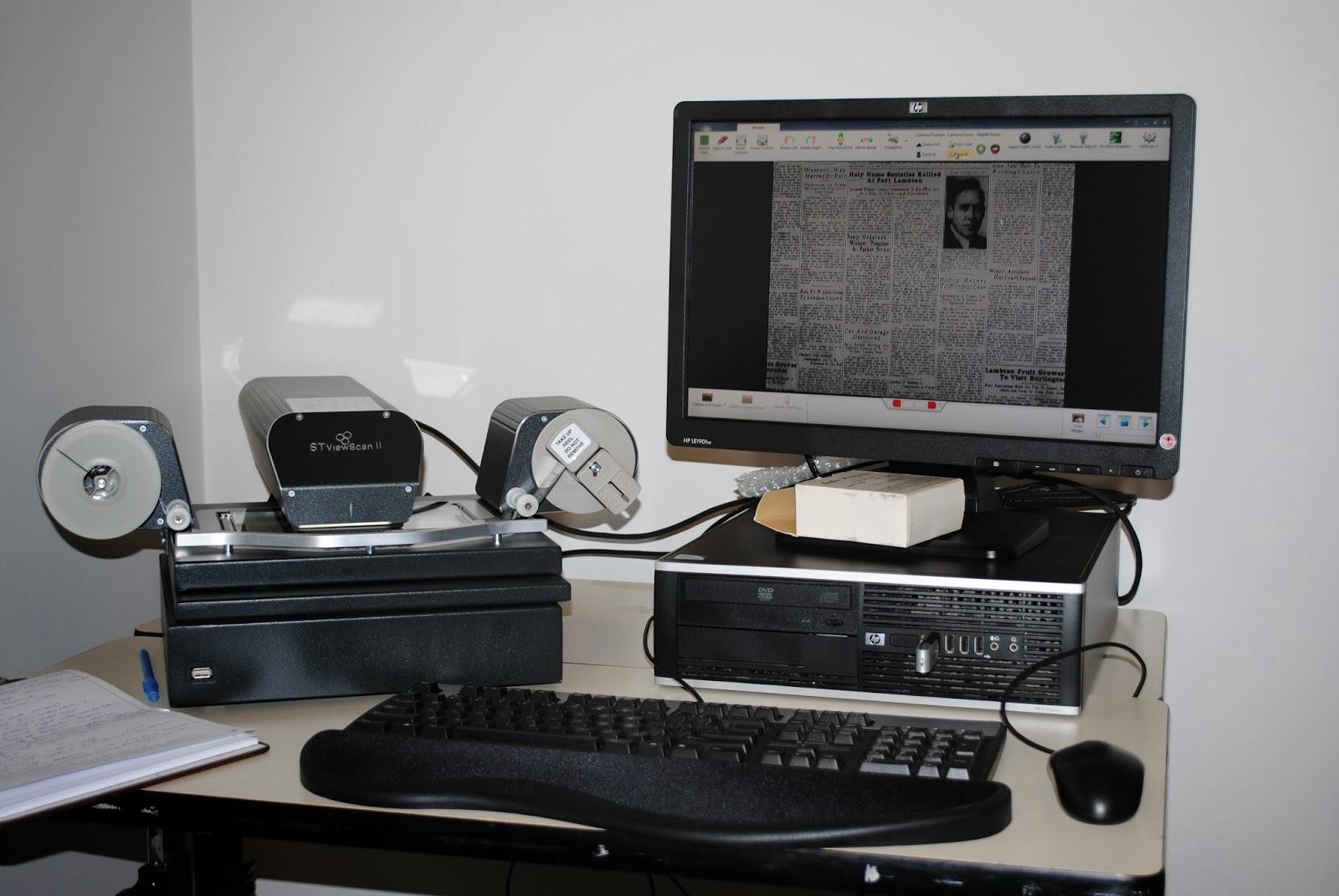 The new ST ViewScan at the archives.
Background
Canon, the manufacturer of microfilm reader machines, has discontinued their micrographics line. This means that the traditional reader-printer machines are no longer available for purchase, and soon enough, we will not be able to find parts to service our older machines. Instead of the traditional lens and projection method of older microfilm machines, the most recent technology in microfilm readers is a system involving a high-powered digital camera. The image from the camera is viewable on a computer monitor, and the program allows for a larger number of options and functionality than the older machines. This is the future of microfilm machines!
Browse Tab
The Browse tab in the program lets the user adjust the image, much like the "wheel" in the lens of the older machines. However, inside this tab, the user has a higher degree of control over how much is "zoomed in" and how much is "focused." The user can also easily adjust light levels and even use the "Straighten" tool to level out the image!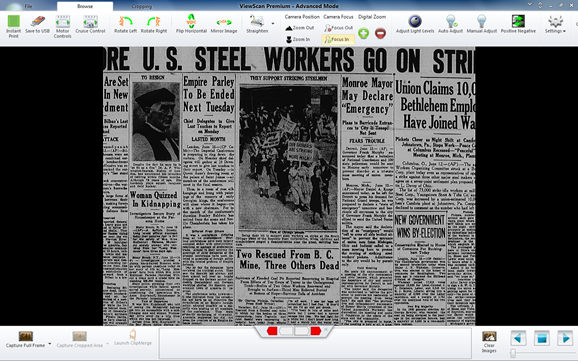 A screenshot of the "Browse" tab where users can adjust the image on screen.
Cropping Tab
The Cropping tab in the program lets the user crop an image to only what they want, and eliminate the unnecessary text. By simply clicking and dragging boxes around content, the user can select just the specific article they want.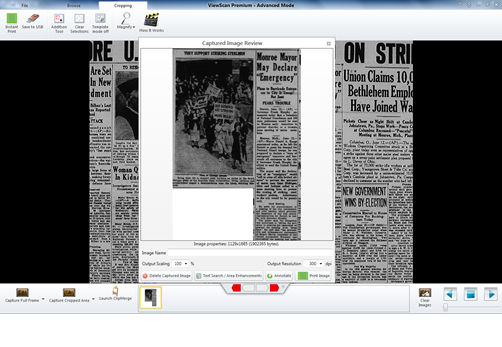 A screenshot of the "Cropping" tab where users can crop the image to capture only what they want.
Saving
The images can be saved to a USB in various formats (PDF, JPEG, TIFF, etc.) Most useful is the Searchable PDF option which uses OCR (Optical Character Recognition) software to create a PDF which is searchable using the "Find" functionality in Adobe. (Click and hold Ctrl + F on your keyboard to "search" a document that has OCR capability.) This will make locating important names, dates, or locations in your research that much more effective!
Conclusion
The new ST ViewScan microfilm machine is an extremely useful piece of technology which gives users much more tools at their disposal than the older microfilm readers. Step-by-step instructions are available at the terminal and staff are more than happy to give users an orientation to our newest piece of equipment at the Archives.
The above blog post was written by guest blogger Archivist Heather Lavallee.