Sarnia Vegetable Growers Association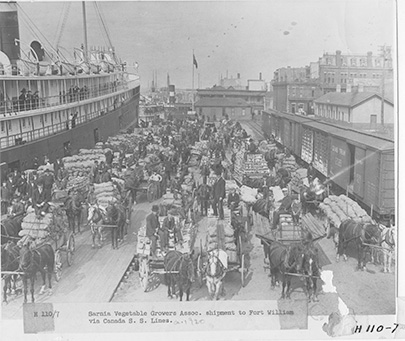 This photo is from the Holland Paisley collection at Lambton County Archives. The accompanying information suggests that this image shows a shipment being made to Fort William via Canada S.S. Lines. The ship docked in this photo is thought to be the Noronic.
While in 1870, [T.G] Vidal had started a branch of the Ontario Fruit Growers Association, it was not until May of 1910 that an article in The Observer noted how Fruit and Vegetable Growers were poised to formally organize. The chief aim of this body was to adopt a uniform system of packing fruit.
On Wednesday, May 11, 1910, it was reported that a largely attended meeting was held at No. 5 School House on London Road. It was chaired by William Gallie, with George French of the firm J.F. Wood & Co., giving a brief address dealing with "the advantages that would follow from organizing all the fruit and vegetable growers in the township." These included a uniform system of packing and grading, as well as the ability to ship products under a brand or trademark.
Other perks outlined by French included the possibility of large firms in the west to "telegraph orders of large size to headquarters." Leamington was referenced as a positive case study for this model.
French did note that "each grower would have a number, and if complaints came back from the purchaser, it would be immediately known who was responsible." He also advised that the association would not affect the price to local consumers, as members were still free to supply local customers.
By the meeting's end, the association concept had garnered support from a notable list of local growers with J.F. Wood & Co. appointed as selling agents for the 1910 season.
For more on the history of agricultural associations in Lambton County, visit the Lambton County Archives!