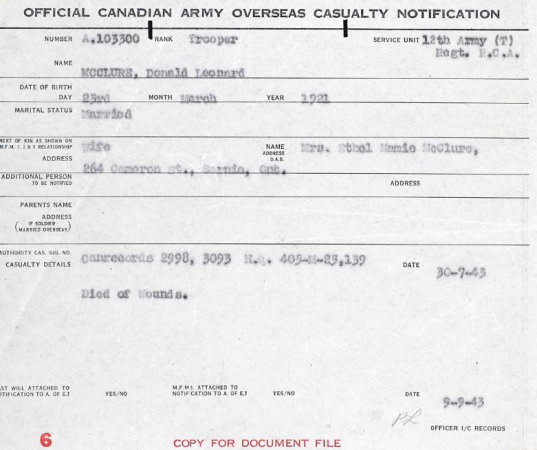 Canadian soldiers stormed the island of Sicily in a battle that raged through July and August of 1943. The Allies won, but the victory was costly. Among the casualties were 565 Canadian dead including Trooper Donald McClure of Sarnia.
Before enlisting in June 1942, Donald McClure supported his family by working as a core maker at Holmes Foundry, a job he hoped to resume after the war.
Four months earlier, Donald and his wife, Ethel, had buried their only child, a stillborn son.
He went overseas in December and eventually transferred to the Canadian Army Tank Regiment, becoming a co-driver in a five-man tank crew.
The Canadian government lobbied Allied Commanders to include Canadian troops, and the Battle of Sicily became the first sustained Canadian Army operation of the war. It was also the first combat action for the two Sarnians.
On July 10th, he landed near Pachino, Sicily. The heat was oppressive – over 40 celsius. The Canadians battled through 25 kilometres of difficult terrain as the German resistance stiffened, using the rugged terrain to its advantage. The enemy dug into every mountain and ridge, in every village and town.
Trooper McClure's tank was hit by mortar fire that perforated his abdomen. An army surgeon operated on the 22-year-old but he died the next day.
The fighting ended on August 17th, and the Sicilian invasion helped the Allies take Italy. In September, a new Italian government issued an unconditional surrender after the downfall of Mussolini.
This story was found in a recent donation of newspaper articles. Contact us for more information on Lambton's involvement in WWII!