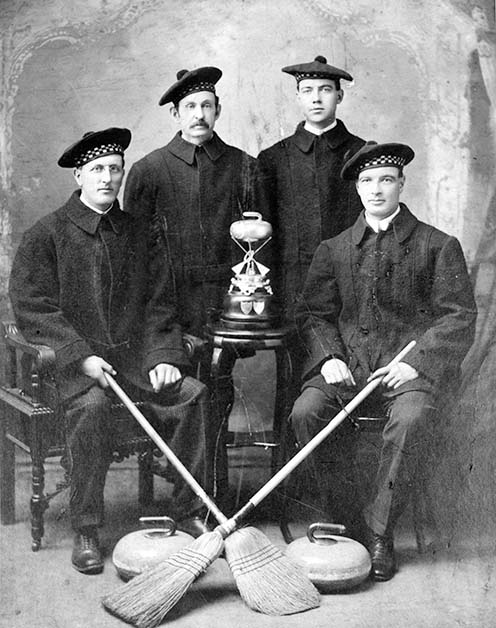 Pictured are winners of the W.G. Fraser Trophy at the Petrolia Bonspiel in February of 1910. Left to Right, A.M. McQueen, Dr. C.O. Fairbank, Wallace J. McKay and Geo. P. McMillan.
The history of Curling in Ontario stretches back to the first half of the nineteenth century when Scottish immigrants pioneered the pastime in Atlantic and Central Canada. In Curling: An Illustrated History, David B. Smith shares how wooden stones were often used in Upper Canada. Others, including stonemasons, fabricated curling stones from "granite boulders left behind by ice and removed from fields as they were cleared for farming" Library and Archives Canada.
The presence of early Curling Clubs in Lambton can be traced to 1870 with the formation of The Sarnia Curling Club. The December 16, 1870 edition of the Sarnia Observer noted that a meeting took place at the Alexander House for the purpose of forming a Curling Club. It began with the effort of "two gentlemen who went round with a subscription list to raise funds sufficient to purchase the necessary stones." The meeting also ushered in a team of "office-bearers for the ensuing year" including Mr. John Mackenzie (President), Mr. Charles Taylor (Vice-President), R. Wanless (Secretary Treasurer), Messrs. Wm. Ireland, John Chester and C. Garvey (Committee), Alex. Mackenzie, Esq., M.P. (Patron) and Mrs. Mackenzie (Patroness).
Earlier mentions of Curling include 'open air' sessions on Sarnia Bay in the mid-1860s.
For more on the history of sports in Lambton County, visit the Lambton County Archives!