Did you miss Ask A Curator Day on September 16, 2020? #AskACurator Day started in 2010 and it is an opportunity for the public to engage directly with curators across the globe and get their burning questions answered.
Lambton County Museums participated through our Facebook and Instagram accounts, with both Dana Thorne and Erin Dee-Richard answering questions on behalf of the Lambton Heritage Museum and the Oil Museum of Canada.
Q1: How do you decide whether to accept something into the collection?
A: Dana Thorne, Curator/Supervisor, Lambton Heritage Museum: We have a collections mandate that outlines what types of items we will accept. We collect material that has a relationship to Lambton County and helps tell the stories of the people that have lived here. We also consider the condition of an artifact before accepting it into the permanent collection. Contact me at 519-243-2600 ext. 3151 or by email at dana.thorne@county-lambton.on.ca if you want to discuss a potential donation!
Q2: How did you become a curator?
A: Erin Dee-Richard, Curator/Supervisor, Oil Museum of Canada: Volunteering in a museum is a good place to start. This not only helps you gain work experience but it will also help you determine which area of the museum interests you the most. Whether it's working with people in front of house duties, educating guests as a docent or museum educator, or working behind the scenes with the collection or preparing exhibits.
There are lots of different programs that you can take to prepare you for a career in museums like the Ontario Museum Association Museum Studies certificate or education offerings from colleges and universities. That said, a lot of museum professionals don't always have the straightest route to their current museum role and this helps bring diversity to the museum and the services they offer.
Q3: What is your favourite, most unusual artifact you have in your collection?
A: Dana Thorne, Curator/Supervisor, Lambton Heritage Museum: There are so many to pick from! One incredible artifact is a prisoner's box. After the Rebellion of 1838 in Upper Canada (now Ontario), over 1,000 men were jailed as traitors. Many prisoners carved delicate trinket boxes as gifts to loved ones, inscribed with verses expressing love for family and friends and celebrating freedom and liberty.
The box in our collection was made by Captain George Barclay. He was convicted of high treason and sentenced to several years in prison followed by banishment. After a few years in prison, he was pardoned. Barclay completed this box on June 25, 1838. It was a gift for his daughter, with two separate inscriptions:
Beauty is a flowe[r] that fades,
Soon it falls in time's cold shade,
Virtue is a flower more gay,
That never dies nor fades away
Tho' I be doom'd in Tyrants chains,
To loiter to the tomb
My mind will still while life remains
Be plac'd on you and home.
Q4: What's your largest object?
A: Erin Dee-Richard, Curator/Supervisor, Oil Museum of Canada: Our 1918 Procor Limited tank car used for 40 years to transport bulk oil along the rail lines, is definitely the longest. Or maybe it's the RA-38 #1 natural gas compressor which was one of three compressors used at the Dawn Storage Plant. This object is so large that the building it is displayed in was built around it! The compressor was retired in 1992 after 50 years of service.
Q5: What's the first museum you visited?
A: Erin Dee-Richard, Curator/Supervisor, Oil Museum of Canada: I think the first museum I visited is the Royal Ontario Museum in Toronto. As a child I was fascinated and terrified of The Bat Cave. But since then, I've loved immersive galleries/experiences in museums.
Q6: If you could add something to the museum, what would it be?
A: Dana Thorne, Curator/Supervisor, Lambton Heritage Museum: Lambton Heritage Museum should represent our entire community, and I'm interested in artifacts that will diversify our collection and better represent our local minority groups. I want all our visitors to see part of their personal experience reflected in our artifacts and our interpretation.
Q7: In the 1800s was special clothing worn to protect while harvesting the oil? (like rubber coated material)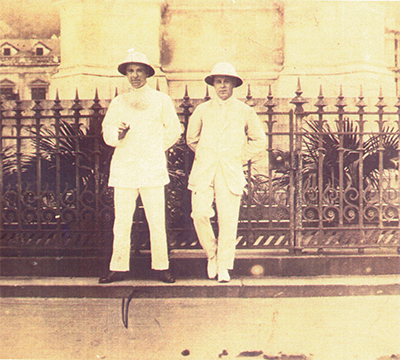 A: Erin Dee-Richard, Curator/Supervisor, Oil Museum of Canada: As far as we know, the short answer is no. From historic photographs and diaries of the time, the local oil workers wore typical Victorian labourers clothing. The #InternationalDrillers while abroad however, often wore a white muslin suit and a pith helmet.
Q8: Do you have a personal collection at home?
A: Not surprisingly, many curators like to collect in their personal lives too. Learn about LHM Curator/Supervisor Dana Thorne's personal collection, and why she might not be able to continue collecting these items in the future! If you have a collection of your own, share about it in the comments.
Q9: Will you get a museum cat?

A: Dana Thorne, Curator/Supervisor, Lambton Heritage Museum: This question was directed to my colleague Erin Dee-Richard at the Oil Museum of Canada, where they had a stray feline visitor on the grounds in recent weeks! The Oil Museum will not be getting an official museum cat, but this is a great chance to share about Lambton Heritage Museum's cat, Jack. He lives in one of the large exhibition halls on our museum grounds and keeps the rodent population at bay. Jack is friendly and likes to give tours to visitors! He's very curious, and you can see Jack checking out one of the artist demonstration that we had for Paint Ontario over the weekend.