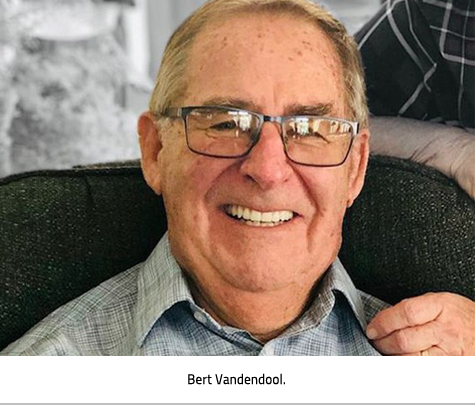 Bert Vandendool grew up working on his father's farm in Sombra Township. In 1960, Vandendool graduated from Ridgetown Agricultural College. He bought his first farm in the early 1970s and grew a beef feedlot to 1,000 head. The farm and feedlot are now owned and operated by Vandendool's son, Derek, and his family.
Vandendool made important contributions to the beef industry. Early on he recognized the need for stable financing for beef producers to buy feeder cattle. Feeder cattle are weaned calves weighing about 600 to 800 pounds. They are fed a diet of high-energy feed to promote weight gain before they are sold to produce beef. Vandendool's vision led him to establish the Lambton Feeder Finance Co-operative. The co-operative borrows large sums at preferred rates. This helps individual beef feeders borrow money more easily. The success of the co-operative spread. In 2019, there were 16 feeder finance co-operatives in Ontario. Their 800-plus members borrowed over $130 million dollars.
Vandendool was a Director of the Ontario Cattlemen's Association for fifteen years. He has been an active member of many other organizations including the Lambton Federation of Agriculture. Vandendool always ensured that the farmers of southwest Lambton were well represented.
Vandendool's community involvement extends beyond farming. He dedicated time to committees for Wallaceburg Christian Reformed School and Lambton Christian High School. He was active in the planning and construction of the new Christian Reformed Church in Wallaceburg in 1998, and served several terms as an Elder.
Regarding Vandendool's Hall of Fame induction, board member Bryan Boyle noted, "It shows the influence that Bert had on others in his life."
Articles About Bert Vandendool:
Community Contributions
Lambton Federation of Agriculture
Director and President, Lambton Cattlemen's Association
Provincial Director representing Lambton County, Ontario Cattlemen's Association, 1984-1999
Lambton Soil and Crop Improvement Association
Lambton Farm Safety Association
South Lambton Marketing Club
Elder, Wallaceburg Christian Reformed Church
Committee member, Wallaceburg Christian Reformed School
Committee member, Lambton Christian High School
Volunteer at Cor 1, a youth drop-in centre serving the Wallaceburg community