Businesswomen Through Time
Elizabeth Adamson, First Female Pharmacist in Ontario
Elizabeth Adamson was the first pharmacist in Ontario and started her practice in Oil Springs in the 1860s.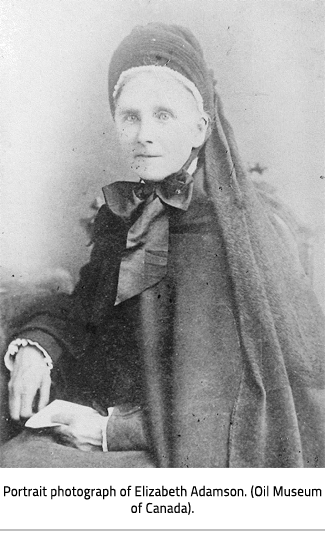 Elizabeth moved to Oil Springs in the early 1860s. Village doctor Samuel Macklem had an office and drug store in a small extra wing attached to her home. Elizabeth's daughter Annie Gale Adamson reported in a memoir, "When [Dr. Macklem] went out he used to say, 'If so and so comes in will you give them this or that, Mrs. Adamson?' And soon Mother got interested in drugs and began to study along that line." Adamson worked as an assistant in the drug store and studied pharmacy under Dr. Macklem's instruction.
In 1866 Adamson purchased the doctor's stock of herbs, chemicals and medicines and struck out on her own. She was the province's first licensed female pharmacist.
1866 was also the year of the Oil Springs oil boom crash. The village's population plummeted from 3,000 to 300 residents, and most of the retailers were forced to close their doors. Elizabeth Adamson preserved, and to keep her business open she diversified her stock to include a line of groceries.
Adamson stayed with the business until she was in her late 50s, and in 1886 her daughter Lucy took over the store.
Katherine Newton, Hat Shop Owner
Katherine (or Kate) Newton was a milliner (maker or seller of hats) who was ahead of her time when she opened her own business.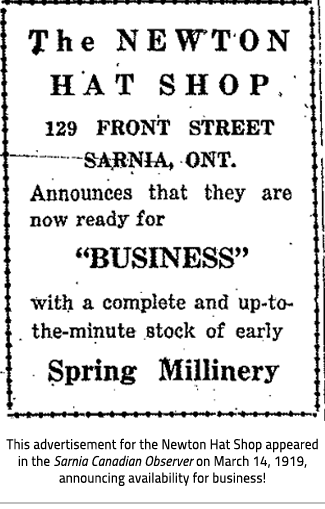 Kate created and decorated hats but also ordered fashions from hotspots like Toronto, New York and Paris. Newton operated two hat shops, one in Sarnia and one in Petrolia.
A newspaper advertisement announced the arrival of the Newton Hat Shop on March 14, 1919 at 129 Front Street, Sarnia.
Little has been recorded about Kate herself. She ultimately chose not to marry and lived at 4227 Henry Street in Petrolia with her older brother, Roy, her sister, Ethel, and her mother.
After she passed away May 24, 1968, a search of Kate's attic revealed an inventory of over 500 hats in storage. They were purchased by local historian George L. Smith. Some of the original price tags were still on the hats! The collection was sold to the Canadian Museum of History, where some hats have been used in exhibits and the collection "provides important information about the millinery trade in Ontario, as well as a visual and tactile impression of the kinds of hats that were popular in Ontario in the first half of this century."
If you're interested in learning more about Hats and History, the Canadian Museum of History has its own virtual exhibit on Hat Lore, which features Treasure in the Attic: Miss Newton's Hat Shop.
Cynthia Cook, Forest Glen Herb Farm & Bed and Breakfast owner
Cynthia Cook has longevity as a business owner, celebrating her 30th year in business in 2012.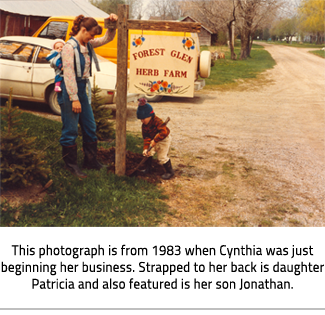 At the Forest Glen Herb Farm, customers can purchase basic culinary herbs, herb teas, fresh culinary herbs (customers can pick their own in the summertime), dried herbs, and flower arrangements. Cynthia also runs a bed and breakfast operated from her home adjacent to the farm and teaches courses for Lambton College.
Many customers will drive over an hour to shop at her store. "I do this work because I love it, despite the aches and pains," said Cynthia, whose physical chores on the farm includes harvesting, shoveling, digging, and hanging flowers, to name a few.
As a child, Cynthia loved to watch wild things grow. She used to make her own perfume by putting flowers in jars with water and letting it sit for a few days. Cynthia mentioned in an interview at the end of 2012 that she has been doing this business naturally since she was a little girl.
"What you see is me," Cynthia declared. She is truly a positive person – "If you push out positivity, you will get it back… Be positive but realistic." This positive attitude has helped her manage a successful business for over thirty years.