Changing Fashion, Changing Times
Clothing is created out of practical necessity and creative expression. It responds to changes in technology, work and social expectations.
Fashion evolved rapidly in the 1800s, and the accelerated changes were most evident in women's clothing styles. As women took on new roles in their communities, clothing adapted.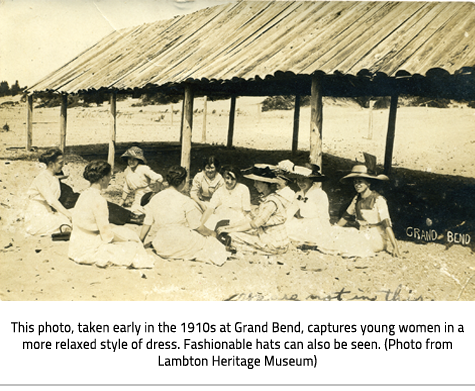 By the late 1800s, dress and hat making had become a very desirable trade for young women. The essential elements of a successful hat, dress or clothing shop were echoed in their advertisements. The shop had to be up-to-date and seen to be connected to the fashion centres of the world in London, Paris and New York, even if these fashion trends were modified to suit Lambton's early settlement communities.
Clothing could be made at home, purchased locally or ordered from far away department stores or specialty shops. A woman's clothes can tell us a lot about the type of work she might have done, her social status, how she was seen by her community, and how she in turn wanted to be seen.
The museum is fortunate to have a range of women's clothing in its collection. Since utilitarian, worn out clothing was often recycled into rugs or quilts it is not as well represented in the museum as formal dresses like those worn at weddings or social events of the day.