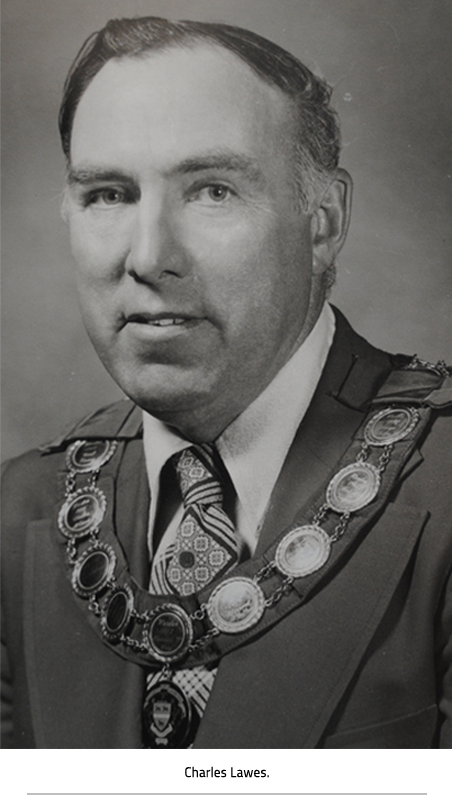 Charles H. Lawes was dedicated to family, farming, and community service. He was born February 28, 1924 in Brooke Township. He bought his first farm there when he was 20 years old. The farm expanded over the years to encompass 250 acres. Lawes was known as a man who grew good crops.
He served as an outstanding member of the Lambton County Plowmen's Association for more than 20 years, beginning in the 1960s. He was elected as Lambton County's provincial director on the Ontario Plowmen's Association in 1982 and held that position for 20 years. Lawes was always willing and able to help organize plowing matches. His leadership was instrumental in supporting two local International Plowing Matches (Brooke Township in 1973 and Enniskillen Township in 1991). At the 1991 match, Lawes looked back on plowing as a young man. He remembered plowing 10 acres with a team of two-year-old colts and a walking plow. "It took me a whole week to plow it and today I think a young guy would make a couple of rounds with a big tractor and he'd have it all done," he said.
Lawes was also involved in local politics. His political career began in 1955 when he was elected as Councillor for Brooke Township. In 1967, he was elected Deputy-Reeve and also served on Lambton County Council. In 1974, he was the first Deputy-Reeve elected as Warden of Lambton County. He later reflected that some of the highlights of his life were serving as Warden and as a director with the Ontario Plowman's Association. Anyone who ever worked with 'Charlie' recognized his leadership qualities. He was known across Lambton County as a joy to work with.
When Lawes retired from farming he moved to Inwood with his wife, Ruth McTavish. He remained active in the community well into his golden years. In his 90s, he could be seen helping out at local events such as the Brooke Alvinston Watford Fall Fair.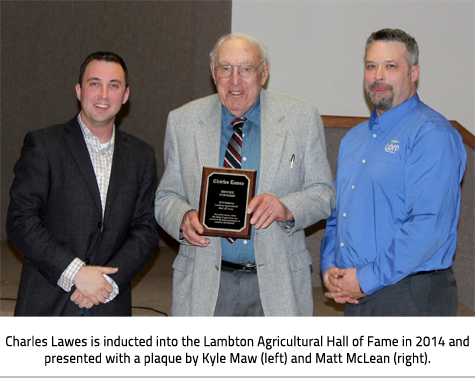 Community Contributions:
Secretary/Treasurer of Fairbanks School, 1944 to early 1960s
20 years as Director of Lambton County Plowmen's Association
President of Ontario Plowman's Association in 1995, member for 20 years
Alvinston Community Centre Committee representative
Brooke Municipal Telephone Board, 1981 - 1991
Member of Brooke Alvinston Watford Fair Board, president in 1971
Long–time Sunday School teacher
School Trustee for Beaver Meadow School
Past master of the Inwood Masonic Lodge, served as treasurer for many years