Guiding Beacon: Helene Shingles
Dr. Helene Shingles overcame great adversity and emerged as a successful and charitable professional.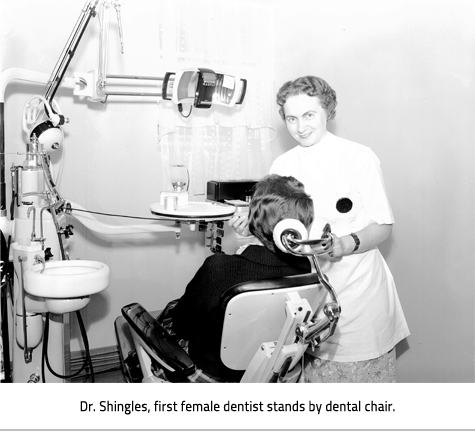 Helene was born in 1897 in Poland and graduated from the University of Warsaw's dentistry program in 1939. Following the German invasion, she was interned at a concentration camp in Germany and lost her family during the war. After 1945, she worked at a clinic in Paris, but she was unhappy with her life in France. Helene made the brave decision to move to Canada in 1950 with no family and little knowledge of English.
She graduated again from the University of Toronto in the mid-1950s. Dr Shingles set up her first practice in Corunna in 1957 and practiced in Corunna and Sarnia until her retirement in 1976.
Retirement did not slow her down: Helene worked tirelessly providing seniors with free dental services! She treated seniors in her office at Marshall Gowland Manor and visited local hospitals and seniors in their homes.
She commented to the Observer in 1994 (in her mid-70s and still volunteering five days a week), "Here you are not only the dentist, you are really a friend… Canadian people were very helpful when I came to Canada so I like to express my gratitude through my work." Helene received the Order of Canada in 1997.
Helene Shingles passed away in 2009 after thirty years of volunteer service.
Nominated by William Douglas, he wrote about Helene, "I never met [Helene] but she was so popular in this area after her retirement… she would fit right into the type of woman you want to recognize."
Nominees:
Elizabeth Berry
Elizabeth Berry was a passionate and caring voice for women and families in Sarnia.
Elizabeth's gracious nature and non-judgemental advice was a model for many families in the Sarnia area. As a champion for prevention programs, Elizabeth was seen as an innovator in the Early Childhood Education (E.C.E.) field.
Throughout her life Elizabeth was recognized for many of her amazing contributions to Sarnia and the E.C.E. field. This included being awarded the Canada 125th Anniversary Medal, the 1994 YMCA Peace Medal and being selected to the Mayor's Honour List.
Nominated by her sister Marilyn Allan, Elizabeth passed away in 2002.
Isabell Carter
Isabell Carter is a leader in the field of Education in the City of Sarnia.
Isabell was a teacher for twenty-nine years and trustee in the Sarnia-Lambton Board of Education for twenty-four years. She had a passionate voice for equality and women's rights in the County.
Ordained as the First Woman Elder in Lambton County with the Presbyterian Church of Canada, Isabell also served as a member of the Women's Teachers Federation and Ontario representative for the Public School Association.
Nominated by Janet Love from St. Giles Presbyterian Church, Isabell is described as "tough but fair" and "a strong presence and inspirational leader of women."
Norma Cox
Norma Cox is a great philanthropist for children and youth in the City of Sarnia.
Norma has supported many important organizations and projects within the City. The playground and children's splash pad at Tecumseh Park, the flower park at Germain Park and the Cox Youth Centre have all received generous donations on Norma's behalf.
In 2007, a scholarship was created at Lambton College in her late husband's memory and in 2010, Norma received a senior achievement award from the Province of Ontario.
Norma was nominated by Marilyn Rawson on behalf of the Sarnia Communities in Bloom committee.
Jean Turnbull Elford
Jean Turnbull Elford was a researcher and author dedicated to sharing the history of Lambton County.
A founding member of the Sarnia Creative Writers group, Jean's support of fellow historians, along with her tongue-in-cheek humour, was highly valued among her peers.
She was the author of two definitive local history books: A History of Lambton County and Canada West's Last Frontier: A History of Lambton.
Jean was nominated by Froomfield native Alice Gibb who highlighted how "invaluable her research and support for fellow writers was over her long career." Jean passed away in 2012.
Peggy Fletcher
Peggy Fletcher played a vital role in Sarnia's literary scene.
After settling in Sarnia, Peggy attended SCITS and became an active member in groups such as Sarnia's Little Theatre, the Ontario Poetry Society and Writers in Transition. She was also the co-creator of the Spoken Word held monthly at the Lawrence House Centre for the Arts.
As an Editor of the Sarnia Observer from 1969-1975, a creative writing teacher at Lambton College and a nationally published author, Peggy had a profound effect on many young writers in the Sarnia community.
Peggy was nominated her husband John Drage. She passed away in 2012.
Anne Marie Gillis
Anne Marie Gillis is passionate about civic pride and community growth in Sarnia.
Anne Marie is currently a Councillor for the City of Sarnia and Lambton County. As a founding member of Sarnia Communities in Bloom, Anne Marie has been instrumental in the program's growth since 2006 and was a key contributor to the 2012 national finalist team.
As a member of the Sarnia Heritage Committee and the Lambton County Historical Society, Anne Marie has demonstrated a keen appreciation for the preservation of our local history.
Anne Marie was nominated by Marilyn Rawson on behalf of the Sarnia Communities in Bloom committee.
Maud Hanna
Maud Hanna was a philanthropist and environmentalist who lived in Sarnia at the turn of the century.
In 1932 the City of Sarnia wanted to purchase park land on Lake Huron. Maud quietly donated half of the purchase price ensuring families would have a beautiful waterfront park for years to come. She also helped establish a children's ward at Sarnia General Hospital and made sure thousands of children received free street car rides to Lake Huron Beach.
Maud was also a passionate environmentalist. She is credited with saving many of Sarnia's tallest trees. She published a booklet on wildflowers and conservation and often wrote letters to the newspaper urging Sarnia residents to keep the city cleaner.
Maud's legacy was immortalized when Hanna Memorial School opened in 1947.
Maud was nominated by Marilyn Rawson on behalf of the Sarnia Horticultural Society. She passed away in 1946.
Karen Holland
Karen Holland is a local and national advocate for diabetes awareness.
Karen was the founder of the Sarnia-Lambton Diabetes Parent Support Group. As an advocate and voice for parents in the region, Karen was instrumental in shaping local and national diabetes policy.
Currently, Karen works with the Pathways Health Centre for Children, which helps create tools and resources for children, youth and young adults with many different developmental abilities.
Karen was nominated by her daughter Nicola Holland.
Jean (Williamson) Howard
Jean (Williamson) Howard was a great mentor for many in her community.
Born and raised in Sarnia, Jean was a wife, mother and grandmother who volunteered many years to many different organizations within Sarnia.
As pianist, junior and senior choir director, Sunday school teacher, Canadian Girls in Training leader and volunteer at the Sarnia General Hospital, Jean displayed great leadership and positively influenced many other lives.
Jean was nominated by Marilyn Rawson. She passed away in 2001.
Sophie Jackson
Sophie Jackson is a champion for the visually impaired in Sarnia.
Registered as legally blind, Sophie is committed to an active life and is involved in many different community organizations. This has included serving as President for the White Cane Centre and the Woman's Missionary Society of Canada.
An active bowler, public speaker and member of the Red Hat Group, the Tinkerbelle's, Sophie was nominated by her friend Celine Viggers who described her personality as filled with "… smiles, fun and kindness."
Joy Kohut
Joy Kohut's athletic career is a great inspiration to many young people in the Sarnia community.
During her career from 1950-1969, Joy was regarded as one of the best fastball pitchers in Canada. She helped Sarnia win four provincial championships and won five more titles with other Ontario teams.
In 1962, Joy threw a perfect game in the provincial semi-finals, followed by a no-hitter in the championship. In 1986, she was inducted into the Sarnia Sports Hall of Fame.
Joy was nominated by her great niece Erin Dunlop-Forbes.
Mary McGeachy
Mary McGeachy was a distinguished female leader and pioneer for gender equality in the early 1900s.
Born in Sarnia to a gospel preacher and a graduate of SCITS, Mary's diplomatic and humanitarian career inspired and motivated many young women of future generations.
In 1942, she was the first woman to be given British diplomatic rank and later was made Director of Welfare for United Nations Relief and Rehabilitation Administration, the only woman in an executive position at that time.
A book published in 2004 titled Woman of the World: Mary McGeachy and International Cooperation highlights her amazing life.
Mary was nominated by Jeffrey Beeler. She passed away in 1991.
Pauline McGibbon
Pauline McGibbon dedicated her life to the betterment of the community, province and country.
Born in Sarnia in 1910, Pauline was a lifelong supporter of the arts. During her life, she would be the first female to lead both the Canadian Conference of the Arts and National Arts Centre.
In 1974, Pauline was appointed the first female Lieutenant Governor of Ontario, a position she held for six years. After a life of dedicated service, she was promoted to be a Companion of the Order of Canada in 1980 and appointed to the Order of Ontario in 1988.
Pauline was nominated by two respondents; Marilyn Rawson on behalf of the Sarnia-Lambton Canadian Girls in Training Board and Sylvia Freeman on behalf of the Forest-Lambton Museum. She passed away in 2001.
Dorothy Neal
Dorothy Neal has been an active participant in the Sarnia community for many years.
Born in 1918, Dorothy served as a Nurse for many years at Victoria Hospital in London and St. Joseph's Hospital in Sarnia.
She has been active in Women's Mission Work at the local, provincial and national levels. Serving as camp nurse at Camp Kintail for many summers, Dorothy is described as a "very kind-hearted, loving and caring woman."
Dorothy was nominated by Marilyn Rawson on behalf of the Presbyterian Women's Missionary Society.