Dorothy (Seymour) Maxwell
Thedford
Girls at Thedford camp having a good time! They are posed around an old wheel from the flax mill that was renovated to become their dormitory.
Dear Bonnie:
You really surprised me when you first phoned saying you had read my letter to the person asking for names of former Farmerettes. Apparently I said "It was the best time of my life," and you wondered why as others had said the same thing. After nearly 70 years, the same feeling is there, but details are foggy. I'll give it a try.
You asked for pictures and I was sure I didn't have any. However you stirred up memories that were steeping on the back burner for years. You also aroused my curiosity.
First, I found a post card of the camp at Thedford that I discovered I had never mailed to my brother. Also pictures of Ipperwash Beach and park in the '40s where we had fun in time off.
Next, and it is still foggy in my mind, I remembered putting pictures in an old Laura Secord Box that I hadn't unpacked since 1979 when we moved and I don't know how many years before.
What a shock! I don't recall going around scantily clad and in bare feet. My daughter was doubly surprised. She said she would never have believed that girls would dress that way in that particular day and age (and she is into heritage big time!). A light bulb went on – they didn't.
This is probably one of the reasons we enjoyed life so much, to quote an overused adage, we lived "outside the box."
This was not apparent to me at the time. Fun, friends and freedom, with the accent on freedom - to be ourselves without being told how to be or conform to society's expectations. We were not wild. We did live within the lines of propriety that we had internalized, but had fun as you can see from the genuine smiles and joyous expressions in the pictures.
Certainly our summer home was not luxurious. We slept in a barrack-type room with bunk beds, two girls to a bed. We ate together but I can't recall what we had. Those necessities were mundane compared to our working and playing together.
We were up early and worked hard. We got paid by what we picked each day. Needless to say, we worked as fast as possible.
We hitchhiked everywhere and had no qualms going to any city we wanted to see. We got lost in many. One time we ended up in one of the unsavoury districts in Detroit. It was a favourite place to go, especially the (to us) exotic clothes. We used to try on a lot of clothes, for fun, but we never bought any as we had no money. Another time we got lost in Goderich. It took us some time to find our way out.
We never seemed to have any problem getting rides. Residents may have been accustomed to us and knew we were harmless as we considered them to be. Of course, this was the era before seat belts and restrictions on the number of people allowed in vehicles.
We were a mixed bag of ages, colour, religion and backgrounds, but none of this was important, or even thought of. We all seemed to get along fine. I don't remember any squabbles, unusual for females. We did share secrets and many girls went to camp for various reasons.
I don't know what prompted me to fill out that application form to go to Southern Ontario to pick fruit when I had never been more than 50 miles from home in Athens, Ont. I was reading Canadian High News in class (apparently not interested in the subject being taught), when I spotted the application and without further thought, filled it out and sent it.
What a shock when shortly after, I received train tickets, baggage tags and a schedule for arrival and departure. Someone was to meet me on arrival. I had told no one of my plan, not even my parents. Needless to say it didn't go over well but was finally accepted.
Looking back, after talking to you, I wonder if that snap decision and ensuing experience at an early age was a contributing factor in shaping life to this day. I did continue to "just do it" and had quite an adventurous and memorable life without giving a thought or fear of the unknown.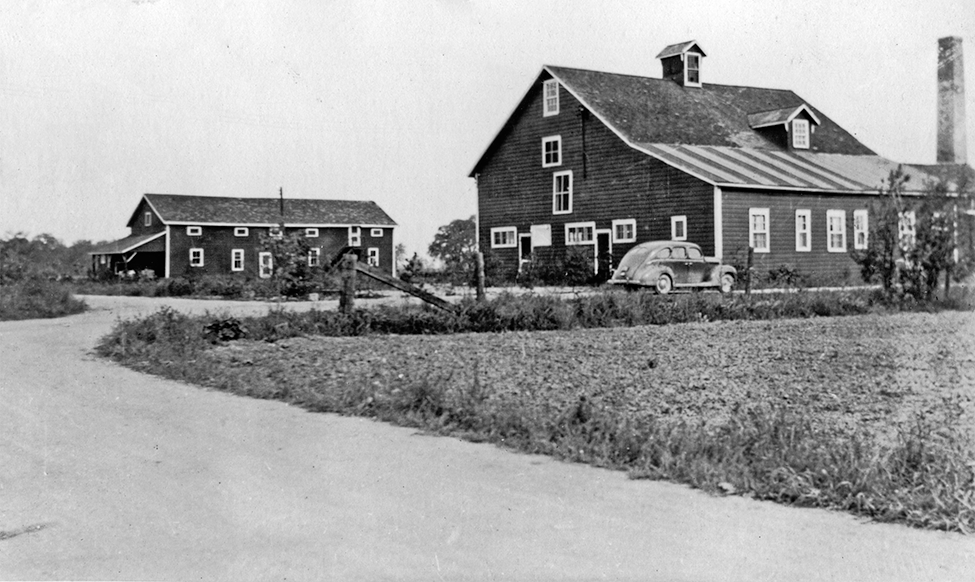 A postcard showing the Thedford Camp that Dorothy forgot to send to her brother.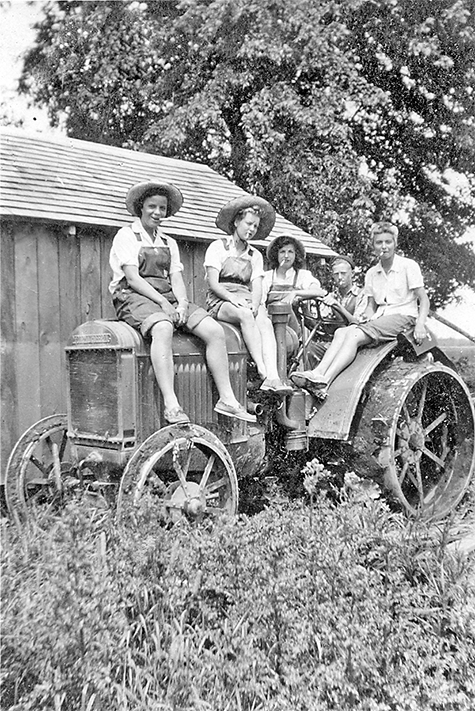 Farmerettes posing on a tractor with cigarettes "trying to be cool"