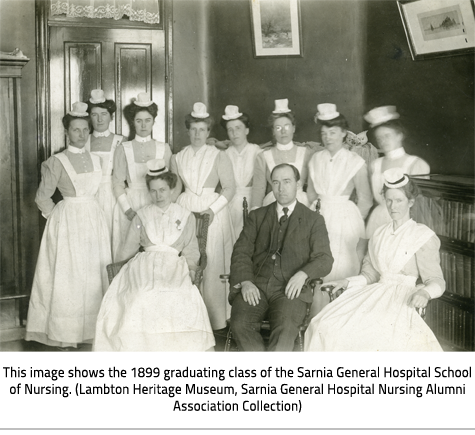 Nursing is a career traditionally dominated by women, although that gender stereotype is changing over time.
The earliest nurses in Canada were members of religious orders. The first formal nurse training program in Ontario was established in 1874 in St. Catharines. A local example of nurse training is the Sarnia General Hospital School of Nursing, which took its first students in 1896.
When the Sarnia General Hospital School of Nursing opened, days were long and began at 5:30am with formal morning prayers and breakfast. Students were on the wards by 7:00am for twelve hour shifts. Formal classes were held after the shifts and had to be completed by 10:00pm, the official bedtime.
A student's first three months in the program were considered her probationary period. If she proved capable during that time frame, she was formally accepted into the school. It was written regarding successful students in a Sarnia General Hospital Nursing Alumni history book, that "A strong back, good feet and stamina were the main requirements for entrance to a school of nursing." At the turn of the century, the daily duties of student nurses consisted of dusting and washing walls and furniture in patient's rooms, bathing patients, and cleaning utensils.
Stories and Memories
Some wonderful stories emerged from nurses who were trained locally.
Donna (Morrison) McBean graduated from the Sarnia General Hospital School of Nursing in 1930. Here, she recalls an unusual case that resulted in a trip to Cuba for two lucky nurses!
"On April 5th, 1933 I was called to 'special' an unusual case. Robert DeMoyer, an 8 year old bank clerk in the Brigden branch of the Bank of Nova Scotia had been putting away the bank's guns when one dropped and discharged a bullet in his abdomen… Dr. W.B. Carruthers and Dr. Rutherford as an aesthetist were the attending physicians. Robert had 4 major surgeries in 23 days and was fed through a tube into the small bowel. After several infections requiring drainage from the lungs and bowel (there were no antibiotics), he was finally able to eat two teaspoons of custard on June 7th and was discharged from hospital in good condition on July 15th. I worked 18 hours a day for three months, often sleeping on a cot in his room. When Robert was discharged I was asked to accompany him and his sister on a trip to Cuba to visit his parents. We took the train to New York and sent three days on a ship to Cuba."
Read more memories from the Sarnia General Hospital Nursing Alumni.