1944, Forest
by Bruce Finn
My Mom, Helen Audrey Finn ( nee Abernethy), served as a Farmerette during the summer of 1944.
Mom had just completed Grade 13 at Malvern Collegiate Institute in the Beaches area of Toronto. She worked the entire summer and thereby avoided writing final exams. In Mom's Grade 13 class, within one year, thirteen young men were killed in action, all RCAF aircrew in Bomber Command.
Mom worked on a beef farm near the town of Forest, Ontario. She stayed with 23 other girls at the Forest High School, going out daily to the farm. I am attaching a photo of the group of girls, taken outside the Forest High School. My Mom is standing, on the extreme left of the photo. It was taken in August of 1944.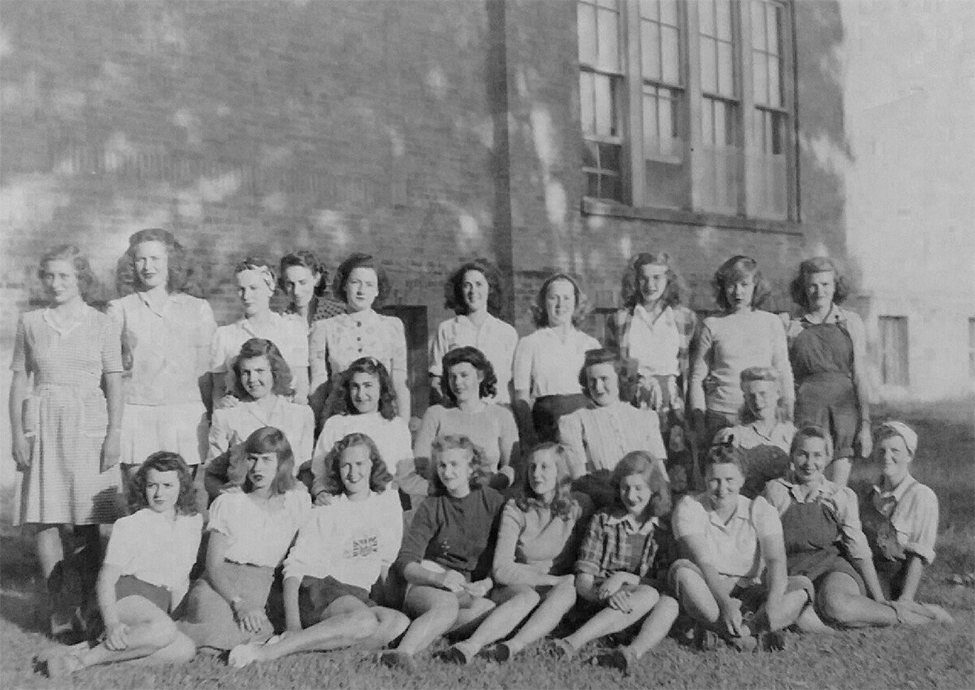 Farmerettes outside of the Forest High School in August 1944. Helen (Abernathy) Finn is standing, on the extreme left of the photo.
Mom told us four boys about learning to drive a farm truck and tractor. Mom told me about the hard work and fun she had, as I worked on a farm for my bus driver, in the summer months, when I was in high school. We also have a photo of her standing between two large beef cattle, all five foot two of her! Mom passed away in 2016.
Mom started training as a Registered Nurse at Women's College Hospital in Toronto, graduating in 1947. Mom and Dad were high school sweethearts, they married in 1948. Dad graduated from U of Toronto Meds School in 1951. They moved to Wellesley, about 15 miles northwest of Waterloo. Dad shared a country doctors practice with another new physician, retiring in 2000. That's where we grew up, a great life in a small town.