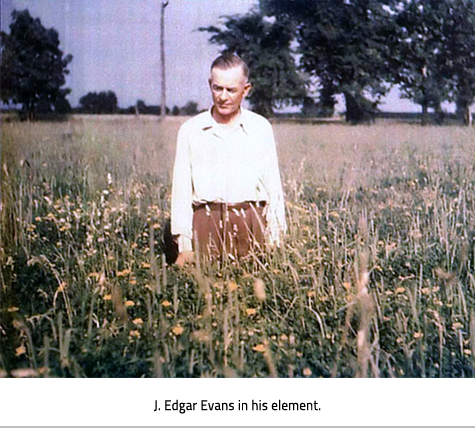 J. Edgar Evans was born July 31, 1875 in Hamilton, Ontario. At an early age, his family moved to Dawn Township. There, he pursued a successful life of farming at Lot 26, Concession 2. He died in 1972 at age 82.
A practical and innovative farmer, Evans was receptive to new ideas. During the 1940s, he recognized the need for a crop to plant in the poorly drained, heavy clay soils of Dawn Township. The farmland in south Lambton is very productive today, but in the 1940s it was not drained. In that condition, the soil was unsuitable to crops like alfalfa.
Thanks to the pioneering efforts of Evans, an exciting new cash crop emerged in Lambton County. He once commented, "If you have a farm that doesn't pay, seed it to Birdsfoot Trefoil, along with any other grass you can grow best. For a permanent hay pasture or a cash crop for seed, it's hard to equal."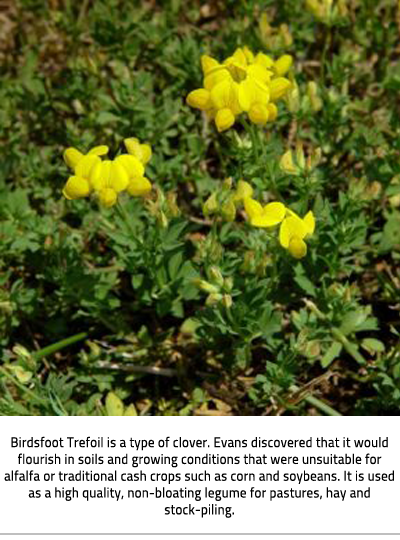 Birdsfoot Trefoil
Birdsfoot Trefoil became known as the "Cinderella Crop" of South Lambton. It grew well in drought and wet conditions and it did not cause bloating in livestock. Read more in this 1958 Progress Report on Forage Crop Investigations.The great innovation of Evans was planting a type of clover, Birdsfoot Trefoil. In the spring of 1941, Evans travelled to New York State and obtained eight pounds of the seed. He experimented over the years and in 1948 harvested his first major crop of trefoil. Eventually, it was grown from Windsor to Rainy River with more than a half-million acres in production.
Evans loved to share his knowledge of farming with others and helped many of his neighbours get started in trefoil production.
Many farmers cashed in on the high prices its seed demanded and production spread across Ontario. Seed production during that era was lucrative and a financial success for many rural Lambton families.
To get more information on the contributions of J. Edgar Evans, you can refer to this paper with more details.
Community Contributions
Devoted member of the Zion Free Methodist Church
Long–time Sunday School teacher
School Trustee for Beaver Meadow School