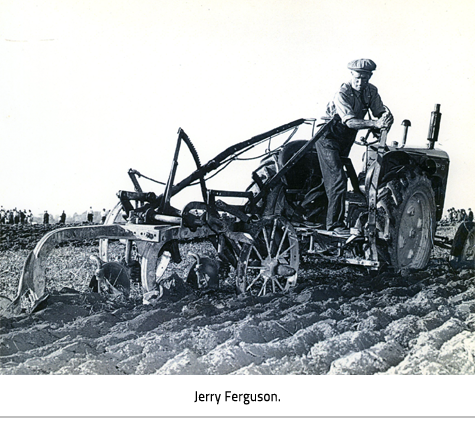 Jerry Ferguson was born in England and moved to Canada in 1910. He was employed on a farm and received board and $40 per year. At the end of that year, the thrifty Ferguson had $39.50 in the bank. His brother Joe moved to Canada and secured a position managing a farm in Dawn Township. Ferguson joined his brother there.
Ferguson found both employment and romance in Dawn Township. His future wife, Mary Evelyn (Effie) Ward, lived just around the corner from the farm where he was working. They were married in 1921 and had four boys, Lyle, Allen, Donald, and Ross. They farmed a 50 acre property on Lot 29 Concession 11 in Dawn Township. In the late 1950s, he bought the adjacent 100 acre farm at Lot 28 Concession 11 from Angus MacAlpine.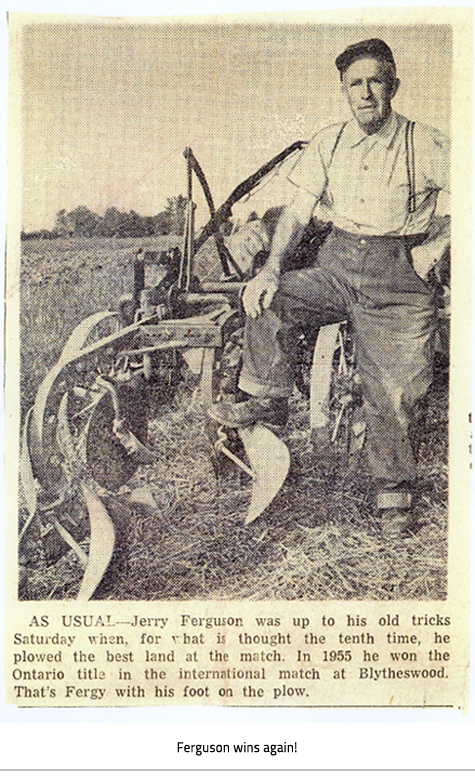 Famous Plowman

Ferguson was best known for his plowing abilities. He plowed with a tractor and a two furrow plow in competitions all over Ontario and Michigan. For many years he borrowed a tractor, either by calling ahead to the match organizers or making a deal with a friend. This allowed him to load the plow in the back of his pickup truck and travel easily to matches.
Around 1959 he purchased a new Model 22 Massey-Harris tractor. He also had a customized Massey-Harris 26 plow for competition only. With the help of his son Lyle, they created a customized setup. A trailer was built that would tilt the plow into the back of a pickup. After the plow was secured in the truck, the tractor was loaded onto the trailer. Ferguson was ready to travel for his competitions.
Ferguson was called upon to be a director and a judge of the International Plowing Match and various County matches. He was Champion Plowman at the Lambton County match on several occasions. He was honoured when he and his son Ross were declared as having the two best plowed lands on the grounds at a match in Shetland.
In 1956, in Essex, Ferguson won the Ontario championship and came second the next day for the Canadian championship. Ferguson plowed his last International Plowing Match in 1973 in Alvinston. At the age of 81, he placed second in the Open Class for Ontario.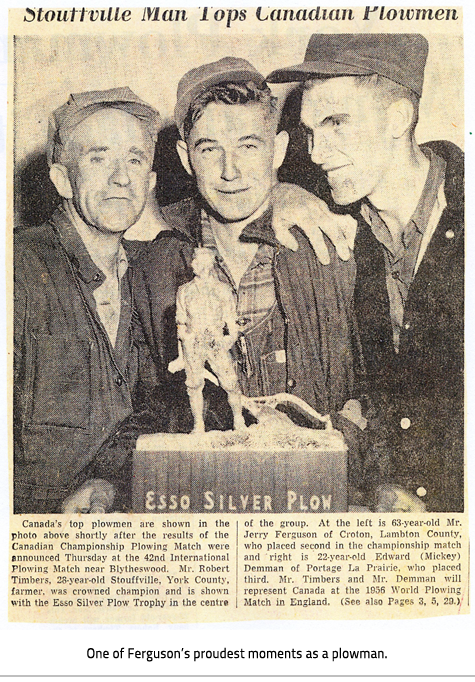 Livestock Management

Ferguson was often called upon for his specific expertise with the care and doctoring of animals. A veterinarian was very seldom called to his farm.
Ferguson was held in high regard by his peers for his knowledge of the Shorthorn cattle breed which originated in the Northeastern part of England. He operated a cow/calf business for many years paying close attention to breeding of these cattle to keep the blood-lines pure.
In the 1940s and early 1950s, Ferguson's chicken flock supplied eggs for the Lambton Kent Creamery in Wallaceburg and Petrolia. The eggs had to be weighted and candled manually before packing for shipping. Candling is a method used to examine the development of an embryo inside an egg using a bright light. The term comes from the original sources of light for this activity, which were candles.
Ferguson's breeding flock was one of the first in Lambton County. Glasses were put on the hens and roosters after they were blood tested to maintain a healthy flock. The glasses served as a measure to prevent cannibalism in the flock by distorting their vision.
Community Contributions
Over 20 years as a member of Lambton County Plowmen's Association
Lambton's representative on Ontario Plowmen's Association from 1965 to 1967
Treasurer & committee member of the Oakdale Picnic
Member for over 50 years of Alexander Masonic Lodge No. 158, Oil Springs. Served as Worshipful Master in 1944.