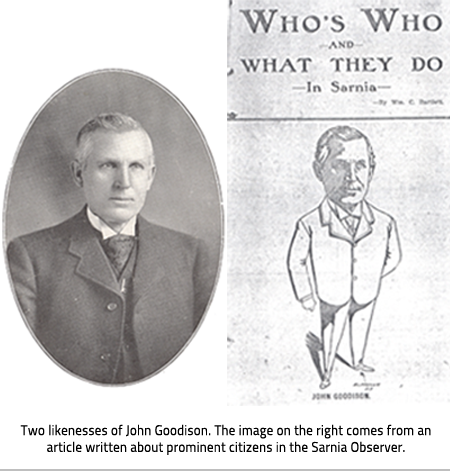 John Goodison was born in 1849 in Wicklow, Ireland. He moved to Canada with his parents, five brothers, and two sisters in 1857. They settled on a farm near Toronto.
After striking out on his own, Goodison operated a successful farm equipment business for 14 years in Strathroy. In 1882, he moved to Sarnia with his wife, Jane Robinson, and their sons Edwin and William.
In Sarnia, he worked for the Sarnia Agricultural Implement Company. They manufactured equipment including reapers, threshers, mowers, plows, and corn shellers. The company expanded in 1884, but by 1886 they were struggling. The company was forced to liquidate following poor experimentation and manufacturing difficulties.
This was an opportunity for Goodison. He partnered with George H. Samis and bought the company. By the fall of 1889, Goodison had secured sole ownership of the operation. He initially renamed it the Tunnel City Thresher Works but soon changed to the John Goodison Thresher Company. It became the most successful threshing machine company in Ontario.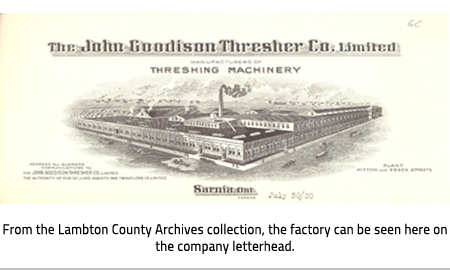 Goodison's factory was located in Sarnia on Mitton Street between Essex and Maria Streets. The huge facility was as long as a full city block.
At this time, John McCloskey of London was becoming famous for his improved design of threshing machines. In 1892, Goodison secured the rights to build the machine and persuaded McCloskey to work for him. McCloskey worked with Goodison until he passed away 1902. The Canadian Thresher dramatically improved the harvest of local grain growers. These products also improved the harvest for wheat growers across the western provinces.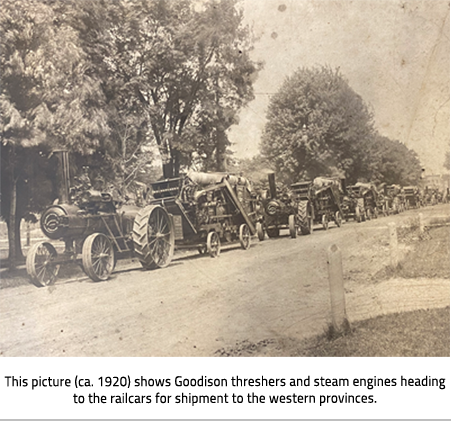 By 1914, the company employed 150 men in the factory as well as six travelling salesmen. Goodison threshers were used extensively all over Canada. They could be found in every American state and as far south as Argentina.
Goodison had other business interests. He and his two sons owned a stock farm near Sarnia. He also owned an oil field in Moore Township. It had eight producing wells on 200 acres.
On May 5, 1915, Goodison secured a large order of 300 threshers for Western Canada. The following day, after supervising the loading of machines on the rail car, he did not feel well. He passed away shortly thereafter at his home. His son, Edwin, ran the company for one year until he also passed away in 1916. His other son, William, controlled the company until he died in 1928.

The firm continued to prosper in spite of these changes in leadership. You can browse the company catalogue from the 1920s here. Beginning in 1921, to keep up with changing times, the company sold Hart-Parr fuel oil tractors. Hart-Parr merged with Oliver in 1930. Fuel oil was dropped when gasoline became cheaper to use. The John Goodison Thresher Company stopped manufacturing steam traction engines in 1927. In the late 1920s, they replaced wooden frames with all-steel construction. They also adopted self-aligning, dust-proof ball bearings.
Despite the depression of the 1930s, the company built a new factory in 1936 and became one of the largest thresher companies in Canada.
In addition to his business achievements, John Goodison was active in his community. A Liberal politician, he was a member of Sarnia City Council from 1906 to 1915 (excluding 1912). He also served on Lambton County Council. He was a member of the Methodist Church, the Masonic Hall, and the Beaver Lodge.