1944, Forest
Reprinted From The Harvester, 1944
Shortly after our arrival here at the Forest Ontario Farm Service Force (OFSF) camp in the High School, we gathered on the gym floor and held a meeting to elect our Camp Council.
The rest of the evening was spent crunching cookies and awfully gooey butter tarts on the bed of the newly-elected Council President. She certainly had a hard time making it the next morning!
One lovely Thursday evening we got all spruced up in our "glad-rags" and entertained some of our "fellow wolves" from the nearby Army camp at Ipperwash. Naturally every one had a wolfing good time and the food disappeared as fast as it appeared.
For amusement on the evenings when the "local yokels" are not paying us a visit, we attempt to hold a softball practice – and how we need it! Nevertheless, we're quite proud of the fact that we've successfully beaten our fellow Farmerettes over Thedford way twice and a match for the Forest "Red Birds", and have noticed, with no conceit, of course, that our presence at the local ball park proves to be quite a drawing card!
The music at the local churches has been, we hope, considerably improved due to the fact that we've been increasing both the memberships of the congregations and choirs. Our sweet young voices trill gaily up to the rafters, usually behind or ahead of the rest of the choir, causing everyone to shake their heads, and we've no doubt that the local ministers will sigh with relief when they see us depart for "Fraserdale, Timmins, Port Colborne, Belleville and Toronto" and points north, south, east and west.
However, considering the fact that half the campers were away, it being a "slack season" we're glad the congregation and choir of the United church were pleased with the service we planned last Sunday and hope we'll be invited to take part again.
None of us regret coming out to help the farmers of the Forest district harvest their fruit, vegetables and field crops for we've certainly been treated well and have made many nice friends out here amongst our staff under Miss Lawford's direction, our fellow-campmates and the people of Forest and district. We hope our little contribution to the great Canadian War Effort will hasten the day of Victory.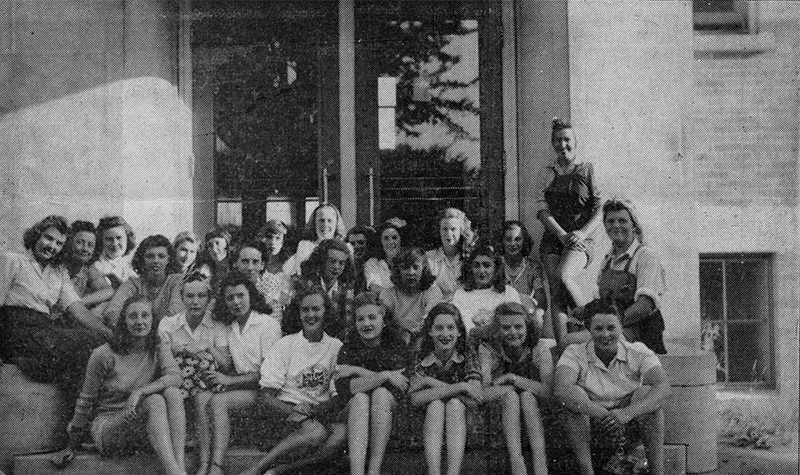 The Forest Farmerette Camp was located at the Forest High School.