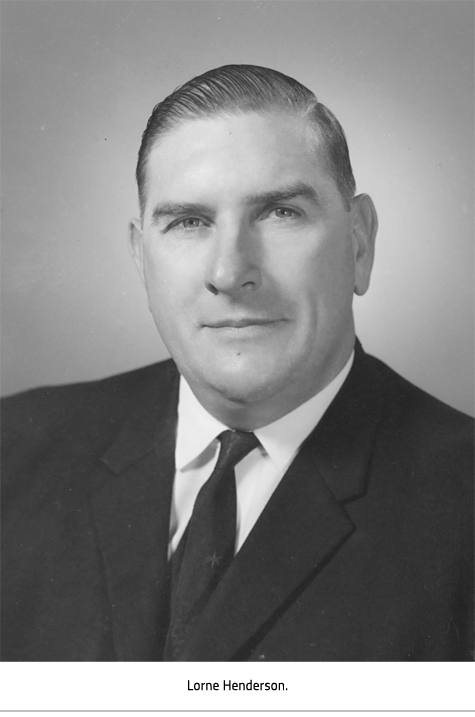 Lorne Charles Henderson was born in Enniskillen Township. He was the youngest of three children born to David and Elizabeth (Robinson) Henderson. When Henderson was a month old, his parents moved the family to Lot 8, Concession 5. This is where he grew up, farmed, and where the Henderson family continues to reside.
Henderson began farming during the dark days of the Great Depression. He got his start in the fall of 1937 when he entered a share-crop agreement with the owner of a farm on the 8th Concession. His income from the first year of that venture was $50 and two loads of hay. The following year he fared a little better with the take being $100.
In 1939, Henderson began farming at Lot 6, Concession 5 Enniskillen, which belonged to his uncle, Arthur Henderson. Farming was a little better that year. He often recalled that 1940 brought bumper crops of wheat and oats that carried harvesting into Christmas.
While best known for his political career, Henderson was first and foremost a farmer. He remained in this vocation his entire life. Henderson attended a one-room school and while he advanced no further than Grade 8, education was always important to him. Former Lambton MPP Marcel Beaubien noted. "Lorne's formal education was at the elementary level, but when it came to politics, he certainly had the equivalent of a PhD."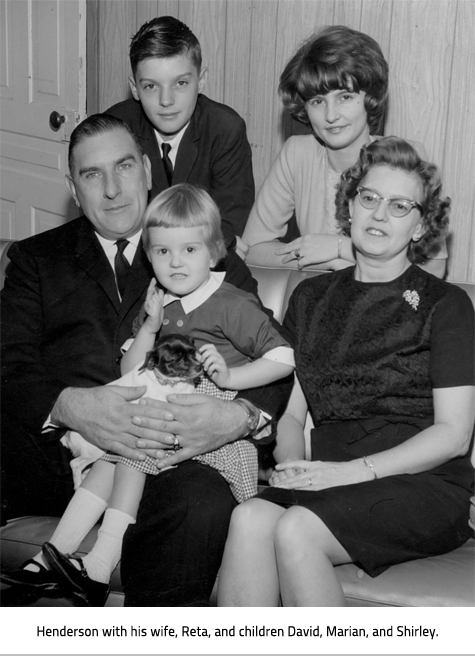 In January 1946, Henderson was elected as a Councillor on Enniskillen Council. He served in that capacity until 1950 when he was elected Deputy Reeve. In 1952, he was elected Reeve, and in 1957, Warden of Lambton County.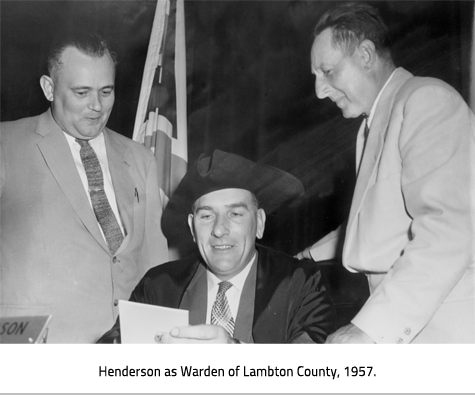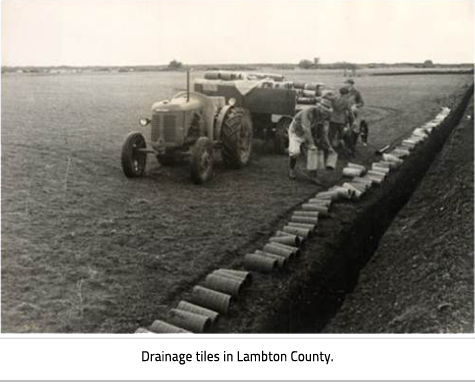 In the summer of 1963, Henderson sought the nomination for the Conservative party in that fall's provincial election. On September 25, 1963, he was elected with more than 50% of the vote. He was returned to that office in the elections of 1967, 1971, 1975, 1977, and 1981, increasing his majority of the vote each time. Henderson served a total of 23 years as the MPP for Lambton.
He was appointed Minister Without Portfolio (1975), Chairman of Cabinet (1977), and Minister of Government Services (1978). Henderson was a great networker both at Queen's Park and on the back roads of Lambton County. He had an excellent memory for people's names, birthdays, anniversaries, and family connections. He used those skills to his advantage and made valuable connections on both sides of the house. He was known for his ability to bridge partisan gaps. It was about this time that a Toronto daily newspaper referred to him as "the most powerful politician in Ontario."
In 1979, he was appointed Minister of Agriculture and Food by Premier William Davis. This was his dream job! But it was a very challenging time to be Minister of Agriculture. With interest rates sometimes passing 20% and commodity prices in a slump, there was a flurry of farm bankruptcies. The Minister of Agriculture received most of the heat.
His son, David Henderson, recalled, "Pig and cattle farmers were going broke by the handful and every morning there were calls for father's resignation from the floor of the legislature. They were difficult times for everyone."
Nevertheless, Henderson was re-elected in 1981 with more than 63% of the vote. In 1985, he retired from provincial politics and returned to the family farm.
Like other farms in South Lambton at that time, he engaged in livestock farming. The heavy clay soil in South Lambton was poorly drained and did not support the production of cash crops. Most farmers in the area restricted their farming operations to growing hay and pasturing cattle.
However, a neighbouring farm had four runs of tile across it. Henderson saw how the land above the tile drains maintained better soil structure, was less compacted, and grew far superior crops. He became one of the province's most vocal advocates of farm tile drainage. On June 30, 1972, he was appointment chairman of the Select Committee on Land Drainage. The Committee evaluated the costs and benefits of land drainage. They also reviewed the Drainage Act, which had not been amended since the 1800s.
The Committee made its final report with recommendations in June 1974. They made amendments to the Drainage Act that benefited the agriculture sector across the entire province. Proof of the Committee's value stands in the heavy clay soils of South Lambton that today outgrow the sand and lighter soils of other areas. Today, more than 85% of the farmland in Lambton County is tile drained.
Lorne Henderson died February 7, 2002. He is buried in the family plot at Oil Springs Cemetery. You can read more about his life in this paper.
Community Involvement: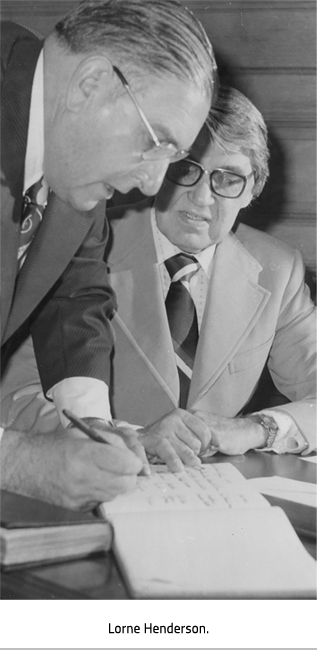 Founding member of the Lambton Rural Game Protective Association, served as President in 1953
Chairman of Lambton Farm Safety Council
Member of Petrolia and Enniskillen Agricultural Society with his wife Reta, served as President in 1960
President of St. Clair District Boy Scouts, 1963
President of Five Counties Trustees and Ratepayers Association, 1963
Chairman of Ontario Land Drainage Association's Land Drainage Committee, 1972-74; became Honourary Life Member in 1989
Member of Charlotte Eleanor Englehart Hospital Board of Directors, appointed first and only Honourary Life Member in 1986
Lambton Housing Authority board member, served as chairman in 1991-92
Supporter of Petrolia's St. Andrew's Society, chairman in 1995
Royal Canadian Legion member
Involved in fraternal organizations including Masons, Shriners, Odd Fellows, Foresters, Rebekahs, Order of the Eastern Star
Politician Jim Bullbrook commented in the 1970s, "Lorne is the past master of everything that ever went on in Lambton County."