Annie McLaughlin
October 21 2020 - April 10, 2021
Lambton County's countryside is brought to life in this vibrant and whimsical folk art exhibit. Annie McLaughlin's paintings illustrate life on the family farm in the past century and remind us of the importance of preserving our rural heritage. You will explore the paintings through her own words.
Annie is a 94-year-old artist from Lambton County. Mostly self-taught, she took up painting in earnest at the age of 87 and has developed her own distinctive style of folk art. She had her first exhibit at the age of 90 at the Judith and Norman Alix Art Gallery in Sarnia (2016), and has since shown at the Gallery in the Grove (2016), the Victoria Playhouse Petrolia (2018), the Oil Museum of Canada (2018), and the Corunna Library (2019). Her colourful work conveys a sense of comfort and joy. The paintings recreate the simple beauty of the world around us.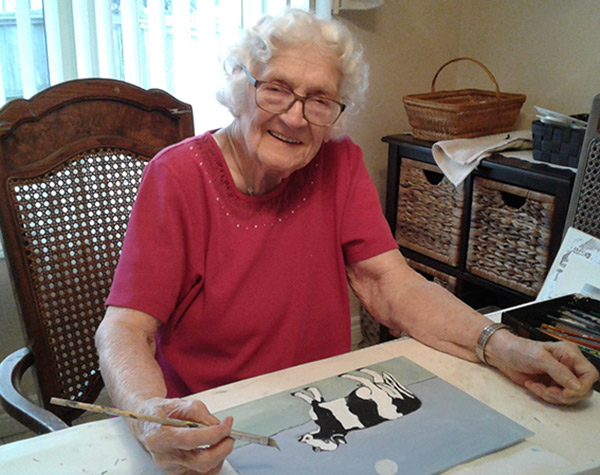 You can see a virtual presentation of Annie's art that is being presented in the Memories of Rural Life exhibition at this slideshow:
The Story Behind The Art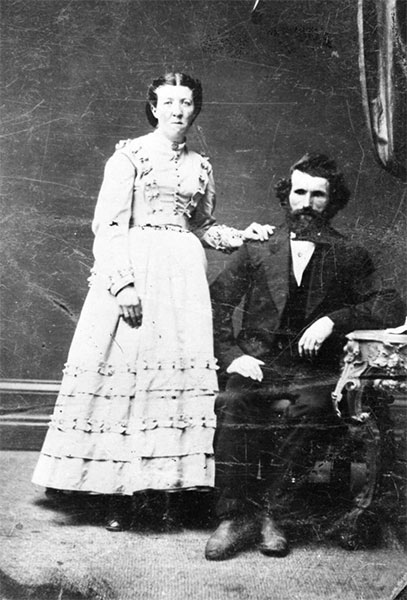 Patrick and Mary McLaughlin (1860s).
My husband's family settled in Lambton County in the mid-1800s. Patrick and Mary McLaughlin immigrated to Canada to escape the Great Famine in Ireland. They travelled in a group with five of their six children, plus Patrick's two brothers and their families. Their oldest son John stayed behind to go to school and came later.
Immigrants had to be in good health before being allowed to enter Canada. While they were quarantined on an island in the St. Lawrence River, one after another got sick, so they arranged to be smuggled to the mainland where they promptly disappeared in the bush to avoid the authorities.
They first settled near Petrolia, when Lambton County was all wilderness with trails through the swampland. The land was covered with forests and there was no drainage. They were surprised by the snowy weather as advertisements for Upper Canada had depicted it as a tropical climate with abundant food and game.
My husband's grandfather John married a local schoolteacher named Ellen. They had nine children, including my husband's father, Thomas. Thomas inherited the family farm in 1917 after John and Ellen had passed away. In 1951, my husband Thomas Edward (Ted) took over the farm. We married in 1952 and I lived there for 47 years.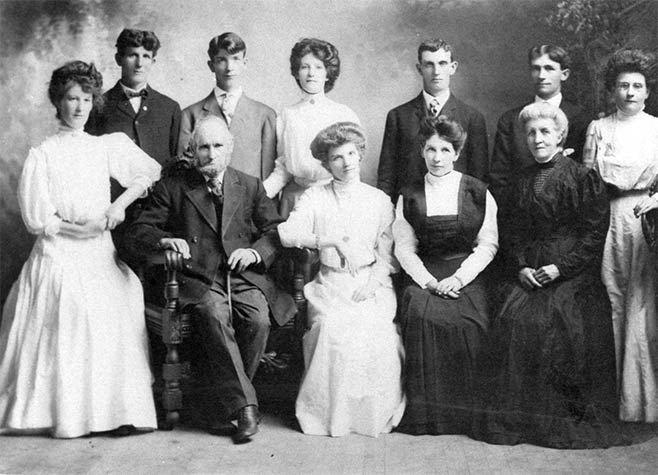 My husband's grandfather, John, with his wife Ellen and their nine children (1911).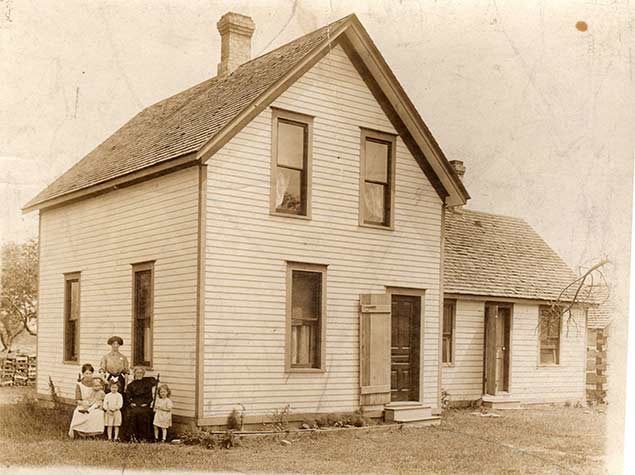 Ellen with her grandchildren, at the farmhouse near Corunna (1915).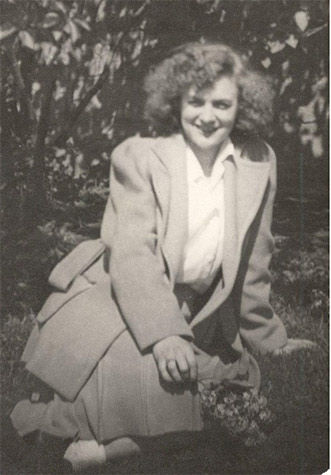 Annie (Neve) McLaughlin (1946)
Annie's husband, Ted McLaughlin (1946).
My parents were Peter and Paulina Neve. They married in December 1922 and very shortly afterwards emigrated from Holland to Canada. They travelled with Peter's sister and brother-in-law and another couple. After arriving at Ellis Island, they went straight from the ship to the train to Canada. Paulina remembered arriving in Canada on New Year's Day and stepping off the train into a foot of snow without any boots.
They settled in Wallaceburg, where I was born in 1926. I lived there for the first eighteen years of my life. During the Second World War, I worked at a plant that made airplane parts. I was only sixteen years old and because I was so young, I was put on the inspection table. My job was to check engine cones for holes.
I worked there for two years, sometimes long shifts of 10 hours if it was busy. The entire family worked hard to save enough money to put a down payment on a farm near Corunna.
Farms in the Wallaceburg area were expensive, and Corunna was more affordable. We moved in 1944. The farm my parents bought in 1944 was across the road from my future husband's farm. I guess you could say I married the boy next door!
Ted and I were married in 1952. I lived on the homeplace for the next 47 years. It was a peaceful and quiet way of life.
I moved into town in 1999 after Ted died. Like so many other places in the countryside, the homeplace was torn down. All that remains is the silo and a few trees.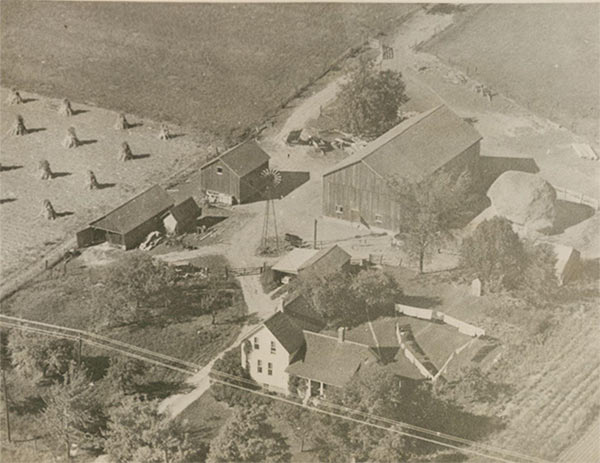 Aerial photograph of the homeplace (1952).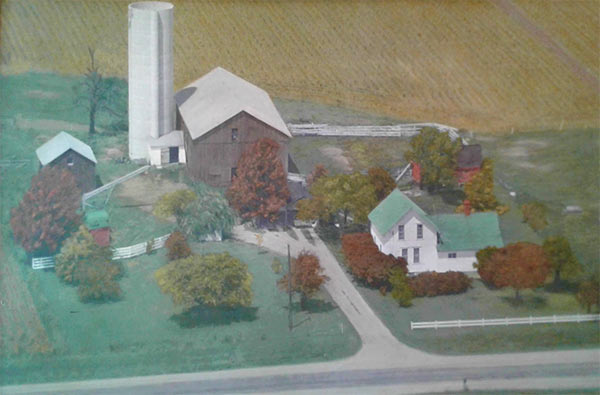 Aerial photograph of the homeplace (1975).