Municipality of Brooke-Alvinston

Guiding Beacon: Carolynne Griffith
Nominated by childhood friends Sharon Stonehouse and Linda Moore as well as Ruth Leitch, Carolynne Griffith "has been a passionate supporter of agriculture and farmers."
Born and raised on a dairy farm in Sarnia Township, Carolynne received provincial honours in 4-H clubs and served as a 4-H leader. When Carolynne married she moved to Brooke Township and helped expand the poultry operation from 500 birds to the existing 30,000 laying hens. The farming operation expanded from 300 to 1,500 acres.
In 1996 Carolynne was elected as director for Lambton, Kent and Essex counties to the Egg Farmers of Ontario. She served as the first woman chair from 2002–2012. Between 2004 and 2012 she represented local farmers at World Trade Organization meetings internationally in Geneva, Hong Kong and Brussels. Carolynne noted, "When I was in public school we had map of the world on the wall, we would play games and ask each other which countries we would like to visit. Mine was Switzerland – little did I know my childhood dream would be fulfilled in a way I never imagined!"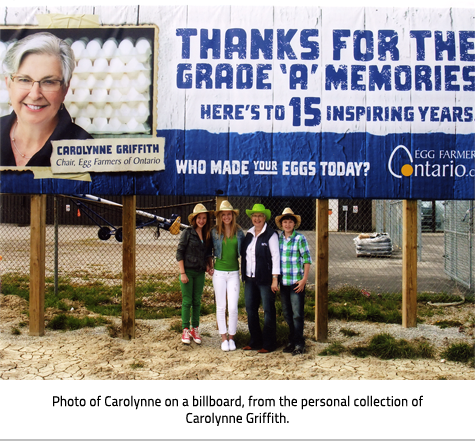 Carolynne also has a heart for preserving historic buildings, renovating and restoring two heritage homes in Brooke-Alvinston: Charlie's Place (built 1876) and Nauvoo Ranch (built 1900). Carolynne believes in "restoring properties to their original beauty… nobody would ever build a house like that today."
Carolynne's long-term investment in the Egg Farmers of Ontario is emphasized by her presence on the billboard in the picture above. In a 2013 interview, Carolynne paraphrased Winston Churchill to emphasize the importance of agriculture to the world economy: "Our front line to freedom is our farms and our farmers."
Carolynne's husband Art Griffith was an inductee in the Lambton Agricultural Hall of Fame in 2016. You can read more about his career and the agricultural accomplishments of the Griffith family in our Lambton Agricultural Hall of Fame Virtual Exhibit.
Nominees:
Sara Campbell
Sara was a local historian and is responsible for the documenting much Brooke Township's early history.
Starting around 1931 as a member of the Brooke branch of the Women's Institute, Sara began her research into the book that would become Brooke Township History 1833-1933. Using old copies of both the Alvinston and Watford newspapers, local municipal, cemetery, church and school records to she was able to gather much of the first hand knowledge used in the book's publication. This definitive reference book is still used weekly in local libraries and at the Lambton County Archives.
Sara was nominated by her niece Marilyn Dolbear and Shirley Durance.
Vickie Fisher
Vickie Fisher is a survivor and champion for the fight against cancer in her community.
After the diagnosis of her eldest daughter in 1989, Vickie and her family became passionate supporters of the Terry Fox Run in the Alvinston community.
Although she would later lose her daughter and son to cancer, Vickie's strength endured and was instrumental in overcoming her own battle. Over the past several years, Vickie has taken her message into the community and has used her personal and family battles as stories for support.
Vickie was nominated by fellow community member Janet Denkers.
Beth Lehrbass
Beth Lehrbass is an active patron and respected community member in Alvinston.
Described as a "founder" in her community, Beth and her late husband Jack were instrumental in the construction of the both the local school and arena.
An active volunteer, Beth has been involved for many years with the Minor Hockey and Figure Skating Associations in the region. For many years, she was also a leader of the 4-H Club in the area and is currently active with her church and local ladies group.
Beth was nominated by community member Jim Hayter.
Annie Leitch
Annie Leitch was a leading force in nursing and nursing reform in North America.
Born in Brooke Township, Annie had a long and successful career in nursing. Serving as Instructor of Nursing at Grace Hospital in Detroit from 1920-1936, Director of Nursing at Butterworth Hospital from 1936-1952 and President and Executive Secretary of the American Nurses Association, she became a prominent figure in raising the standards for the nursing profession.
Maintaining her connection to home, Annie spent summers at her cottage in Brights Grove, and visiting her grandparent's homestead in Brooke Township. She was also instrumental in writing and publishing the Clan McEachran histories in 1930 and 1952.
Annie was nominated by family member Ann McDaniel. She passed away in 1989.
Ruth Leitch
Ruth Leitch is an avid photographer and valuable asset to her community.
Ruth attends many of the events in the community and in doing so is always sure to capture photographic records for the day. She has a rich collection of photographs and many of her photos adorn the Brooke-Alvinston municipal office. She has a wealth of knowledge about local history and other members of the community.
As a former librarian and current historian, Ruth is also very involved with her church, community and family.
Ruth was nominated by Brooke-Alvinston Mayor, Don McGugan.
Katharine McEachern
Katharine McEachern was an inspiring role model for her family, her students and her colleagues.
As a London Normal School graduate in 1932, Katharine taught in one room school houses in Brooke and Euphemia until her marriage to John William McEachern. After raising five children, she returned to the teaching profession from 1955-77.
Katharine supported many local events including: the Brooke-Alvinston & Watford Fall Fair; Brooke branch of the Women's Institute; Alvinston Reading Club; the United Church women's group; and the annual McEachran clan picnic.
Katharine was involved in moving the "Rokeby School House" to the Lambton Heritage Museum in 1994.
Katharine was nominated by her daughter Alice Jones. She passed away in 2011.
Anne McGugan
Anne McGugan is an active member of the Alvinston community and recent recipient of the Queen's Diamond Jubilee medal.
A retired teacher, Anne is well known in her community for her tireless work effort and consistent volunteerism.
Her support of her husband, Brooke-Alvinston Mayor Don McGugan is well documented. Through his time with the Dow Chemical Company to his current position as Mayor, Anne has been his constant companion for over forty years. She has helped handle the day to day personal and work tasks in their lives due to his failing eyesight.
As a result, the local community felt it was only fitting that the pair were awarded the Queen's Diamond Jubilee medal together in 2013.
Anne was nominated by fellow community member Janet Denkers.
Jenny Phillips
Jenny Phillips was a fixture in Inwood and her tireless efforts that helped so many in her community and abroad.
Jenny and her husband Bill were very involved members of the Inwood Recreational Committee, where Jenny spent many hours organizing and running the ball booth. She was also the secretary for the Inwood Fire Station for fifty years.
She was also deeply involved with the Inwood United Church and was a key member of a quilt outreach program to Haiti.
Jenny was nominated by fellow community member Wayne Deans. Jenny passed away in 2012.
Elda Swan
Elda Swan is an inspirational and inventive woman who channels her creativity through cake decoration.
With an elementary education and eighteen lessons in cake decorating Elda was inspired and dedicated to sharing her unique gift to all interested learners. Within a year, Elda was holding night classes in cake decoration for upwards of twenty-five adults from all across southwestern Ontario.
Elda has demonstrated her skills at Fanshawe College, the Glencoe Fair, Petrolia and Alvinston Ploughing Matches and the Lambton Mall. Her skills have been sought all over the county for the past forty years.
Elda was nominated by Jean Woods.