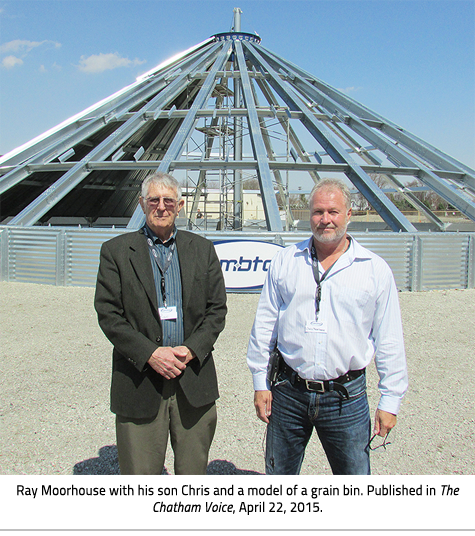 In 1965, Ray Moorhouse needed a grain dryer for his farm near Florence. He was not able to find anything that suited his needs. He noted, "I talked to my neighbours and found that there was a real desire for them to control their post-harvest storage and handling. The more I looked into it, the more sure I was that there was an opportunity." (from article by Jim Blake in The Chatham Voice, April 22, 2015).
That year, Moorhouse founded Stor-Mor at his family farm. They supplied and installed on-farm grain handling, drying, and storage systems. This allowed farmers to keep their grain at their farm where they could market or process it independently. In 1979, Moorhouse and his son Chris started constructing their own products under the name Lambton Conveyor. In 2004, the firm added a facility in Bothwell. What started as a small barn servicing local producers, grew to a 200,000 square foot factory in Wallaceburg.
They also cast their eyes internationally and opened a plant in China to serve the growing Asian market. Now the company's grain systems are available to grain producing regions all over the world.
Moorhouse's success is linked to his entrepreneurship and innovation. He helps his customers develop those same skills and achieve greater success.
Many local farmers got their start working for Moorhouse at Stor-Mor, saving up for a tractor or farm. Some are now successful producers contributing to their own local communities.
Ray Moorhouse celebrated 50 years in business in 2015.