Sid Fraleigh's contributions to agriculture can be summed up as "pork and politics." For many years he was involved in the swine sector as well as municipal and federal politics. Born and raised in Forest, Fraleigh grew up aspiring to become a farmer. He studied at the University of Guelph then purchased a modest farm near Forest with his wife, Velma. Together they raised five children.
Fraleigh took pride in running a commercially viable hog operation. Through building and land acquisitions, the farm grew to reach 400 acres. The farrow-to-finish operation produced up to 4,000 hogs per year. Crops were grown to supply the feed. A farrow-to-finish operation deals with every step in raising pigs. Farrowing refers to a female hog giving birth. Finishing is when pigs grow to reach their ideal weight before harvest.
Fraleigh's passion for pork led to leadership roles in swine sector organizations. He became Chairman of the Lambton Pork Producers' Association. His interest and ability enabled him to represent the wishes and concerns of fellow pork producers. He promoted pork across Lambton County as a viable agricultural career and nutritious consumer product. He provided a pork barbecue service and always encouraged people to "put pork on their fork."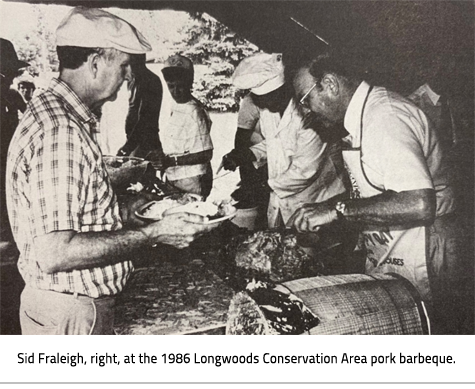 As a 4-H Swine Club Leader, he passed along his enthusiasm and vast knowledge about the nutrition, housing, breeding, and health of pigs to youth. From Regional Director, Fraleigh rose to become Chairman of the Ontario Pork Producers' Marketing Board (OPPMB) for more than ten years. It was a tumultuous time. The number of hog producers shrank but the size of individual operations grew. The OPPMB represented all pork producers in Ontario and was responsible for marketing their hogs. Fraleigh made a positive impact by helping to develop a flourishing export market in Japan for Ontario pork. His success led him to represent Ontario for five years on the Canadian Pork Council.
In municipal politics, Fraleigh was elected as Councillor for Bosanquet Township in the late 1950s. He learned a lot and worked hard to make sure rural voices were heard. His listening ability and sense of humour gave him the skills necessary to diffuse potential conflicts.
His political influence extended to the federal level twice. He was elected Conservative MP for Lambton-Middlesex in 1979 and 1984. Each term he was an active member of the House of Commons agricultural committee. As one of the few parliamentarians with practical farming experience, he shared his expertise on issues of trade, farm support, agricultural policy, quality control, and inspection.
Beyond "pork and politics," Fraleigh has been an active member of the Forest Anglican Church and the Forest Curling Club. His business and financial acumen have been put to good use. He helped fundraise for the Forest Agricultural Society and sat on finance committees overseeing the expansion of the Forest Curling Club and construction of the Shores Recreation Centre.
Community Contributions
Forest Agricultural Society
4-H Swine Club Leader
Director and Chairman of Lambton Pork Producers' Association
Regional Director then Chairman (10+ years) of Ontario Pork Producers Marketing Board (OPPMB)
Represented Ontario on Canadian Pork Council (5 years)
Agriculture Research Institute of Ontario
International Trade Tribunal (5 years)
Appeal Board for Ontario Humane Societies
Councillor of Bosanquet Township
MP for Lambton-Middlesex during the 31st (1979) and 33rd (1984-1988) Parliaments of Canada
Member of the Anglican Church in Forest
Member of the Forest Curling Club
Finance Committee member for Forest Curling Club expansion
Finance Committee member for construction of Shores Recreation Centre