The Birth of Women's Rights
The development of many rights that women now take for granted took decades of time and effort to acquire.
In the 1800s, women were awarded more rights regarding property and marriages. The privilege to vote provincially and federally was achieved by women across Canada (except in Quebec) in 1919.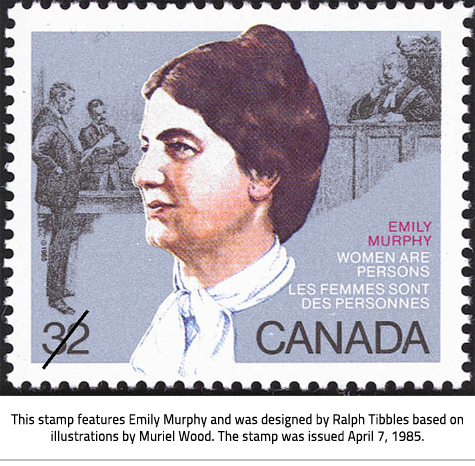 This stamp features Emily Murphy and was designed by Ralph Tibbles based on illustrations by Muriel Wood. The stamp was issued April 7, 1985.
One of Canada's most famous women's rights champions, Emily Murphy, spent part of her 20's and the beginning of her marriage in Lambton County. In 1887 Emily married Arthur Murphy, a divinity student. Arthur's first parish was in Forest, and he spent three years there with Emily at Christ Church Forest. They were subsequently transferred to Watford for ten months.
Emily was the first woman in the British Empire to be appointed as a judge and a writer under the pen name Janey Canuck. She was a leader of Canada's "Famous Five" and worked on the "Persons Case", challenging the British North American Act of 1967 which stated "women were eligible for pains and penalties but not rights and privileges."
The Supreme Court of Canada declared in 1928 that women should also be considered "persons" after successful campaigning by Emily and her group.
Catherine Stone Speaks Out
This newspaper article by Catherine Stone published in the Sarnia Observer and Lambton Advertiser on September 7, 1857 expresses a bold opinion at an early time in the women's rights movement.
Her article is a call for the temperance cause and an empowerment of women: "Who in this gallant age, this age of Female Education and Women's Rights, will dare to say, No!"
Click on the thumbnail below to enlarge the photo and to see the original article. The full article has also been transcribed below, to facilitate easier reading.
(transcript begins)

WORTHY PATRIARCH, OFFICERS, BROTHERS & SISTERS:
I have often felt that I would be willing to stand up in defence of our good cause, and since you have called upon me to write a few lines on the subject, I will venture to give you a few reasons, in answer to the often repeated question, What are the uses of Female Visitors in Subordinate Divisions? – a question which is asked of us frequently, even by some who claim to be Sons.
A lurking prejudice exists even in the Order, in regard to the admission of Female Visitors. I am among those who believe in enlisting in the Temperance cause, every class and portion of society, as the great preventive and cure for the evils of intemperance which are so alarmingly prevalent. I would enlist all the dear children as juvenile members, for with them rests the future, the ultimate success of our efforts; and as an equally powerful means, I would enlist their mothers, and all the unmarried females of our country. Has the wife any influence over her husband? Has the mother any influence over her sons and daughters? Has the woman any influence in the society in which she moves? Has the young lady any influence over the young gentleman? Can these questions be answered in the negative? Who in this gallant age, this age of Female Education and Woman's Rights, will dare to say, No! Woman, in all ages of the world, has exercised a powerfully abiding influence on Man, whether that influence has been exerted for good or bad purposes, and in the present age her sway, – I said it with diffidence, – is perhaps stronger than at any former period. Show me, therefore, your women, and I will give you the character of your men, without even seeing them. Show me your mothers, and your maidens, and I will portray to you the character of your children and young men. So long as the Roman women were like the noble Lucretia, the Republic stood firm; but when in the time of Augustus they became depraved and intemperate, all the liberty and grandeur of the empire fell to the ground. So it must be in all ages, and in all countries. We are all nursed upon the lap of a mother, or on that of some one who assumes her endearing and responsible trust. We gaze into her eyes, beaming with imperishable, undying love. We listen to the soft accents of her voice; out infant minds imbibe the sweet and pure sentiments of her heart; and we instinctively follow her example. Is it not then of the utmost consequence that this being, who is so important a link in the chain of human existence, should be the friend of the Temperance cause? Is her acknowledged influence on society in general, of no account in this matter? I believe it is, and for this reason make bold to claim for the Daughters of every Village, Township and County in the Province, – in the world, – the right to interest themselves in the cause, and to labor, as well as the Sons, and in unison with them, in promoting the progress of total abstinence from all intoxicating drinks. I believe that no man can long remain a drunkard in the house in which a truly temperate woman reigns, if he entertains for her a spark of love which a husband ought to cherish for a wife. Perseverance, with love and gentle words, have weaned, and will ultimately wean almost any man from the intoxicating bowl. The advice of a mother is the last to be forgotten in life; and when nothing else will cause the big tear to rise in the eye, and the heart to swell, the memory of a mother's words and a mother's example will do it. Oh, how necessary then is it that we should have truly temperate fathers, mothers, sisters and brothers!
In Love, Purity and Fidelity, CATHERINE STONE.
Sable Div. No. 4, S. of T. May 29, 1857.
(transcript ends)