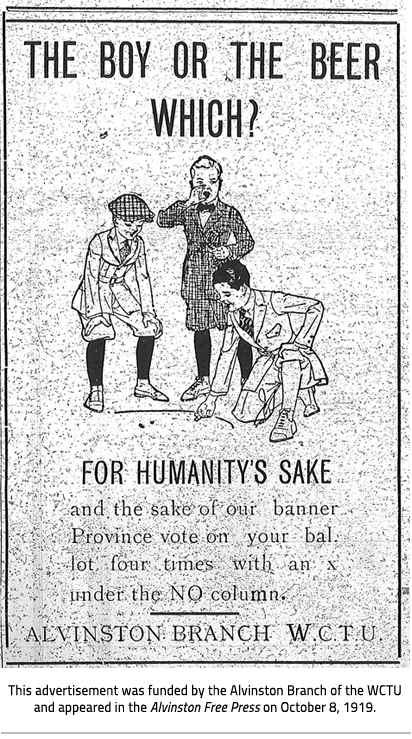 The temperance movement was a social movement which promoted the reduction or outright banning of alcohol.
Lambton County had self-imposed prohibition from 1879-1881 and 1886-1889. The Women's Christian Temperance Union (or WCTU) was founded in 1874 and it focused on advertising the evils associated with alcohol consumption. These women recruited new members, swore individual temperance pledges and petitioned for prohibition.
WCTU branches were active in communities across Lambton County. At the 9th annual local WCTU convention in Wyoming in September 1901, 148 active members were recorded.
Elizabeth Lawrence was president of the WTCU Sarnia branch from 1900-1906. At the turn of the century, many wealthy women devoted time and effort to social causes as part of their activities. The wife of a successful businessman, Elizabeth Lawrence lived in the opulent home now used as the Lawrence House Centre for the Arts in Sarnia.
If you're interested in the Temperance Movement, you may also be interested in this newspaper article, The Birth of Women's Rights written by Catherine Stone in 1857.