Guiding Beacon: Margaret Stokes
Margaret Stokes, "Petrolia's Grand Old Lady," is remembered as an active citizen who engaged in the town's affairs.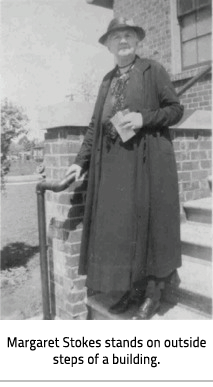 Born in 1849, Margaret came to Petrolia in 1869 to visit an aunt and stayed in Petrolia for the rest of her life! Margaret's family is associated with the development of Petrolia and she was not only an early settler, but also a lively resident. She was a member of St. Andrew's Presbyterian Church, a Sunday School teacher and a lifetime member of its Women's Mission Society (as both a charter member and the Society's first treasurer).
Margaret had an active social life and assisted locally through charitable endeavours. When the IODE formed a chapter in Petrolia on March 30, 1949, the 13 founding members chose Margaret Stokes, who was about to celebrate her 100th birthday, as their namesake. Since 1974, the Margaret Stokes IODE has awarded the "Stokes Award" to the best all-around student in each of Petrolia's four elementary schools. Margaret's great-granddaughter Lynn presents the award in memory of her great-grandmother. Margaret passed away February 2, 1951 at the age of 101.
Nominated by Helen Danby of the Margaret Stokes IODE, Helen reflected about Margaret, "She was one of the town's greatest boosters and active in many charitable endeavours."
Nominees:
Carol Graham
Carol Graham has been a tireless volunteer and enormous cultural contributor to the Town of Petrolia.
Carol has directed 13 plays and produced or co-directed 2 more. Oil heritage holds a special place in her heart and she has brought that history to life through plays focusing on oil heritage stories.
Carol's skills with photography and graphic design have also been put to use. She has co-chaired Art In The Park in Petrolia for the last five years, worked as a photographer on projects promoting Petrolia, chaired the Petrolia Camera Club, worked with Petrolia Community Theatre designing programs, and helped create the Black Gold Extravaganza and Black Gold Jubilee community events and fashion shows in 2008 and 2010.
Carol was nominated Pat McGee.
Florence "Flossy" Stone
Florence "Flossy" Stone was the first woman in Petrolia history to be elected in municipal politics.
A life-long Petrolia resident, Flossy became discouraged with the apathy that existed on the town council. When Flossy ran for a position in 1937 and won, she became the only woman in Western Ontario to hold a position on municipal council.
Flossy was re-elected six more times during her career: 1943 and 1945-1949. An outspoken entrepreneur and community activist, Flossy developed and opened one of the first old age homes in town and sat for many years as chair of the town's welfare committee.
Flossy was nominated by extended family member Liz Welsh. Flossy passed away in 1949.