Guiding Beacon: Jeane Houghton
Professionally trained and passionate about music, Jeane supervised Lambton County's extensive music program for 40 years.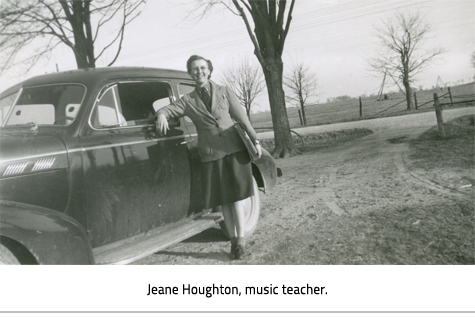 Jeane was born November 8, 1896 in Plympton Township. "Miss Hougton" to her students, she travelled approximately 500 miles per week bringing music to students across Lambton County.
A member of the Wyoming United Church, Jeane assisted with musical selections for weekly church services. She was elected to village council in 1967 and served as councillor until 1977, when she became Deputy Reeve and a member of County Council.
To support students who loved singing, Jeane started a "triple trio" group in the 1940s that grew into "Jeane's All Girl Choir." The choir expanded to include male voices in 1965 and became known as "Jeane's All Girl Choir & The Escorts." Attracting over seventy singers, the choir produced two records and annual concerts, with monies raised supporting local community programs/projects. Jeane and close friend, Charlotte Berry enjoyed a very full life until Jeane's death April 23, 1982. "As a former choir member, I recall Jeane's fabulous smile, great sense of humour and most importantly, her highly recognized musical talents…" reminisced former student Nancy McCormick, who submitted this nomination. Nancy remembers Jeane as "a brilliant, highly skilled, talented and philanthropic woman who gave willingly of her time and expertise. A great influencer – loved and remembered by many."
Nominees:
Jane Bryce
Jane Bryce is an active community ambassador for the Town of Plympton-Wyoming.
As a member of the Women's Institute branches in both Blackwell and Aberarder, Jane has served three times as President of the District and District Secretary.
For the past eighteen years Jane has served as a trustee in both the Lambton District School Board and Lambton Kent District School Boar. During this time, Jane has served in multiple positions including vice-chair, chair, and representative on the Ontario Public School Boards Association. She is also involved with the Ladies Division of the Forest Fair.
Jane was nominated by Donald Brillinger.
Lottie (McCormick) Hennaert
Lottie Hennaert was a talented quilter and active community member in the Town of Plympton-Wyoming.
Lottie served on various committees and boards including Home Economics and Swine 4-H Club Leader. She was also a long term member of the Plympton-Wyoming Agricultural Society and served as the organization's second female President from 1976-1978. Lottie also served in the Agricultural Society's Ladies Auxiliary which has contributed over one million dollars to the Society through fundraising initiatives since 1984.
Lottie's passion for the creative arts was demonstrated in her quilting. As an award winning designer and hand quilter, Lottie continued to share her profound knowledge and skills even after retiring.
Lottie was nominated by Nancy McCormick. She passed away in 2012.
Irene Huether
Irene Huether is a welcoming presence and active community volunteer in Wyoming.
Having resided in Wyoming since 1969, Irene has been involved with many different community organizations over her lifetime. She has volunteered as a youth bowling coach for 10 years and canvassed for the Cancer Society for the past 40 years.
Recognized in 2005 as "Senior Citizen of the Year," Irene downplayed her recognition when she stated "I just do it, it's no big deal."
Irene was nominated by Florence Wright, a fellow member of the Wyoming United Church.
Gladys (McEwen) McCormick
Gladys McCormick was smart and loving woman, who was a talented entrepreneur born ahead of her time.
Raised in Wyoming, Gladys met her future husband Fred while working at Parnell's General Store. As an entrepreneurial team, Gladys and Fred successfully operated three businesses.
Gladys's multiple roles within these companies were well documented. She would often manage all of the accounting functions, sales calls and daily operating issues.
While raising a family of their own, Gladys and Fred were also very generous with other families in their community. This included hosting parties on the family farm and philanthropic efforts for those less fortunate.
Gladys was nominated by her daughter Nancy McCormick. She passed away in 1992.
Eleanor Nielsen
Eleanor Nielsen was an avid local historian and genealogist.
A founding member of the Lambton Genealogical Society, Eleanor researched many local family histories. In her pursuit of knowledge, she visited every known cemetery in the County to record pertinent information for future generations.
Eleanor passion for history stretched beyond genealogy as she was a Charter Member of the Sarnia Rock & Fossil Club, an active member of the Forest-Lambton Museum and the Egremont Road Heritage Committee.
Eleanor was nominated by two respondents: Sylvia Freeman on behalf of the Forest-Lambton Museum and Barb Kernohan. She passed away in 2001.