Township of Dawn-Euphemia
Guiding Beacon: Joan Allaert
Joan Allaert has been giving back to her community for decades in many different organizations.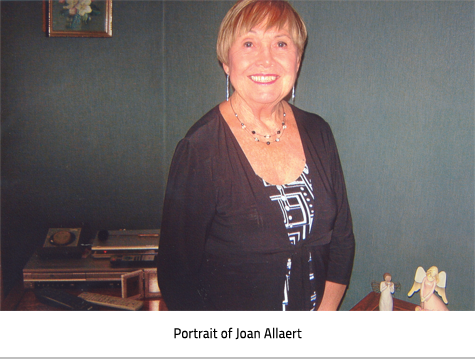 Joan joined the Rutherford Women's Institute in 1975 and when the Rutherford Women's Institute disbanded in 2003 she joined the Bentpath branch where she served as president until the branch disbanded in 2014. She was the fourth generation of her family to join the Rutherford branch, her great-grandmother Agnus McKinnon was one of the first members in 1913; two grandmothers and her mother were also members. "It means a lot for the family to have that relationship [with the Bentpath Women's Institute]," said Joan. She has served as an executive member of the Lambton South District Women's Institute for many years, currently as Public Relations Officer.
Joan believes in the importance of education, demonstrated by her involvement in the Women's Institute and 6 years as a 4-H leader. She has also given back to her community through involvement with the Multiple Sclerosis Society. Joan was instrumental in initiating the Meals on Wheels program in Dresden in 1987. Joan noted, "We're able to have people stay in their homes longer and get a nutritious meal. It's important for personal contact, to see a friendly face when they can't get out of the house."
Joan Allaert was nominated by the Township of Dawn-Euphemia office for her efforts in their community.
Nominees:
Marjorie Hands
Marjorie Hands is a retired teacher with a passion for working with children from across the region and around the world.
As a teacher for over thirty-two years, Marjorie was in charge of many programs that were instrumental in the growth of local children including the student exchange program, the Bothwell Optimist Speaking contest and judging several school science fairs.
For over sixty years, Marjorie has taught Sunday School at St. John's Aughrim Church and has personally sponsored six children from less fortunate countries around the world.
Marjorie was nominated by Heather Barnes on behalf of the Township of Dawn-Euphemia.
Jitsuko "Dickie" Moorhouse
Jitsuko Moorhouse, known more affectionately as Dickie, was a Japanese-Canadian filmmaker who worked extensively with the United Church of Canada.
Born in British Columbia in 1922, Dickie later relocated to Toronto to work for the United Church of Canada's Berkley Studios. There she met her future husband, Rev. Dr. Anson C. Moorhouse, with whom she partnered on many films and outreach projects around the world.
Moving to Shetland in her later life, Dickie became very active in the Shetland Church and community. This included becoming the Canadian Girls in Training leader and producing a film featuring the Shetland community.
Dickie was nominated by family friends Betty Elliot and Janice LeBoeuf. She passed away in 1989.
Ann Towell
Ann Towell is an award winning author whose novels are locally inspired.
Ann is the author of two novels based in Lambton County: The Hollow Locust Trees and Grease Town. Grease Town was based on the race riots in Oil Springs in the 1860s and won the Nautilus (Silver) Award in 2011.
Working with her husband photographer Larry Towell, the two were co-finalists for the Dorothea Lange/Paul Taylor Documentary Prize from Duke University for their segment on Mennonites in Descant magazine.
Ann was nominated by three respondents: family friends Betty Elliot and Janice LeBoeuf; and Heather Barnes on behalf of the Township of Dawn-Euphemia.
Leslea Williams
Leslea Williams has had over thirty years of service as a municipal councillor.
Only one other municipal politician in Lambton County has such a long record of service. She was the first woman elected to council of the former Dawn Township in 1982.
Outside of municipal council, Leslea has been involved at Dawn Township Central School, assisted in beginning a backpack program for school children, fundraised for the new Dawn-Euphemia Community Centre at Florence, launched a housing registry for Sarnia-Lambton, and she has been involved in the Dawn Historical Society and the restoration of the Gould Cemetery.
Leslea was nominated by fellow nominee Ann Towell.