Tundra Swan Migration Calendar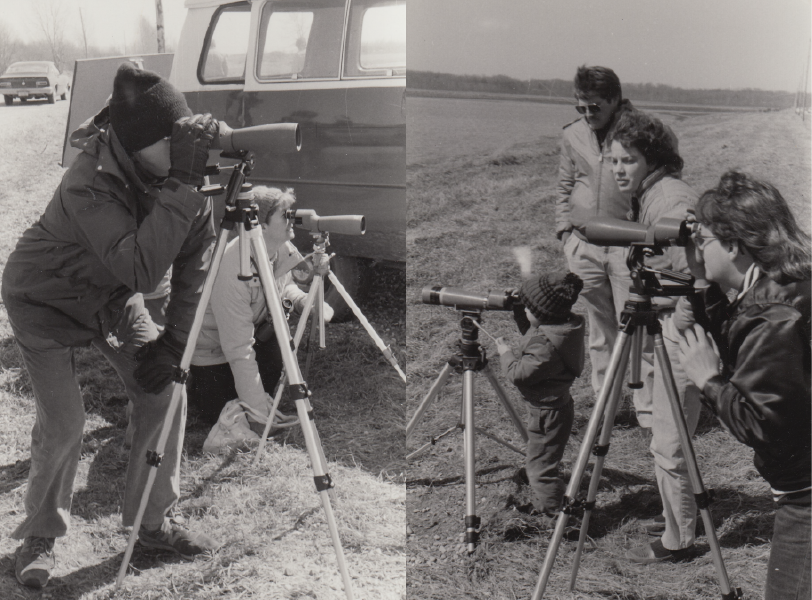 Tundra Swan sightings behind Lambton Heritage Museum is a longstanding tradition!
Tundra Swan Migration Calendar – 2021 Season
Keep an eye on our migration calendar for updates on Tundra Swan numbers, as observed off Greenway Road behind Lambton Heritage Museum!
December 10, 2020
We spotted 1,000 unexpected swans on the bog today! It was unusual to see them in December.
January 2, 2021
Outside of the regular migration season, 2,000 swans were spotted feeding behind the museum this morning.
February 26, 2021
We have not seen any swans yet to mark the beginning of the spring migration, although we have heard rumblings from other members of the community that they're starting to see them. Check back regularly for updates!
March 1, 2021
Tundra Swans have been spotted in the area! There were about 500 swans this morning off of Lakeshore Road between Outer Drive and Port Franks Road. Three swans had the fields off of Greenway Road all to themselves. These birds may be scouts. Hopefully more swans will follow.
March 3, 2021
A small flock of Tundra Swans was just barely visible this morning south of Greenway Road between the Ausable River and Hagmier Road.
March 4, 2021
It was snowy, blowy, and cold today on the bog. Just a couple swans were spotted from Greenway Road and they were far off towards Devil's Elbow.
March 8, 2021
It is quiet and sunny on the Thedford bog this morning. No Tundra Swans in sight. UPDATE: By late afternoon there were about 1,000 swans in the fields along Greenway Road.
March 9, 2021
No swans were out and about in the fog this morning but as of 11:30am there are about 2,000 Tundra Swans deep in the fields on both sides of Greenway Road.
March 10, 2021
It's a perfect day to see the swans! About 1,000 are active close to the highway, north of Greenway Road. There are thousands farther back in the fields. The museum remains closed but you can still come up to Lambton Shores to see the swans!
March 11, 2021
Thousands of swans off of Greenway Road today. With this warm weather, it's a wonderful day to come out and see them!
March 12, 2021
It's another great day to come see the Tundra Swans! There are thousands of swans in the fields along Greenway Road between Goosemarsh Line and River Road. Many of them are quite close to the road.
March 15, 2021
The swans were quiet this morning - maybe they're feeling a bit sleepy like the rest of us after Daylight Savings Time on the weekend! About a thousand swans were quietly resting north and south of Greenway Road just behind Lambton Heritage Museum. They may be more active later in the day.
March 16, 2021
It's pretty quiet on the Thedford bog this morning. There are about 1,000 swans but they are all hunkered down in the field on the north side of Greenway Road.
March 17, 2021
There are about 500 Tundra Swans this morning on the north side of Greenway Road. Gulls and Canada Geese are keeping them company.
March 18, 2021
This morning there are only about 100 swans scattered in the fields off of Greenway Road. Instead there are lots of gulls!
March 19, 2021
Swan numbers were down again this morning. There were only about 50 swans on the bog and most of them were still sleeping at 8AM.
March 22, 2021
About 75 swans were resting in the bog this morning. The majority of them appear to have continued north on their migration!
March 23, 2021
Swan numbers continue to decline. This morning there were just a handful of swans enjoying the sunshine in the bog.
March 24, 2021
The Tundra Swans have left the area to continue their northward migration to the Canadian Arctic and Alaska. Only a couple remained on the bog this morning. If large numbers of swans are spotted again, it will be posted here. Otherwise, we look forward to next year!