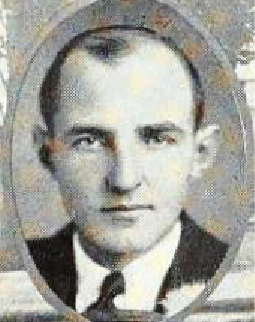 This Cinnamon Bread recipe was published in the Sarnia Canadian Observer cookbook in 1936.
Sharing the page with this recipe is an advert for Dr. O.S. Nordland, Veterinary Surgeon. The office for this establishment was located at 153 N. Victoria Street in Sarnia at the time of publication in 1936.
Oskar Spangsberg Nordland was born in Esbjerg, Denmark in 1905. The son of Hans Peder Hansen and Christine Spangsberg, he came to Ontario by the early 1930s and studied Veterinary sciences at the University of Toronto. The Torontonensis yearbook for 1933 notes that Oskar was Class Secretary-Treasurer and won a Special Prize in Anatomy. He also expressed an interest in Languages throughout his studies.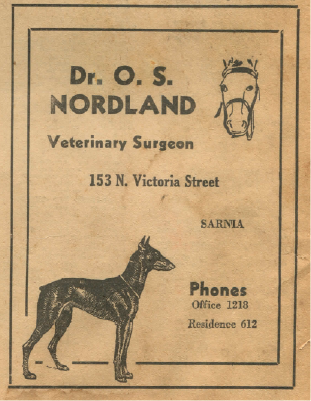 Oskar married Rhoda Bell Best, daughter of David Best and Eliza Bell Sims, at a ceremony in London in October of 1935.
During their time living and working in Sarnia, the Nordlands resided on Nelson and Davis streets. By the late 1950s, the couple had taken up residence in the Kingston area where Oskar worked as a scientist.
Oskar Nordland passed on October 1, 1959 at the age of 54.
For more historical recipes or to learn about the history of Business and Industry in Lambton County, contact the Lambton County Archives!
Cinnamon Bread
1 cup milk or water
2 tablespoons shortening
3 tablespoons sugar
¾ teaspoon salt
2 teaspoons cinnamon
One yeast cake
¼ cup lukewarm water
1 cup seedless raisins
1 cup whole wheat flour
2 ½ cups white flour
Scald liquid and add shortening, sugar, salt and cinnamon. Cool until lukewarm. Add the yeast cake, which has been softened in lukewarm water and the raisins. Add whole wheat flour and enough white flour to make a dough which can be handled. Knead until smooth and elastic and let rise until doubled in bulk; cut down and knead again. Shape into a loaf, place in a greased pan and again let rise until doubled in bulk. Put into a moderately hot oven, 375 degrees F., and after 10 minutes reduce the temperature to moderate (350 degrees F.) Continue baking for 40 minutes.