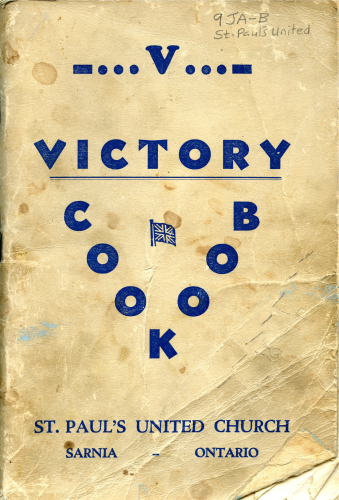 This "Do You Know That…" recaps a selection of mid-century tips and tricks mentioned in the Victory Cookbook, compiled by St. Paul's United Church (Sarnia). Victory cookbooks were frequently published as war-time fundraisers during WWII.
Highlighted tips include, but are not limited to, the following:
"To rid your house of any unpleasant odors, open the window and set light to a little dry coffee on a shovel."
"When shoes squeak stand them on an old tin or dish, with castor oil all around the soles. The oil soaks in and softens the leather, and the squeak is gone."
"After cutting onions, wash the hands in water to which a little made mustard has been added. This removes the odor."
"Hot vinegar will remove paint stains from windows."
"Stews and soups are improved by the addition of an apple cut in slices."
"Sponges can be quite easily cleaned by squeezing in water to which the juice of a lemon has been added."
"When knitting stockings or socks, it will be found that they will last twice as long if a strand of silk or thread is knitted into the toes and heels with the wool."
"To peel oranges and lemons, let them stand five minutes in boiling water and the bitter pith will come away with the rind."
This recipe book can be found at the Lambton County Archives!