Mrs. Basil Bourne's Date Pudding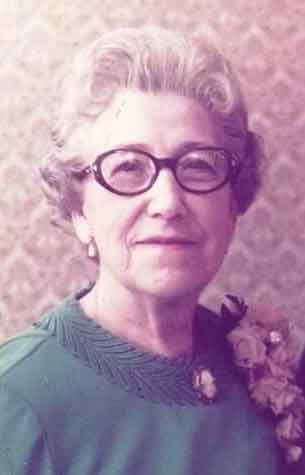 This recipe was taken from the "Cook Book" Compiled and Published by the C.E.E. Guild – Petrolia, Ontario - 1953. Proceeds from the sale of this cook book was used towards the maintenance of the Hospital.
Elsie Witty was born on 28 May 1907 in Petrolia, ON, she was the daughter of John and Barbara (Coulter) Witty and was one of six children. Elsie married Basil Lloyd Bourne on 24 June 1924, Basil was the son of Lloyd and Sarah (Styles) Bourne. They had three children and 12 grandchildren.
As a child and youth Elsie was raised in the believe of the Salvation Army. It was after her marriage to Basil that they became members of the First Baptist Church in Petrolia. Elsie was very involved in her church and was always there to offer support in any way she could including those driving those without transportation to their destinations.
She took great pride in her family and was always there to offer her support. She was also known as Grandma Bourne to many of her grandchildren's friends and to their cousins from other parts of their families. Elsie also took pride in her house her gardens her baking and canning.
Elsie passed away on 7 Feb 1992 her husband Basil had pre-deceased her on 2 Sept 1977 they were laid to rest in Hillsdale Cemetery, Petrolia.
Mrs. Bourne's Date Pudding
½ c. yellow sugar 2c. flour
1 c. suet little salt and nutmeg
1 c. sour milk 1 c. dates (more if desired,
1 tsp. baking soda or add some raisins)
According to a relative of Mrs. Bourne, just mix all the ingredients together, then steam for two hours.