Mrs. J. Lang's Crumb Cake!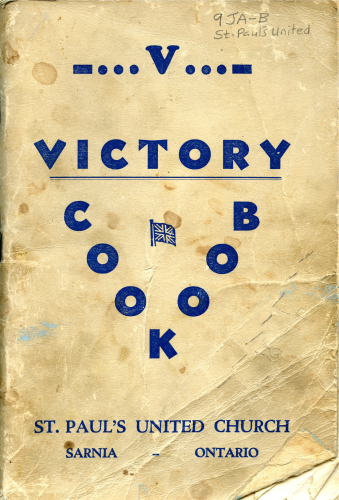 Mae Elizabeth Wallace was born in 1895 in Buffalo, N.Y., to Bertha and Daniel Wallace. In 1920, she married John R. Lang, a veteran of World War 1 and switchman for the steam railway. The Lang family resided in Sarnia and in Detroit, Michigan. They had three children: Wallace, Virginia and Donald.
In addition to serving as St. Paul's Evening Auxiliary President from 1943-44, Mae was also listed as church pianist in the Victory Cookbook. She resided at 270 S. Mitton Street in Sarnia.
Mae's wartime involvement at St. Paul's United is closely tied to the service story of her eldest son, Wallace, who was a great promoter of youth activities in Sarnia. Wallace Lang enlisted in the Royal Canadian Air Force in 1943 and went overseas in 1944 as a member of RCAF #429 Squadron. Later that year, Wallace was promoted to Flying Officer with the Lancaster Bombers. Sadly, and after having recently completed a Tour of Operations over Germany and Occupied Europe, Wallace Lang was killed in a flying accident on November 5, 1945 at the age of 22. He is buried in Harrogate (Stonefall) Cemetery, Yorkshire, U.K.
Mae Lang passed in 1956 and is buried at the Lakeview Cemetery.
Mae Lang contributed her recipe to the Victory Cookbook, compiled by St. Paul's United Church (Sarnia). Victory cookbooks were frequently published as war-time fundraisers during World War II. This recipe book can be found at the Lambton County Archives!
Mrs. J. Lang's Crumb Cake:
2 cups flour
1 cup brown sugar
½ cup butter or lard
Take out small half cup of these after rubbing together to put on top of cake:
1 cup sour milk
1 teaspoon soda
1 cup raisins
1 teaspoon cinnamon
½ teaspoon cloves