Mrs. Micheline Neif's "Bouchées Princess"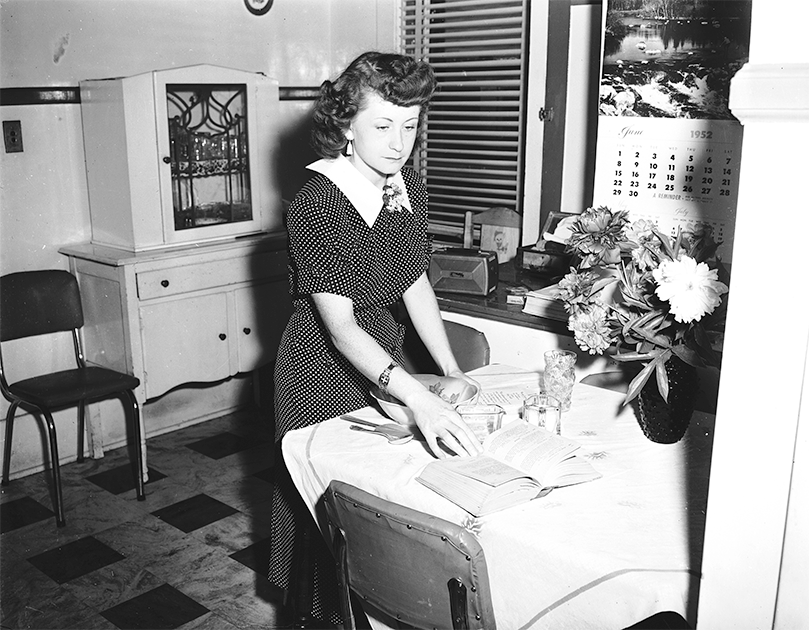 Micheline "Micki" Neif was born in Mouy, France on May 23, 1923. She was celebrated for her cooking prowess in the June 25, 1952 edition of the Sarnia Canadian Observer and accompanying cookbook.
Introduced as the Paris-born wife of Junior Chamber of Commerce President, Robert, the article notes how Mrs. Neif inherited her "tradition and talent from her mother" with friends "coveting an invitation to her board."
Micki was a resident of Sarnia from approximately 1945 - 1970. During her time in Sarnia, she served as president/officer for the Sarnia Jaycettes.
Her husband, Robert, was born on December 17, 1919 to Claude and Loretta Neif in Detroit, Michigan. On April 2, 1942, Robert enlisted with the US Army and was designated as M. Sergeant over the course of the Second World War. He passed on July 21, 1980 and is interred at the Belleville Cemetery in Hastings County.
Micheline passed at Toronto East General Hospital on April 6, 2009 at the age of 85.
The entrée featured in this article is a Micheline original – "Bouchées Princess".
Mrs. Micheline Neif's "Bouchées Princess"
Chicken patty shells
can small shrimps
can button mushrooms
lemon thick white sauce
small bay leaf
medium-sized onion
tabasco sauce
ketchup
Strain white sauce to remove onion and bay leaf. Drain shrimp and mushrooms and add to white sauce. Now add two ounces dry white wine, two tablespoons lemon juice, few drops tabasco sauce, salt to taste, Ketchup may be used for variety. Fill shells with mixture. Heat in 350 to 390 degrees for 10 minutes just before serving. Put remainder of filling in garnished dish and place on table so that guests may go back for more.