Pearl Betteridge's Ukrainian Medivnyk (Honey Cake)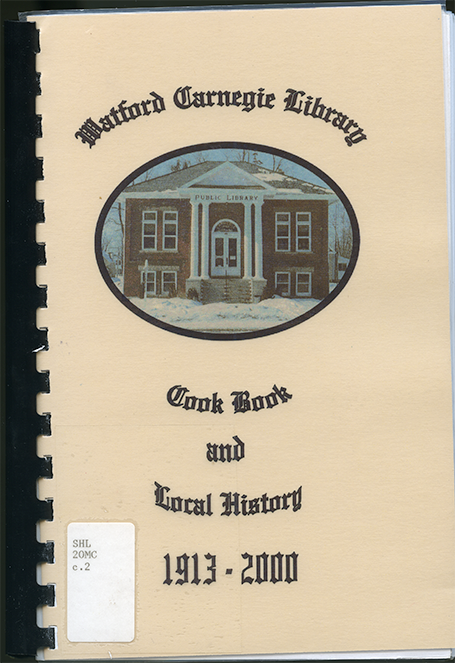 This traditional Ukrainian Honey Cake recipe by Pearl Pulak Betteridge comes to us from the Watford Carnegie Library Cook Book and Local History, 1913-2000, available for reference at the Lambton County Archives!
Compiled and published by Jean O'Neil and Bill Coristine in June 2000, the Cook Book boasts 250 pages of recipes along with historical photographs and community snapshots. The impetus for its creation was as a fundraiser for Watford Library improvements. Watford's Carnegie Library was originally erected in 1913 with a $6,000 donation from the Carnegie Corporation.
Recipes included range from local inspirations and international fare to pioneer favourites!
Medivnyk Honey Cake
1 cup honey
4 egg yolks
½ teaspoon cinnamon
1 cup sour cream
½ teaspoon ginger
1 cup firmly packed brown sugar
1 cup butter or margarine
3 cups all purpose flour
2 tablespoons baking powder
½ cup chopped walnuts
½ cup chopped raisins
Bring honey just to a boil, cool. Cream together brown sugar and butter. Slowly beat in egg yolks, and then honey. Combine flour, baking powder, cinnamon and ginger, blend into honey mixture alternately with sour cream. Fold in walnut mixture and raisins, turn batter into a greased 10-inch tube or bundt pan. Bake at 325 F 1 hour or until toothpick inserted in center comes out clean. Cool 10 minutes, then turn out to cool completely. Sprinkle with icing sugar.