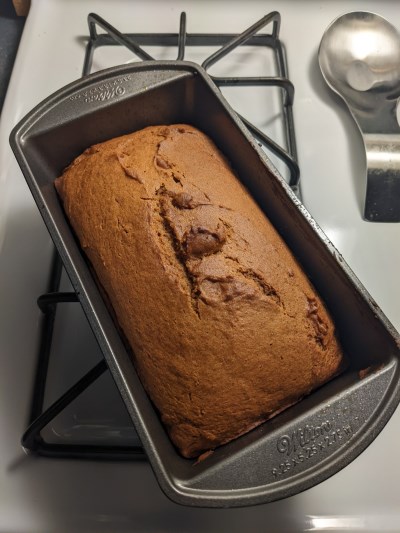 Lambton County Archives Archivist, Nicole made a Spicy Pumpkin Loaf from the Canadian Slovak Recipe Book from Alvinston using items she had in her pantry.
Spicy Pumpkin Loaf
1 ½ cup sifted flour
1 teaspoon baking powder
1 teaspoon baking soda
½ teaspoon salt
1 teaspoon cinnamon
½ teaspoon cloves
¼ teaspoon ground ginger
½ teaspoon nutmeg
¾ cup sugar
¼ cup corn syrup
½ cup oil
1 cup canned pumpkin
½ cup raisins
½ cup chopped walnuts
Mix all of the ingredients well and pour into a greased loaf pan. Bake at 325 degrees for 80 minutes. Note: I did not have corn syrup on hand so I substituted it with the same amount of honey.