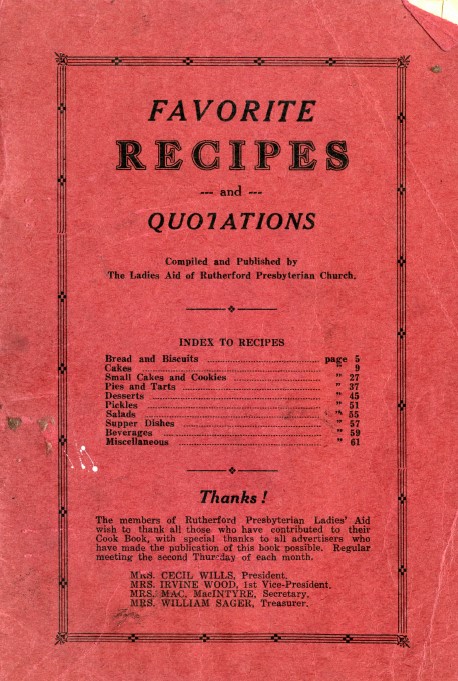 Mrs. Donald Allen Skinner was Ruth Esther Harris, born in 1906 to Frank and Lillian Harris in Michigan. In 1932, she married Donald in Michigan before coming to Lambton County and settling near Rutherford on the Skinner Family farm on part lot 20, Concession 7, Dawn Township. This land was home to the Skinner family in 1883 when Donald Allen's grandfather Donald bought 100 acres. The land was handed down through the family, including to Donald Allen, until the land was later sold in 1963. Ruth passed away in Petrolia in October 1997.
This recipe was written by Mrs. D. A. Skinner and published on page 9 of the Rutherford Presbyterian Cookbook.
Wind Blown Cake
2 eggs
¼ cup cold water
1 ¼ cups sugar
1 ½ cups cake flour
1 teaspoon baking powder
1 teaspoon lemon flavouring
Beat egg yolks; add cold water; beat five minutes. Add sugar gradually beating; add flour and baking powder, beating constantly; add flavouring; fold in beaten egg whites. Bake in a moderate oven for 45 minutes in a sponge cake tin.