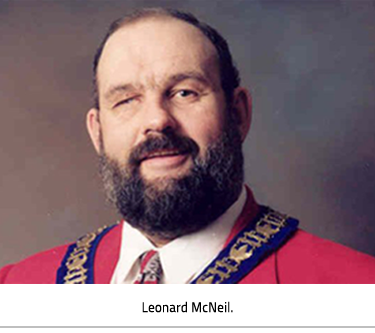 Leonard Hector McNeil was born in Brooke Township on October 9, 1950. He was the son of Stewart McNeil and Florence McLean. After graduating high school, he returned to the farm, hoping to make a contribution to his community. Agriculture was his passion. McNeil enjoyed touring the back roads, checking the bridges, crops, culverts, and drainage ditches. He was a beef and crop farmer who grew his farm to 500 acres to pass on to the next generation. He incorporated conservation practices that were ahead of his time.
He began competitive plowing in 1967 at a County match in Sombra Township. In that first match, he won the award for best plowed land under 18 years. He continued to compete for years, and noted, "If you've done it one year, you have to do it the next year. You just have to go you can't stay home." (quote from article in Voice of the Lambton Farmer, August 29, 1988). One of his proudest accomplishments was chairing the very successful 1991 International Plowing Match (read more about McNeil's work on the McNeil Artifacts In the Collection page).
McNeil was a larger-than-life community figure. Don McGugan, a former Brooke-Alvinston mayor and neighbor of McNeil, noted, "You couldn't help but see him. He was nearly 400 pounds and 6' 6" roughly... [he was jolly and] always had a joke."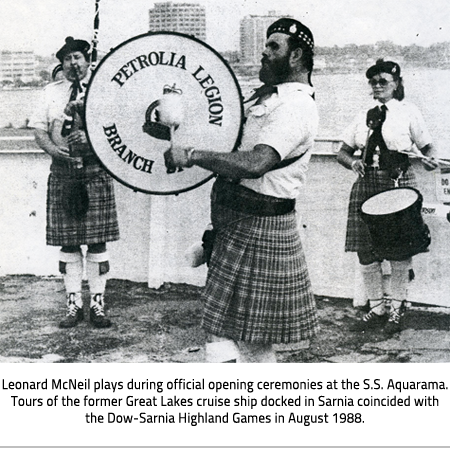 As an auctioneer, his stature and booming voice could attract a crowd and keep them entertained. He was proud of his Scottish heritage. His musical talent added flair to the Petrolia Highland Pipe Band in which he played the bass drum. McNeil's wife Margaret and his daughter Barbara were his most loved and valuable assets.
According to Bill Bilton, "Leonard had a heart as big as himself." He loved to talk on the phone and chatted daily with many people. He was known for being a strong negotiator, as well as a great listener and communicator who made informed decisions.
Public service was McNeil's greatest contribution beyond agriculture. He dedicated a decade of his life to municipal politics. As mayor, he was actively involved in the amalgamation of Brooke Township with the Village of Alvinston. This amalgamation set an example for other Lambton County municipalities. McNeil's connections helped move the historic Cameron Church from Euphemia Township to Lambton Heritage Museum after the church closed in 1999. He passed away May 5, 2002, and is interred at the Alvinston Cemetery.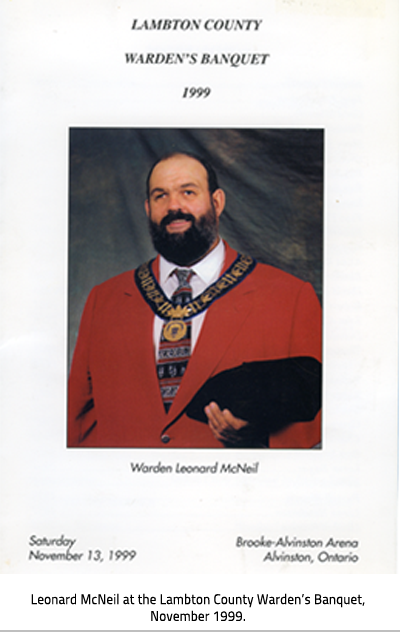 Community Contributions
Chairman, International Plowing Match (in Enniskillen Township in 1991)
Lambton Plowman's Association
Lambton Cattlemen's Association
Lambton Soil and Crop Improvement Association
Councillor, Brooke Township (1992-1998)
Mayor, Brooke Township (1998-2000)
Warden, County of Lambton (1999)
Mayor, Brooke-Alvinston (2000-2002)
Masons Lodge at Napier, Master of the Lodge (1977), District Deputy (1985)
Petrolia Highland Pipe Band (played the bass drum)