From 1939 to 1945
The brief peace after the First World War was quickly erased by the rise of Nazi Germany. Conflict in Europe pulled most of the globe back into another world war fought between 1939 and 1945. Approximately 10% of Canada's small population of 11 million served in the military.
Canadian soldiers were trained in Lambton at Camp Ipperwash on Lake Huron. Land appropriated from the Stoney Point First Nation was used by the Department of Defense to establish a military training centre in 1942. Basic training of troops from across Southwestern Ontario occurred in the complex designed to house 2,000 personnel. Although the appropriation agreement was to return the land to the First Nations after it was no longer needed for military purposes, the camp would not close until 1995.
In addition to raising funds and supplies for the war through organizations such as the Inwood Red Cross, Lambton's women also entered the work force to fill jobs vacated by men on duty overseas. Sarnia's Chemical Valley came to prominence when the Polymer Corporation built a factory on the banks of the St. Clair in 1942 to produce synthetic rubber for the war effort. The 5000 tons of rubber produced every month supplied tires and airplane parts for the Allies.
The Second World War strengthened Canada's economy and the necessities of war production pulled Canada out of the great depression. The role of Polymer in supplying rubber for the war effort was honoured on the Canadian $10 bill of 1971. Lambton's military contributions, along with those of Canadians across the country, helped to establish Canada's status as a middle power on the world stage.
WWII Artifacts in the Museum Collection
Explore
Aaron Wilson & Family of Alvinston
Jean Patterson remembers her father Aaron Wilson reading the Windsor Star newspaper and telling her Mother that there was going to be another war, and if there was her father was going to join up.
Aaron had been working out West, building the railroad when the 1st World War started and he joined up in Richmond, British Columbia. He fought in France, Belgium and served at Vimy Ridge and was wounded twice and was gassed 3 times. Aaron served with the 54th Battalion.
Shortly after the start of the 2nd World War, Aaron joined up again in August 17, 1940 and was with the Veterans Guard of Canada stationed at Gravenhurst, Nyse, Lindsay, Niagara-on-the-Lake among others. His last posting was at Glencoe. The unit guarded captured German soldiers that had been sent to Canada as prisoners of war. After the war Aaron was one of the soldiers who escorted the prisoners back to Europe. Aaron would frequently hitch hike home to see his wife and children. Aaron's wife Mina looked after nine children while her husband was away. When she had a little free time she would knit socks and send them overseas.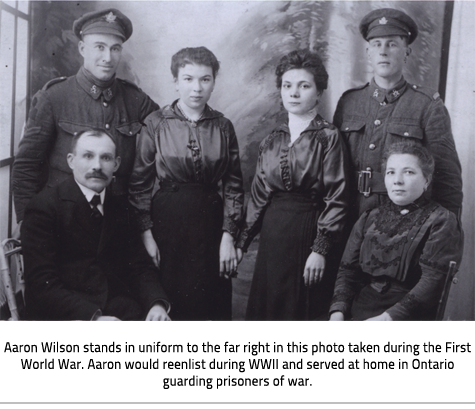 Mina sent a pair of socks and a little roll of yarn to mend to Ken Wilson, her nephew who was fighting overseas in Europe. Ken was shot and the bullet went through one arm, the roll of yarn and through the other arm. He survived and came to tell his Aunt Mina about it after the war.
Aaron and Mina's four sons joined the services. Norman joined in March 1942 at the age of 21 and served in Africa, Italy and Europe and was in Amsterdam at the wars end and came home in November 1945. Stanley joined October 27, 1942 and he was with the Postal Corp. Stan drove trucks laden with mail bags to soldier stations in Italy and Marseilles and drove through Lyons. Stan had been asked at home after the war by two young boys, "Did you ever shoot anyone?" His answer was, "You don't want to know and I'm not going to tell you".
Roy joined as an 18 year old on June 6, 1943 in Windsor, with the Argyle and Southern Highlanders. He served in Belgium, Holland and Germany and after shipping overseas to Europe on November 10, 1944 with B Company. He once told a story of not resting for days. His socks were worn out and he found a rabbit hide and put it in his shoes. By the time he finally got his boots off his feet were covered with fur. Another time his unit was going forward in Holland and checking every house for Germans. He ran up the stairs in a house and found a mother and little girls cuddled in a bed and very scared. He told them he wouldn't hurt them and left.
At the war end Roy helped escort the German prisoners back to Germany. Roy was on the ship watching the troops coming up the gang plank and he hollered "Wilson!" and there was Stan coming on board. Roy and Stan were in England at the end of the war and went to Scotland to visit their Grandfather and Aunt.
Thomas Neil joined in March 1945 and was in the Signal Corp. and was stationed in Canada. The war was winding down before he was sent to the Pacific. Cecil was too young to join and was a Cadet at Watford.
Other family members who were in the war were W. E. Esselment who was stationed in Canada and guarded prisoners. John Clarence Esselment was killed in Holland. Phil Walters of Sarnia was stationed in England with the Tank Corp. Ken Wilson was in Italy also from Sarnia. Fred and Lyle Wilson from Brooke Township were both in Italy.
~Story told by Jean Patterson
Archie L. Fleming of Alvinston
Private Archie L. Fleming was the brother of Grace Ross. He went overseas in 1944 and was in the auxiliary. He returned from the war and died on June 4, 2003.
~Submitted by Grace Ross, Alvinston.
Peter D. Fleming of Alvinston
Private Peter D. Fleming was the brother of Grace Ross. He joined in 1944 and was with the engineers until 1946. He was 90 years old in August of 2015.

~Submitted by Grace Ross, Alvinston.
Stanley A. Edwards of Arkona
Stanley A. Edwards was born in New Liskeard, but came to Arkona with his parents at an early age and resided in that community until his enlistment in June 1940. He went overseas in 1942 and in a letter received by his wife, a few days later, expressed his expectations of being home in the near future. Stanley died of injuries accidently received in Holland on May 20, 1945. Driver Stanley A. Edwards of Canadian General Transport Company R.C.A.S.C. died almost two weeks after hostilities had ceased in Europe.
Read some of the letters Stan wrote home to his family.
~Story told by Linda Koolen, Arkona
J.W. Lockyer of Camlachie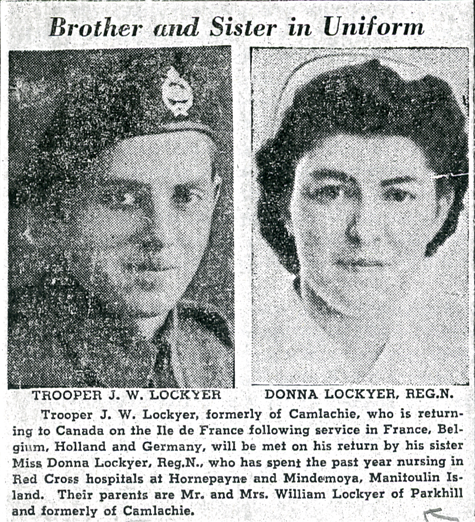 Brother and Sister in Uniform
Trooper J. W. Lockyer, formerly of Camlachie, who is returning to Canada on the Ile de France following service in France, Belgium, Holland and Germany, will be met on his return by his sister Miss Donna Lockyer, Reg. N., who has spent the past year nursing in Red Cross hospitals in Hornepayne and Mindemoya, Manitoulin Island. Their parents are Mr. and Mrs. William Lockyer of Parkhill and formerly of Camlachie.
~ Submitted by Alice Gibb, London
Leslie G. Sutherland of Corunna

Leslie G. Sutherland, son of Mr. and Mrs. A. Turnbull, Corunna, has arrived overseas with a detachment of men of the Royal Canadian Air Force.

Sergeant Leslie Gordon Sutherland, son of Mrs. A. S. Turnbull of Corunna, has been reported missing after air operations.

~ Submitted by Alice Gibb, London
E.J. Quinn of Corunna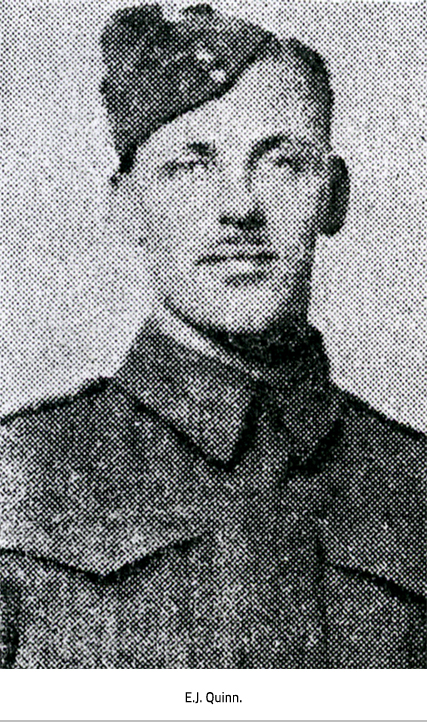 An old newspaper article found by Alice Gibb described "Gunner E. J. Quinn, son of Mr. and Mrs. D. Quinn, Corunna, is celebrating his 25th birthday somewhere in England today with a unit of the Royal Canadian Artillery recruited from this district."

~ Submitted by Alice Gibb, London
William Robert Liddle of Dawn Township
William was a first cousin to Marion Neville and brother to Lyle. Marion's mother and father raised him from the age of seven. Her mother and his father were sister and brother.
William enlisted at age 20 on September 1942 in the Unit (S) Regimental Unit H.L.I. He was discharged March 1946. William enlisted as Pte. and ended his career as Pte. He served in Great Britain and North West Europe. William's honours and decorations were, Canadian Volunteer Service Medal with clasp, 1939-45 Star, Defence of Britain Medal and France – Germany Star.
After he came home he got a job at Ontario Steel at Chatham lived near Charing Cross and married and had four daughters. William died on September 7, 2002.
~ Submitted by Marion Neville, Wyoming
Lyle Gordon Liddle of Dawn Township
Lyle Gordon is a first cousin of Marion Neville and brother of William. Marion's mother and father raised him from the age of four. Her mother and his father were sister and brother.
Lyle joined the Air Force at Toronto and trained to become a mechanic. When he fixed a plane he always had to try it out to be sure it was safe. He was discharged from Toronto after the war ended. He then worked as a mechanic until he retired and moved to Chatham.
~ Submitted by Marion Neville, Wyoming
Garnet McDonald of Dawn Township
Garnet McDonald, son of Mr. and Mrs. Charles McDonald, enlisted at the age of 17 in Unit (S) Kent Regiment and Essex Scottish in July of 1940. His rank on enlistment was Pte. He served in Great Britain and France, receiving the Canadian Volunteer Service Medal with clasp, Defense and Britain Medal, France–Germany Star, 1939-1945 Star and La Medaille de Dieppe. He was wounded at Dieppe and discharged after the Dieppe Parade. His rank upon discharge was Captain. He died in 1968. Marion Neville lived in the same neighborhood as Garnet and they attended the same public school.
~ Story submitted by Marion Neville, Wyoming
Jean Luella Sage of Dawn-Euphemia
Jean Luella Sage (née Brown) had been an elementary school teacher for about five years when she joined the RCAF (WD) in the summer of 1942, shortly after her marriage. Her husband, Ron Sage, had already signed up for the RCAF and left for his basic training right after their wedding in July 8 of 1942.

After Jean saw him off at Union Station, she returned to her parents' farm at Oakdale and signed up to do her part. Jean completed her basic training at Rockcliffe in Ottawa, and was then posted to Eastern Air Command Headquarters in Halifax. She worked as a "plotter" – keeping track by radar of ships in Halifax Harbour and watching for enemy submarines – all "top secret".

While she listened to messages through her earphones, Jean knit socks to send home to her father. She lived in the barracks with four other women, and when they went on leave they hitchhiked out to Peggy's Cove and Lunenburg.

Meanwhile Jean's husband was posted overseas. When Ron received an honourable discharge the next year, Jean also left the RCAF. The Sages lived in Ottawa for a short while, and then settled in London, Ontario. Jean passed away on December 25, 1998.

~ Story told by Jocelyn Shipley.
Gordon C. Stinson of Dawn-Euphemia and Rutherford
Lieutenant Gordon C. Stinson was the father of Linda Burns. He was born on March 2, 1913 and died on April 16, 2009. Prior to the outbreak of the war Gordon was a school teacher, graduating from London Teacher's College and began his teaching career in 1935.
He enlisted in August 1942 as a Private with RCA. Gordon trained at Petawawa and graduated as Lieutenant Gordon C. Stinson at Brockville Ontario. Gordon was sent to Shilo, Manitoba and became an artillery instructor and stayed in the army after the war ended as a Veteran's Guard of German POW in Northern Ontario and Camp 10, who were kept in Kent County after the war's end to work on farms in the area. Gordon was discharged from the army in May of 1947.
After his discharge he returned to teach as Principal of Dresden Public School for a year and then retired from teaching in 1948, taking up farming. Gordon grew corn, soybeans and hay for his beef operation. He was also employed by Union Gas Co. first in their Oakdale office later to move to present site in Dawn – Euphemia Township, working as fieldman until he retired in 1968.
~Submitted by Linda Burns, Croton
Elwood J. Hyatt of Enniskillen
Elwood J. Hyatt was born November 5, 1919 in Enniskillen Twp. He joined in 1941 and did basic training in Chatham, Ont. He was active in
55 field regiment, Petawawa
East coast 104th Coast battery, Halifax, N. S., R.C.A.
Percival Cove, Peggy's Cove on coastal guns
Shelbourne, N. S. on search lights
Gaspe, Quebec, winter training
August, 1943, was sent overseas
Hyatt saw service in England, Holland, Belgium and North Germany with the Highland Light Infantry from Galt, Ontario. He returned December, 1945, on H.M.T. Queen Elizabeth, to Halifax, Nova Scotia and from there by train to Galt.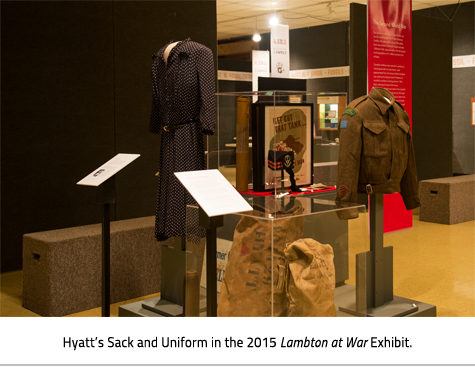 Dec. 1945: Daughter Mary Allison remembers going to the train station in Galt with her mother. "Dad was coming home from war". I was sitting on my uncles shoulders and overwhelmed by the huge crowd. There was so much emotion as the train pulled into the station, soldiers leaning out the windows cheering and waving. Everyone was calling out 'welcome home'. I remember seeing people crying and wondered why….wasn't this a happy time? However when 'this stranger' greeted us, I refused to have anything to do with him.
Mother and I lived with my maternal grandparents while Dad was away. On return Dad bought a farm in Brooke Twp. near Inwood (Weidman) and lived there for 50 yrs., buying more acreage over the years. He raised Shorthorn cattle and worked for a butcher part time. He said he had learned to cut meat on the ship home from overseas. He was well known in Lambton Co. as 'Shorty'. Few knew his first name.
He was a 4-H beef leader for many years and member of the local fair boards, often announcing beef cattle classes' fair day. Ask him to auctioneer for fun and he could do that too. Even after a hard, tiring day in the field, he was always available to give my sister and I rides to the arena, local dances, 4-H and Jr. Farmers meetings, etc.
Late 60's they sold the cattle, rented out the land, continued to live on the farm and Dad worked at C.I.L. for several years. They enjoyed travelling, visiting Europe twice, reuniting with people in Holland, England and Scotland. He also visited the Canadian War Cemetery's in Holland. He often talked about the many friends he made during the war years and tearful when mentioning the ones that did not return home.
I remember him saying, it didn't take him long to dig a fox hole to hide in because he was so short. He sold the farm middle 90's and moved to Sarnia. "Dad passed away January 29, 2005, age 86 yrs. Thanks Dad for the memories, your daughter, Mary."
View Hyatt's Uniform.
~ Story told by his daughter Mary Allison, Sarnia
James Waucaush of Euphemia
Marion Neville was a neighbour of James Waucaush. She corresponded with him when he was overseas.
James Waucaush went overseas and fought in the Dieppe Raid and was taken prisoner of war. After the war, he returned home and a few days later had supper at Marion's house. A few days after that Waucaush went to Wallaceburg with a friend. On the return trip, their vehicle went into the ditch and was Waucaush was killed (1946).
"Such heartbreak after he had been overseas."
~Submitted by Marion Neville, Wyoming
Wilber (Mac) Waucaush of Euphemia
Wilbur was a brother to James Waucaush. I (Marion Neville) did not know Wilbur but he was also overseas in the forces and I thought just to add a little information they were the last known First Nations family to live in Euphemia Township and two sons served in the Second World War.
~Submitted by Marion Neville, Wyoming
Edward McNab (Mac) Wilson of Forest
Article in The Oregon Journal, Friday, August 28, 1942
"'Stubbornness' Helps to Overcome '13' Jinx Buttermaker-Sailor Relates Thrills of Sea"
Edward Wilson, 26 has a "worry date" each month, January through May and, to make it worse, it's the 13th.
The young Forest, Ont., buttermaker, entered radio school on January 13, 1941. He was sleeping in his bunk on a merchantman; a Panamanian ship bound from Canada to Russia with war material at 4 a. m. on January 13, 1942, when a torpedo struck the ship.
The vessel settled so rapidly that the crew, including Radioman Wilson, was ordered off into small boats in the stormy sea before the second torpedo hit, sinking the vessel almost immediately.
Four days in an open boat, 19 aboard at the outset. On the morning of the fourth day, when they were discovered almost miraculously by a British warship, there were only six alive. The bodies were given sea burials over the side.
Of the six survivors, five including Wilson lost both legs. They had frozen. The other, described by Wilson as "a tough old Swede," got through with frostbite.
"My legs were amputated on Friday, February 13; I got out of bed on March 13, was quarantined for diphtheria on April 13, and changed to a hospital nearer my home on May 13," Wilson related at the Chamber of Commerce Thursday.
"We were torpedoed without warning. It was a terribly rough sea and we had difficulty getting the lifeboat off. There were 18 in another boat. They've never been heard from".
"We were about 250 miles off Newfoundland when the torpedo struck. We were cramped in the boat and our legs were continually doused by water over the side. I was conscious when we were rescued. It was snowing and we sighted the rescue ship at about 50 feet away through the snow. They saw us at the same time."
Wilson attributes his survival of the gruesome trip to "stubbornness."
The radio operator had no opportunity to send a distress message following the torpedoing. None saw the submarine.
"They fed us rum, mostly, on the warship," he said. "There was little chance for surgery or extensive treatment."
He will be joined here shortly by Lawrence Impey, for 17 years a British correspondent in the Orient for the London Daily Mail. The two will comprise a speaking team for the maritime commission at Portland.
A year after Mac lost his legs; he was out of the hospital and walking around on artificial legs. Mac was hired to go on a Victory Bond drive on the west coast of the United States in the fall of 1942.
Mac married his sweetheart, Alice Jean Mitchell, of Strathroy shortly after he returned from the Victory Bond drive. Mac then went to work for Trans Canada Airlines (now Air Canada) until the early 1950's when he bought the Forest Bluewater Creamery from his father Jim Wilson. Mac and Jean raised four children and worked hard together running the creamery.
Mac never let his disability slow him down, he would try anything, and he worked alongside of his employees, drove a route collecting milk from the local famers, went deep sea fishing and even tried skating once.
In 1959 the man who survived four days in the cold North Atlantic was unable to survive lung cancer and on November 29th, 1959 passed away.
Jean never remarried and loved Mac until the day she died in April of 2006.
Newspaper article U.S. Decoration for Canadian Hero:
Edward Mack Wilson, 28-year-old Forest, Ont., hero, now employed as a radio operator by Trans-Canada Air Lines at Halifax, is presented with the Mariners' Medal of the United States War Shipping Administration by Edwin C. Kemp, U.S. Consul at Halifax. V. J. Baherich, district manager of the U. S. War Shipping Administration, was in attendance. As the result of the presence of mind of Wilson and a companion, a lifeboat with six survivors was kept afloat after their Russian-bound ship, the S.S. Friar Rock, was torpedoed and sunk in January, 1942. There were 19 men in the lifeboat to start with, 13 of whom died. Wilson lost both legs as a result of the four days spent in the tiny boat.
~Submitted by Larry Wilson
Alma Kemp of Forest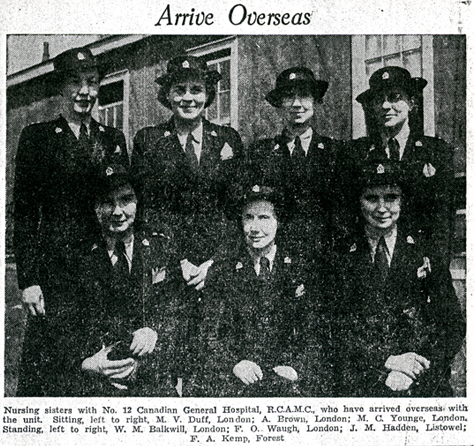 Nursing sisters with No. 12 Canadian General Hospital, R.C.A.M.C., who have arrived overseas with the unit. Sitting, left to right, M. V. Duff, London; A. Brown, London; M.C. Younge, London. Standing, left to right, W. M. Balkwill, London; F. O. Waugh, London; J. M. Hadden, Listowel; F. A. Kemp, Forest. Alma Kemp later married and lived in Kingston.
~Submitted by Janet Kelch, Sarnia
John Cecil Gibb of Froomfield
John Cecil Gibb, known as Cecil Gibb was born in a red brick house that his father had built on the 12th line of Moore Township (later called LaSalle Road), not far from Burns Presbyterian Church.
Sometime in the 1930s, after going west on a harvesters' excursion, my father ended up purchasing 160 acres of wooded land 15 miles north and east of Peace River, Alberta. In the 10 years he spent on his Peace River "farm", my father managed to clear 65 flat, fertile acres, but with the outbreak of war in 1939, it was inevitable that he would enlist. He did so, with the 10th Company of the Royal Canadian Engineers in Calgary, Alberta in July, 1940. He did training at Petawawa and was overseas by 1941. He was the only member of his immediate family (two brothers, two sisters) to serve in the military.
During the Blitz, he was stationed at Brighton, England and later trained on schemes around England. Many of the Canadian boys went to Scotland on their leaves. Dundee, Scotland was my father's favorite city in that country. The Gibb family was originally Scottish but had come to Moore Township around the 1830s. One thing my father appreciated about Scotland (and later Italy) was the chance to get fresh eggs and some homegrown vegetables.
Eventually, his company was sent to Italy, traveling in a convoy of troop carriers around the Gibraltar Straits and into the Mediterranean. Two of the convoy's ships were bombed by the enemy and sunk in the Mediterranean. The captain of my father's ship picked up as many survivors as he could — many of them nurses — which crowded his ship, but they reached Italy safely. Many years later, my father learned that the captain of this ship had been court martialed for breaking the convoy and endangering his passengers in order to rescue the survivors.
During the 18 months he spent fighting in Italy, his only injury was a bite from a poisonous spider — which earned him three days back of the front lines. During the period in Italy, when the German forces were being pushed back to Germany, many of his friends in the company were killed.
The engineers were sent back, by way of France, to be in on the final push in Germany in the spring of 1945. Afterwards, he spent three months in Holland, taking a farm course, until Japan surrendered. The he was shipped back to England and arrived back in Sarnia in September, 1945.
The Sarnia Observer featured a photo of him being met at the Sarnia train station by his mother and his one nephew. Sadly, both his parents died within a year of his return to Canada.
My father and mother married in 1946 and my father did not return to his homestead in Peace River, Alberta except on two vacations. The first was to show his homestead to his bride (she was not impressed) and later to his children. He joined the Corunna Legion and would march in Legion events when his work at Polymer permitted. He rarely talked to anyone except other veterans about his years in the army — except to comment on the food served to soldiers and the fact that he held no ill will towards the German soldiers, who were doing a job just like he was.
~Story told by daughter Alice Gibb, London.
John Thomas Williams of Froomfield
John Thomas Williams, P. Eng. died peacefully on Tuesday, April 25th, 2006 at age 91, having lived a good and full life. Predeceased by his soul mate and wife of 55 years, Inez, good friend Beth Haskett, and cherished daughter, Lynn. Fondly remembered by son Eric Williams and his wife Anne; daughter Debbie Barrett and her husband, Bill; sister-in-law Hazel Williams; son-in-law Art Allen; grandchildren Denise Allen and Glen Martins, Julie and Michael Blair, Shayne Williams, Chad Williams and a treasured great-grandchild Leah-Lynn Blair. A graduate of Queen's, John volunteered and served from 1939 to 1945 in the Royal Canadian Engineers in England and France and later commanded a reserve regiment based in London. A long-time employee of Imperial Oil in Sarnia. John's special engineering achievement was the construction of Cat Crackers in Sarnia, Bombay, Buenos Aires, and Vancouver. Most importantly John loved his family, his cottage at Berford Lake, and fishing. Special thanks to the staff at Longworth who enjoyed his humour and offered kindness and respect. A memorial service will be held at the Westview Funeral Chapel, 709 Wonderful Road North, on Thursday, April 27th, 2006 at 1:00 p.m. Cremation with interment of ashes in St. James Cemetery, Clandeboye. Donations in John's memory may be made to the Lynn Allen Memorial Fund at the University of Western Ontario.

~Submitted by Alice Gibb, London
Jim Newell of Grand Bend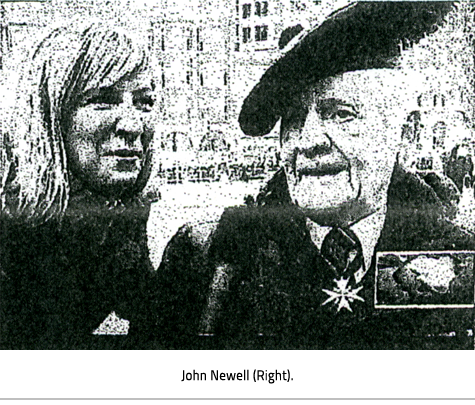 Jim Newell, a former resident of Grand Cove, was recently featured in the Remembrance Day broadcast from Ottawa. Jim and his wife Doreen lived for many years on Pinetree Lane, and were active members of the lawn bowling and Cove Theatre Group writing, producing and acting in many productions.
Jim was born in England in 1924 and joined the Royal Marines on his 18th birthday. His military career first took him to India, Burma and Sri Lanka. Fully loaded with 75 pounds of kit and rifle, route marches of several miles in the hot and humid air were regular commands. In 1944 Jim transferred to the Royal Black Watch Regiment. Since he was able to strip and assemble a Bren gun blindfolded he was deployed to France, Holland, Belgium and finally to Nazi Germany. During the "Battle of the Bulge" Jim with others of the Black Watch were sent to Belgium to allow the American Troops time to regroup. Jim recalls entering a farmhouse where a mug of coffee left by a retreating German soldier, was still warm! In March of 1945 Jim was severely wounded and, after a lengthy recovery, was retired from active duty. He continued to serve in a less strenuous capacity until being discharged in 1947. After immigrating to Canada with his family in 1953, Jim joined the Ontario Regiment and eventually obtained the rank of Regimental Sergeant Major.
Jim and his first wife Jean raised and trained many dogs that were eventually used for dog therapy programs. After the death of his wife, Jim started to spend time with his sister in Florida and there he met Doreen who was visiting from the U. K. They shared a love of dogs and with the support of the St. John's Ambulance formed the Dog Therapy Program in Peterborough, a program that has since spread across Canada and around the world.
Charlie Callum of Moore Township
Charlie Callum had a farm on 10th Line of Moore Township. He was the nephew of Herbert and Mabel Callum, who lived on the McGregor Road, Sarnia. Evelyn Jardine, mother of Allice Gibb, was teaching in the Burns school section and boarded with Herb and Mabel. She likely met Charlie through these relatives. She and Charlie were briefly engaged. The engagement was short-lived and Evelyn went on to marry Alice's father, Cecil Gibb, also from the Burns school section, at the end of the war.
~Story submitted by Alice Gibb, London.
Albert James Watson of Plympton-Wyoming
My father, Albert James Watson was born on December 19, 1905 at RR 1 Wyoming to Frances (Fanny) and Wellington Watson. He and his family lived in Callander ON.
Albert joined the RAF in 1940 and was sent overseas. It later became RCAF and he was stationed at Digby with the 411 Squadron until 1945.
He was on many secret missions which were not discussed. He was the Sgt. of the 411 ground crew who serviced the Spitfires. He was the only Canadian ground crew to be requisitioned by the U.S. Navy to serve aboard the Aircraft Carrier WASP. He made three trips to Malta with them as they delivered planes to that island. It nearly broke his spirit as he watched "his flyboys" being shot down into the Mediterranean.
Albert carried a small New Testament that his mother had given him throughout the war. He died on August 10, 1995 or 1996.
His brother, Harold Watson, was a career RCAF officer.
Robert Irvine of Sarnia
Robert (Bob) Irvine was born in Brigden, Ontario in 1923, the oldest son of Dr. Harold Irvine and his wife Shirley. He enlisted in the RCAF and trained as a navigator. He was posted to an all Canadian crew serving with 101 Squadron RAF. His pilot, the late Lyle James, was from Sarnia, and the two became fast friends – a friendship that lasted until Bob's untimely death in 1977. Bob's crew survived the required 30 missions to complete their tour of duty, and returned to Canada. He, as well as other members of the crew, including Lyle, was awarded the Distinguished Flying Cross. Bob went on to be a successful architect in Sarnia, where he designed several key buildings, among the most notable being the Federal Building (Post Office) on Christina St. and London Road School.
~Submitted David Irvine, Forest, nephew of Robert Irvine.
George Varnum Andrew of Sarnia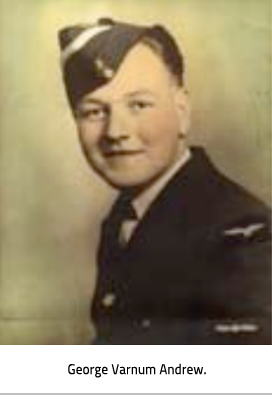 George Andrew was born in Sarnia on January 11th, 1923, the son of George and Elizabeth Andrew. George joined the Royal Canadian Air Force on April 21, 1941. After completing basic training, he married Esther (Hetty) Jones of Sarnia. He was posted to #426 Thunderbird Squadron and was sent overseas in October 1942 at the rank of Flight Sergeant. He was later commissioned to the rank of Pilot Officer. On his 22nd raid, on December 20, 1943, his Lancaster aircraft was lost during night operations against Frankfurt, Germany, killing all aboard. George Andrew is buried in Rheinberg War Cemetery, Germany, Coll.Grave 10.E.9-13.

~Story told by David Irvine, Forest.
Milton (Mick) Bailey of Sarnia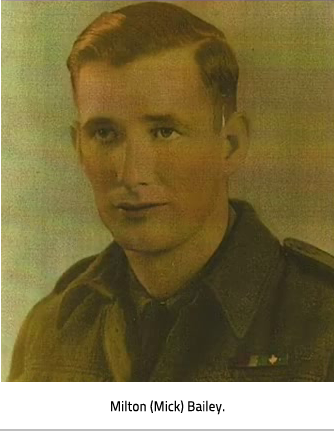 "Mick Bailey married my mom and was my stepfather. During the war he worked on the Stretcher Medical Detail. His partner was Roy Bead. They were known as Beanie and Bailey. Mick never spoke of his service in the Army overseas, although he shared one story with me.
Mick and Roy had a German prisoner of war to be exchanged with a Canadian soldier. The German was begging not to be returned but both agreed, "We need our Canadian soldier back". When the exchange was done, they never saw the injured soldier again until Mick got a call. Remember the Canadian soldier you rescued, well, I was that soldier."
The call came from Rufas Fulford from Port Hope Ontario. His family wanted to have a reunion with Mick and Roy Bean in his home Town of Port Hope.
What a wonderful reunion with not a dry eye in the place. Mick and Roy were part of the "D-Day Dodgers" and went to many reunions in Orillia, Ontario, every Mother's Day weekend
Mick was a constant visitor at Forest Legion, there the comradeship never ended until his death, at 85 years of age.
~Story told by Nancy-Lee Jacobs, step-daughter of Mick Bailey.
Gordon Finley Harkins of Sarnia
Harkins, F/O Gordon Finley (J14242)–Distinguished Flying Cross- – No. 433 Squadron-Award effective 2 Oct. 1944 as per London Gazette dated 13 Oct. 1944 and AFRO 2637/44 dated 8 Dec. 1944.
Gordon Harkins was born in Sarnia, in1919. He enlisted in Windsor, 10 June 1940.
He "completed….numerous operations against the enemy in the course of which (he has) invariably displayed the utmost fortitude, courage and devotion to duty.
This officer, the navigator of Squadron Leader McNeil's crew, has since Aug. 1943 completed 31 sorties over enemy territory including such heavily defended German targets as Essen, Karlsruhe and Augsburg. He also completed fifteen sorties against Italian targets when operating in the Middle East.
His outstanding ability and strong sense of duty have been a constant source of encouragement and inspiration to his fellow navigators. He has frequently acted in the capacity of Deputy Navigation Leader and has contributed much to the success of that section by his initiative and leadership.
I consider that his splendid record plus the fearlessness and fine offensive spirit he has displayed at all times fully merits the award of the Distinguished Flying Cross (Non-Immediate)."
~Story submitted by Janet Kelch, Sarnia.
Glyn Jones of Sarnia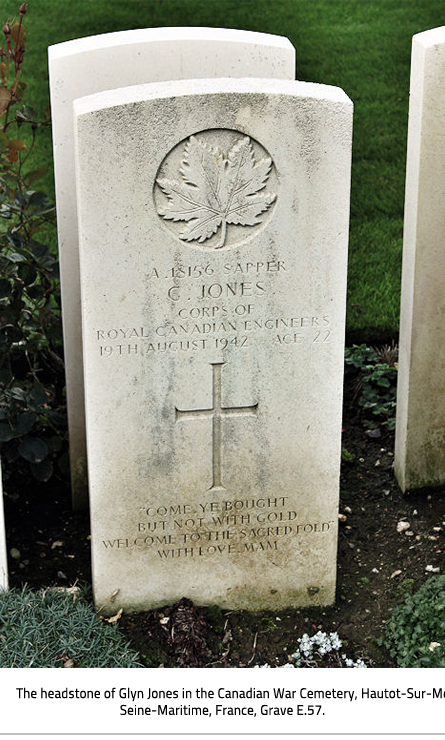 Glyn Jones was born in Bargoed, Wales, the youngest son of David and Annie Jones. Glyn emigrated to Canada in the 1920's along with his mother and siblings following the death of his father, and settled with his mother in Sarnia. In 1939, Glyn, along with his older brother Idwal (Ed), joined the Royal Canadian Engineers, being assigned to the 1st Canadian Field Park Company. Glyn participated in "Operation Jubilee", the ill fated raid on Dieppe in August of 1942. He was killed in action on the raid, and is buried in the Dieppe Canadian War Cemetery, Hautot-Sur-Mer, Seine-Maritime, France, Grave E.57.

~Submitted David Irvine, Forest.
Gordon Clifford Kelch of Sarnia
Gordon Clifford Kelch was born on September 22, 1918 in Sarnia. He was a member of the Royal Canadian Navy Volunteer Reserves.
Kelch, Gordon Clifford, Ptlmn Royal Canadian
Volunteer Reserve ID Card #166155 Enlisted 25 Jan. 1945 at H.M.C.S. Prevost, London, ON. Discharged 16 Jan. 1946 at H.M.C.S. Prevost Class N o. 615646 Stationed in Halifax, Nova Scotia. Was injured while on duty, quelling the Halifax Riot of 1945. Gordon was struck from behind in the kidney; damaging the organ therefore he was discharged.
Gordon Kelch died on June 22 1986 in Sarnia.
~Submitted by Janet Kelch, Sarnia.
Howard Ellesworth Kelch of Sarnia
b. 31 Dec. 1910 in Sarnia, d. 15 June 1991 in Sarnia
Canadian Army, Active (CASF) Kelch, Howard Ellesworth Cpl. 1st Field Park Co. R.C.E. Svc. #18198 Enlisted 19 Sept. 1939 in Sarnia, ON at 34 years, 6 mos. Discharged 3 July 1945 at Wolseley Barracks, London, ON. Awarded France & German Star, Defence Medal, C.V.S. Medal with Clasp. Was trained as a sapper (engineer). Served in the United Kingdom & Continental Europe Theatre, War Service badge, Class G.S.C. #269568.
~Submitted by Janet Kelch, Sarnia
Herbert Charles Lynn of Sarnia
On the 1st of May 1943 my father, Herbert Charles Lynn #A106782 signed up for the war. He was in C Company, Elgin Regiment, later in the Canadian Armord Corps. He was awarded the Italy Star GRJ V1, 1939-1945 George V1's Service medal, 1939-1945 Service Star GRJ V1, 1939-1945 Service medal and the France & Germany Star GRJ V1. He was married to Florence Viola (Harrett) Lynn, had a daughter Janet Diane Lynn & was expecting a second child. He lived at 403 ½ Shepard St., Sarnia, ON.
He was born in Bristol, England on 11 Aug. 1918 and came to Canada as a one year old in 1919 with his parents. His father, Charles William Lynn had been in Sarnia in 1915 when he signed up on 21 Sept. 1915. He married my grandmother Kate (Britton) Lynn in Bristol, Eng. on 15 Nov. 1917.
Herbert Charles Lynn died in Sarnia on 24 Apr. 1989 and is buried in Lakeview Cemetery.
~Story told by Janet Kelch, Sarnia
Ross Borthwick of Thedford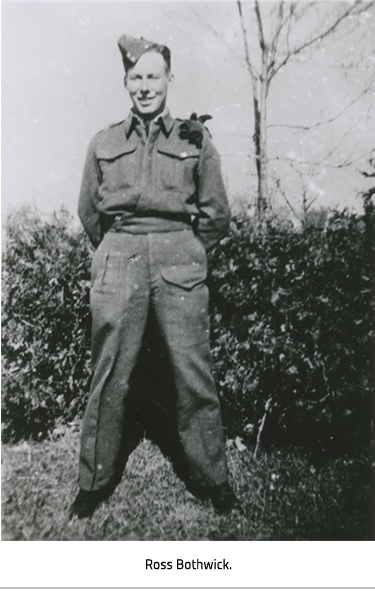 Ross Borthwick, "a Thedford boy," had worked on our farm for two seasons. A free spirit and a good worker, he was well liked by everyone. Ross had joined the army in January of 1943 at age 19 and attended basic training at Ipperwash Army Camp. He was shipped overseas that same year.

Ross obtained the rank of Corporal in the spring of 1943, but was later "busted" back to Private in England due to arriving back at the base "a few hours later" after a leave. Ross was transferred to the Essex Scottish Regiment on August 5th, 1943. He landed in France on July 6th, 1944, a month after the Invasion of Normandy, as a member of the 3rd Canadian Infantry Division.

Private Borthwick was a "runner" in his regiment. He was killed in action of July 29th, 1944. On that day, the Essex Scottish Regiment "mounted a successful attack on buildings defended by experienced German troops near Tilly, France." Ross had been cited for "distinguished Service during combat" by his commanding officer. He was reportedly killed by a German sniper.

Months later, his mother received a letter noting "outstanding good service and devotion to duty" and signed by Field Marshal Montgomery. He is buried in Brettevile-sur-Laize Canadian Military Cemetery in France.

~Story told by Dean Percy.

Malcolm Moncrief MacDonald of Thedford
"I am not a hero…all the heroes are still buried over there"
Malcolm Moncrief MacDonald, better known as Crieff, was born January 14, 1921 the only son of Dr. Marshall and Pearl (Ballard) MacDonald of Thedford, Ontario. He joined the RCAF in 1940 and trained in Goderich, Ontario, Commonwealth Flying School.
He left for Europe in 1941 and was stationed in Scotland. His call of duty took him on flights from North Africa to Italy performing fighter cover and surveillance reconnaissance. He was warrant officer in an ammo dump in Italy.
His tour of duty ended in 1945 and he arrived in New York on the Queen Mary troop ship. A train ride from New York took him to Montreal to Gananoque Air Force Base where he waited for his discharge.
In 1946 he returned to his bride Grace (Lawson) and young son and followed some of his comrades at arms to medical school, UWO in London. After graduation he became Thedford's beloved town physician, trailing the footsteps of his father.
His later years found him enjoying his garden, making wine, sailing and travelling.
After surviving the battles in the skies over Europe, in 1999 he began his own battle with cancer which unfortunately he lost in 2000.
~Story submitted by Callum MacDonald, Strathroy, son of Malcolm MacDonald
Read poems and essays dedicated to Malcom Moncreif MacDonald by family members over the years.
Donald McKellar of Thedford
Don McKellar was drafted in 1943. Although he was given the option of requesting to be excused from active duty because he was needed on the farm, he elected to join the army as an active member of the armed forces. He received his basic training at the Ipperwash Army Camp in 1943 and was shipped overseas that same year.

Private Don McKellar joined the Algonquin Regiment and we assume was shipped to France with that same division in July, 1944.

Private Donald McKellar was killed in action on August 9th 1944. The Algonquin Regiment and the BC Rifles reportedly lost their way during a night time advance and were surrounded and decimated by the 88 guns of the German Panther and Tiger tanks. McKellar is buried in the Bretteville — sur Laize cemetery.

~Submitted by Dean Percy, Elora, neighbour of Donald McKellar
Robert Walden 'Bob' Bass of Thedford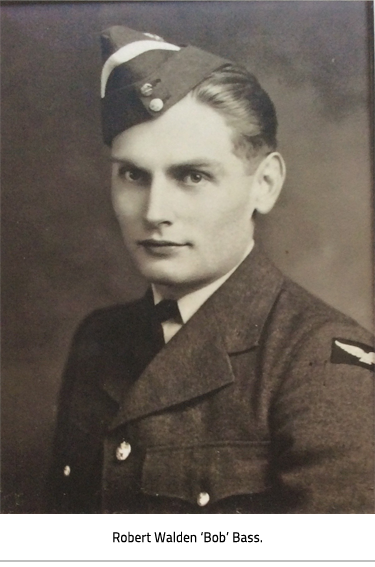 Robert Walden 'Bob' Bass was born in January 1918 in Thedford. He was the first born child of Jennie (nee Walden) and Preston Bass.
After excelling in his early schooling in Thedford, Bob attended the University Of Western Ontario at age 16 earning a degree in mathematics and physics in 1939. Following this, he entered teaching taking his first position at Rainy River High School, one of a staff of 4.
In 1943, Bob travelled to Fort Frances and enlisted in the Royal Canadian Air Force. After training stops in Winnipeg and Brandon Manitoba, Saskatoon and Prince Albert Saskatchewan, Belleville Ontario, St. John's New Brunswick, Summerside Prince Edward Island, and Nassau Bahamas, bomber navigator and flight officer Bob Bass shipped out to England on August 3, 1944. In England, Bob was assigned to the 100 Group of the Royal Air Force, Bomber Command. Within 100 Group, he was attached to the newly formed 223 Squadron which was established on August 23, 1944. The operations of 223 Squadron were highly secretive as it was involved in RCM or electronic counter-measures, the jamming of enemy radio and radar signals in bombing raids over Europe. 223 Squadron flew Liberator bombers whose bomb bays were filled with state-of-the-art electronic jamming equipment. 223 Squadron bombers also flew as decoys to draw enemy fighters away from the main bomber streams. Bob flew 21 operational missions over various European targets and logged just over 133 hours of flight time. Following Victory in Europe Day in May 1945, Bob was slated for more mission time in the Pacific theatre but war in the Pacific ended while he was on his way back to Canada in August 1945.
Bob was discharged from the RCAF in September 1945. He went back to teaching, starting out in Barrie before moving to Windsor. Here, he was a secondary school mathematics and physics
teacher, a department head, vice principal, principal, and superintendent. He also served in the RCAF Reserve in Windsor. In 1965, Bob became the first ever director of practice teaching at the newly founded faculty of education, Althouse College, at the University Of Western Ontario. He held this position for 10 years, retiring in 1975. Bob passed away in 2013, age 95.
~Submitted in August 2019 by Bruce West, son-in-law of Bob Bass
Gordon Parker of Watford
This is the write up in the local paper when it happened. Not sure about the date around 1941. This man was my husband.

~Helen Van Den Heuvel

"Watford Air Mechanic Aids in Clean-Up After Newfoundland Fire"


News of the terrible holocaust of fire that swept through the armed services hostel at St. John's, Newfoundland, on Saturday night, claiming 100 lives, mostly Canadian and United States service men, was a source of worry to Mr. and Mrs. Russell Parker, of Watford, until they were advised by telegram on Monday from their son, Gordon Parker, of his safety, and that he was aiding in the clean-up work in the ruins of the destroyed building.

Following just two weeks after the Cocoanut Grove night club fire in Boston, where nearly 500 men and women were trapped, the Newfoundland hostel tragedy was almost similar, in that fire from a cause unknown swept through the building so swiftly most of the occupants were trampled and suffocated in piles before the exits.

Most of the victims were airmen, soldiers or sailors of the Canadian and United States forces based on Newfoundland. Practically all the girls assisting as hostesses were rescued in the first few moments.

The hostel was operated by the Knights of Columbus as a war service unit, and provided relaxation, meals and dancing parties for service men.

In a recent letter to his parents Gordon tells of his arrival in Newfoundland and some of the contrasts new to Canadians, particularly the boys from Southern Ontario.

"There are so many things I can't write about, there's little I can tell you about. Most important the meals are good at this station–I think the men cooks are better than women when it comes to cooking large quantities. It is not as cold as I expected, but very icy and foggy most of the time. . .

I met two boys from Alvinston and one from good old Kelliher, Sask., which made me feel very much at home. . . Everything is very expensive here, milk is 35c a quart, (and you know how the air force goes for milk!) Cigarets are cheaper though, having no heavy tax . . . Went into St. John's for a weekend "48" and slept two nights at the K. of C. Hostel" (the same building in which he later helped search the debris after its destruction by fire.)

~Submitted by Gordon Parker's wife Helen Van Den Heuvel, Watford
Lyle William Sitlington of Warwick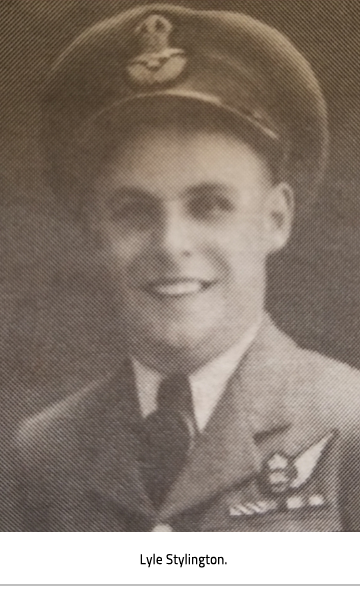 John and Alice (Young) Sitlington had three sons go to war Ernie, Harry and Lyle. Ernie was a mechanic in tank Corp., Harry was in artillery, and Lyle (my dad) was in RCAF.
Lyle William Sitlington was a wireless air gunner in a Lancaster MKX, made in Canada, Squadron 419 Moose squadron posted at Middleton St. George, Lancaster call sign VR-U uncle, KB767 serial number. When members the crew went to look at the bomber after the crash (one wheel collapsed on landing) they could not get near it. It was roped off after 16 unexploded 20 mm canon shells were found in it.
After the War Lyle married Dorothy Creasy on October 15, 1947 and they had 4 children, 2 girls and 2 boys. He purchased an egg grading station with Lloyd Barnes and called it "Barnes and Sitlington" operated in the village of Watford. Farm pick up was also done. He sold the egg grading station in 1962. Lyle got a job as a "Custom's Officer" at the Blue Water Bridge and later as a Custom's & Immigration Officer – working at Toronto International Airport and then as a "Special Inquiry Officer" with Canada Immigration in London, Ontario – Lyle retired from Immigration in 1982.
Lyle is the Grandfather to 8 grandchildren.
~Submitted by Linda McLean, Watford