Lambton County's Museums, Gallery and Archives Reopening Soon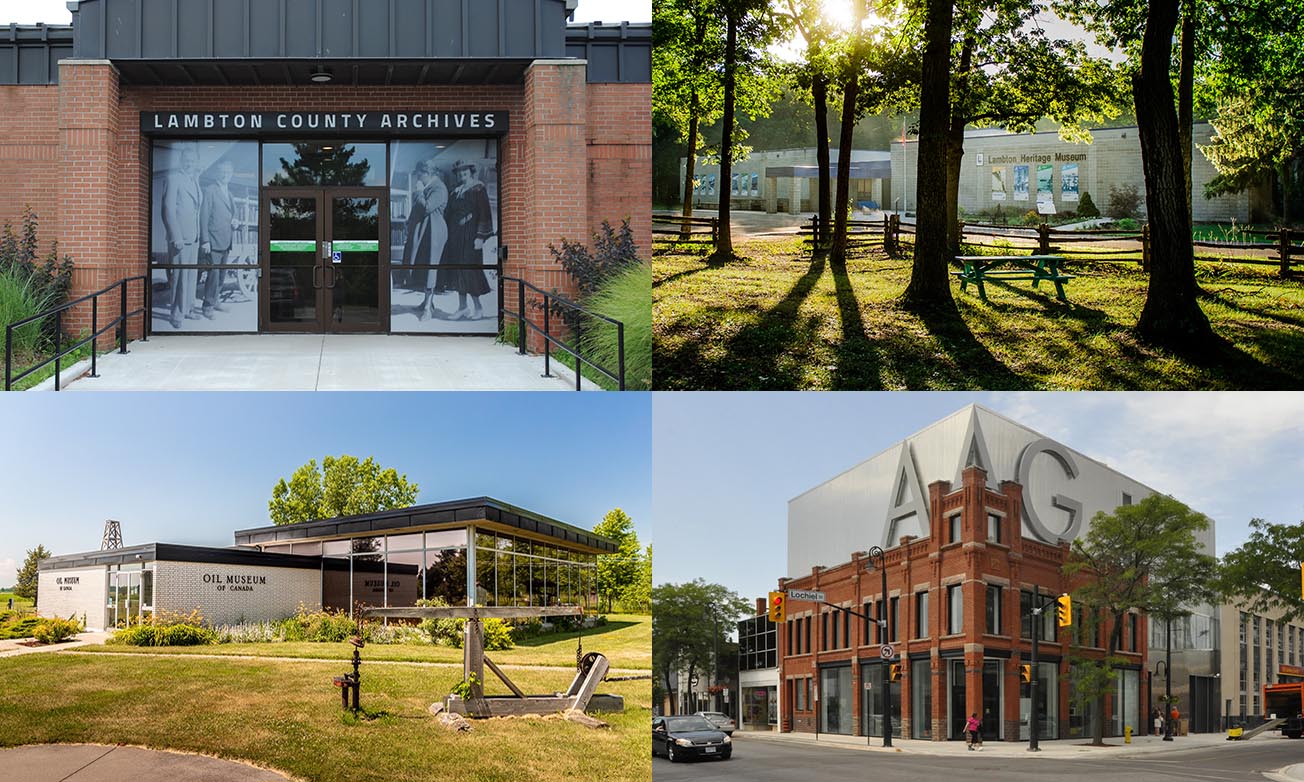 Wyoming, ON – With the recent easing of restrictions as Sarnia-Lambton advances to Step 3 in Ontario's Roadmap to Reopen, Lambton Heritage Museum, Lambton County Archives, and the Judith & Norman Alix Art Gallery will be reopening to the public on Wednesday, August 4, 2021.
The reopening follows public health guidance and sector-specific guidelines developed by the province. Although these spaces and interactions will look different to enable physical distancing, every effort has been made to ensure visits to these cultural facilities are a safe and enjoyable experience for all. COVID-19 safety planning at cultural facilities includes the following:
Museum, Gallery, and Archives hours of operation, services offered and capacity are limited to ensure enhanced safety.
All visits to the museums, Gallery and Archives are by timed entry to ensure proper physical distancing, requiring patrons to book an appointment in advance. If visitors do not have an appointment, they will only be accommodated as space and time allow. Hours of operation are 11:00 a.m. - 4:00 p.m. Wednesdays, Fridays and Saturdays, and extended hours on Thursdays from 11:00 a.m. - 8:30 p.m.
Processes for recording each visitor's name and contact information will be in place at all cultural facilities to support effective contact tracing;
All visitors are requested to wear a face covering or non-medical mask, while inside the facilities and any outbuildings.
Visitors are asked to respect physical distancing by maintaining 2 meters distance from others at all times while visiting cultural facilities.
Upon booking an appointment, all visitors will be asked to self-monitor symptoms before entering any cultural facility, and must visit at another time if feeling unwell.
Lambton Heritage Museum will reopen featuring two new exhibits, Nnigiiwemin / We Are Going Home (August 4 – September 26, 2021) and The North Lambton Quilter's Guild Show (August 4 – 21, 2021). For more information or to purchase an admission ticket, call 519-243-2600 or visit www.heritagemuseum.ca.
The Judith & Norman Alix Art Gallery will reopen with two new exhibitions, An Abridged Sonic History of Global Conflict by contemporary artist Lee Henderson and Focus Finder by contemporary photo-based artist Susan Dobson - both showing from August 4, 2021 to January 30, 2022. For more information or to book your free admission ticket call 519-336-8127 or visit www.jnaag.ca.
Lambton County Archives will allow researcher access by scheduled appointment. For more information or to book a scheduled appointment call 519-845-5426 or visit www.lambtonarchives.ca.
The Oil Museum of Canada, National Historic Site, remains closed as a significant renovation is completed. The Museum will be reopening in the coming weeks with an improved facility and new exhibit. Subscribe to e-news or follow the Oil Museum of Canada on Facebook to receive announcements regarding the reopening.
In advance of re-opening to the public, the museums, Gallery, and Archives ask patrons to familiarize themselves with all guidelines to ensure cultural facilities remain a safe place for all visitors and staff. The full list of guidelines will be available on each website.
The County of Lambton asks all residents and visitors to continue respecting all public health guidelines, including regular hand hygiene, physical distancing, and staying home if feeling unwell. Stay informed on the COVID-19 situation in Lambton County by visiting the Lambton Public Health website at www.lambtonpublichealth.ca.
-30-
Please contact:
Laurie Webb
Manager, Museums, Gallery and Archives
County of Lambton
519-845-0809 ext. 5230
laurie.webb@county-lambton.on.ca