Lambton Museums host Holiday Open Houses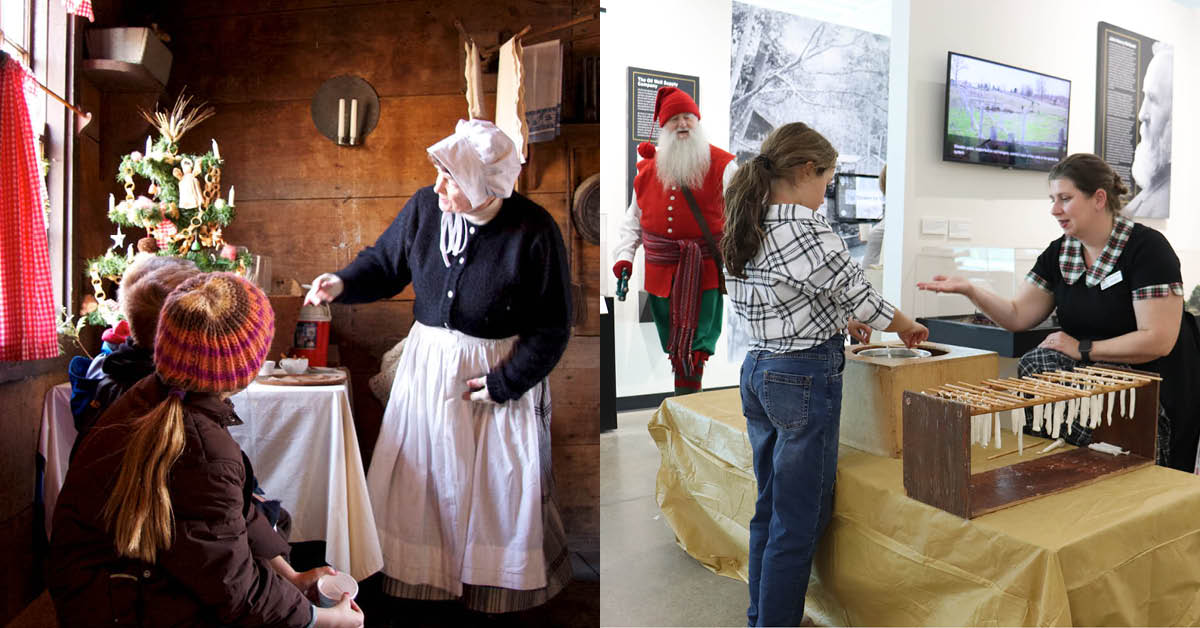 Wyoming, ON - Lambton Heritage Museum and the Oil Museum of Canada, National Historic Site, are hosting their annual Holiday Open Houses, on the PA Day, Friday, November 17 from 11:00 a.m. to 3:00 p.m.
Welcome the holiday season with the sights and sounds of these family-friendly events. Drop-in at Lambton Heritage Museum and take part in activity and craft stations exploring holiday traditions brought to Canada from around the world. Receive a warm welcome in the Tudhop House, where a costumed historical reenactor will demonstrate how Lambton's early settlers prepared for Christmas. Round out your visit by traveling back in time with a hayride around the Museum property.
"We're excited to host this popular festive event," said Colleen Inglis, Educational Program Coordinator with Lambton Heritage Museum. "Visitors can enjoy warm apple cider and the cozy atmosphere of our historic buildings heated by wood-burning stoves, while learning about several of Lambton's interesting holiday traditions."
The Oil Museum of Canada invites visitors to make holiday-themed crafts, try candle-dipping, and enjoy a cup of warm Wassail too. Victorian Santa will make an appearance and take photos with children.
"We are thrilled to once again offer this magical holiday experience at the Oil Museum of Canada." said Christina Sydorko, Educational Program Coordinator with Oil Museum of Canada. "Victorian Santa will be here to spread cheer, tell stories, and take photos. Kids can make fun holiday-themed crafts, enjoy snacks, and sample Wassail, a traditional holiday drink made from apple cider. It promises to be a day filled with joy and festive spirit that you won't want to miss."
These drop-in open houses will take place November 17, 2023 between 11:00 a.m. and 3:00 p.m. Admission to Lambton Heritage Museum's event is $5 for adults, $4 for seniors (65+) and students, $3 for children, and children aged three and under are free. Family admission for up to two adults and four school-aged children is $15.
Admission to the Oil Museum of Canada's event is free with thanks to Shell Canada's generous sponsorship. Participants are kindly asked to bring donations of non-perishable food items to support the local food bank. For more information, visit lambtonmuseums.ca.
In addition to the Holiday Open Houses, Lambton Heritage Museum and the Oil Museum of Canada offer educational programming for school and homeschool groups. These programs, specifically designed for students from kindergarten to grade 4, offer a unique opportunity to explore global holiday traditions through a historical lens. The programs are offered between November 21 and December 20, and groups can register online at lambtonmuseums.ca.
-30-
Please contact:
Jessica Stevenson
Marketing and Events Coordinator, Lambton County Museums and Archives
County of Lambton
519-243-2600 ext. 3153
Email Jessica Stevenson