Paint Ontario Art Show and Sale opens in September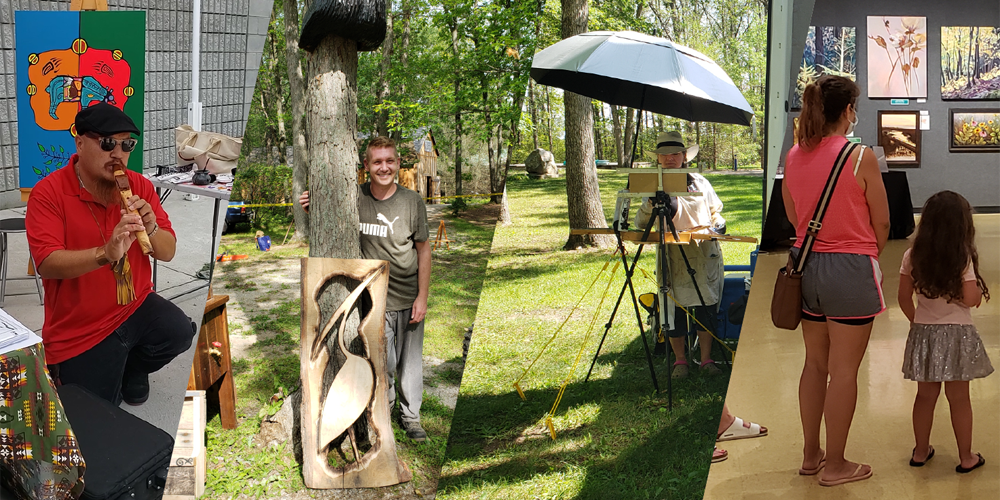 Grand Bend, ON – Lambton Heritage Museum will be presenting the Paint Ontario Art Show & Sale, September 3 - 26, 2021. The 25th anniversary show will be a live, in-person show - not a virtual show.
Paint Ontario is the largest show and sale of representational art in Ontario, which features over 200 original paintings by approximately 100 artists, selected from almost 700 submissions. The show provides a unique opportunity for emerging artists to showcase their work and an unmatched opportunity for buyers to view and acquire it. This year sculpture will be featured for the first time, adding a new dimension to the visitor art experience.
Artist demonstrations will inspire artists and art appreciators alike. These demonstrations will take place Thursdays from 4:00 p.m. – 7:00 p.m. and weekends from 1:00 p.m. to 4:00 p.m. for the duration of the show. A full list of participating artists can be found at lambtonmuseums.ca/paintontario.
The final weekend of the show will feature a special "Perch N' Paint" contest. Participating artists will spend Saturday, September 25 out in the community doing plein air painting. The following day, artists will bring their paintings to the Museum by 12:00 p.m. for judging and a winner will be announced at 1:00 p.m. The paintings will remain on display and be available for purchase for the afternoon.
A silent auction will be taking place from September 3 - 26 which features the murals that were once a part of the Grand Bend Art Centre Beach Mural Project.
Outdoor live music will be featured on Sundays from 12:00 p.m. to 3:00 p.m. and new this year is an outdoor art installation – The Pottery Garden. Area schools, community groups, long term cares homes, and volunteers have contributed sculpted flowers that collectively will make up The Pottery Garden. An additional art installation will include an award winning psychedelic piano, previously displayed at a Toronto festival. Interactive art activities will also be available for all ages. After viewing Paint Ontario, patrons are invited to wander into the adjoining buildings and grounds of the Museum to experience an impressive host of accompanying new features.
The show is organized by the Grand Bend Art Centre (GBAC), a registered not-for-profit community group. "Our mission is to inspire creativity in the community" says GBAC Executive Director Teresa Marie Phillips. "Monies raised in sales commissions go straight back into cultural development within the community," adds GBAC President Nette Pachlarz.
To visit the Paint Ontario exhibit, book a time at lambtonmuseums.ca. COVID protocols including social distancing, mandatory use of face masks and capacity limits will be in effect. Walk in entries will be accommodated as time and capacity limits allow.
For more information please visit lambtonmuseums.ca/paintontario.
-30-
Please contact:
Kathleen Annett
Marketing & Events Coordinator, Museums, Gallery and Archives
County of Lambton
519-243-2600 ext. 3153
kathleen.annett@county-lambton.on.ca
Dana Thorne
Curator/Supervisor, Lambton Heritage Museum
County of Lambton
519-243-2600 ext. 3151